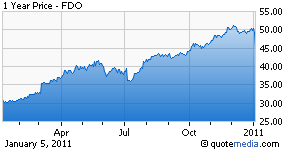 By Brian Sozzi
There was a combination of a few main things as to why Family Dollar (NYSE:FDO) disappointed with its latest earnings results. First one being heightened consensus earnings forecasts for earnings on dollar stores.
In 2010, shares of the primary dollar stores Family Dollar and Dollar Tree (NASDAQ:DLTR) advanced an average of 85% as each gained traffic from the likes of big box retailers and grocers. The traffic they did gain was from people doing fill in shopping visits, or those between pay periods. Wal-Mart (NYSE:WMT) has specifically said they have lost that fill-in shopper (I think because they have raised prices on food and other goods, and the customer is fully aware of this).
Once that traffic has arrived at the dollar store, I think the new people who shunned the trip are pleasantly surprised by frozen food cases and a greater assortment of name brand (or national brand) merchandise. From what I can tell out of Family Dollar, it's not a traffic issue; the traffic increase of near 7% is what drove comparable store sales. Rather it's what happening on transaction value, where consumers are buying more consumables and food more frequently. Unfortunately, traffic needs to be even higher if the main thing they are selling is food and consumables. (See conference call transcript here.)
Another issue that may be starting to unfold is inflation. When I hear Costco (NASDAQ:COST) call out that their sirloin steak prices are up 15% it's a cause for concern. Now Family Dollar does not sell sirloin steaks, but the product categories it does sell are feeling the first signs of inflation (I think this could be tied in with the Clorox (NYSE:CLX) earnings miss earlier this week... it said it was feeling inflationary pressures and would try to raise prices). Family Dollar, while doing some good work on sourcing, still needs a deflationary or slightly inflationary environment to churn out big profits. This was the case in 2009 and 2010, but it's reversing now.
Recap (what the Street may be missing or not fully appreciating)
An investment year for Family Dollar (new store openings planned 50% higher year over year; undertaking 600 to 800 store remodels). The profits made in 2009 and 2010, are now being used to upgrade the stores to gain further share from Wal-Mart and traditional grocers. With investments, comes higher costs.
Consumables goods sales now represent 65% of total revenue, and is the only part of the company's business that has been increasing as a percentage of revenue the last three years. This is a result of management trying to bolster the selection of consumables by upgrading store layouts etc.
The onset of inflation in merchandise purchasing (freight, actual product).
Disclosure: No position