The low volatility in the currency markets has frustrated speculative investors and dampened activity. However, as this Bloomberg-generated Great Graphic shows, implied volatility has begun firming. Participation appears to be increasing, and this is also evident in the futures market.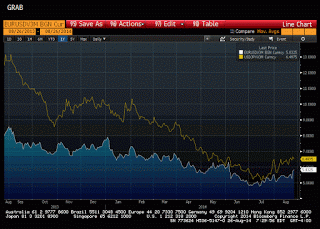 Three-month implied euro volatility (white line) bottomed in mid-July near 4.75%. Today, it is quoted near 5.83%, which is its highest level since June 6. It is holding above its 100-day moving average (~5.53%) for the longest time since February. The next technical target comes in near 6.0%-6.2%.
As the euro sees levels not seen in a few quarters, it does not seem unreasonable that implied volatility rises. It reinforces our sense that the low-volatility environment has been just as much about market direction as it has about official suppression of volatility via extraordinary monetary policy.
Three-month implied yen volatility (yellow line) also bottomed in the middle of last month. After slipping below 5.1% then, it had moved toward 6.8% in early August. It has been consolidating since. The dollar's move above the top of its four-month trading range last week (JPY101-JPY103) lifted the 3-month volatility back above 6.5%. However, yesterday's dollar high near JPY104.50 was unable to lift the 3-month implied volatility through last week's highs.
The 100-day moving average comes in now near 6.33%. Today, the fourth session implied 3-month dollar-yen volatility is holding above this average, and it matched the longest since July 2013. The technical indicators are not as constructive of yen volatility as they are of euro volatility, and arguably, the fundamental story may not be as compelling in the near term either. Many participants had expected the BOJ to provide more stimulus by the end of last month. It has not only failed to do so, but BOJ Governor Kuroda does not seem even to be thinking about it.
Disclosure: The author has no positions in any stocks mentioned, and no plans to initiate any positions within the next 72 hours.
The author wrote this article themselves, and it expresses their own opinions. The author is not receiving compensation for it. The author has no business relationship with any company whose stock is mentioned in this article.