Recent Financial News
First quarter earnings of fiscal 2015 for Darden Restaurants (NYSE:DRI) are expected to be released on September 12, 2014. However, given the constant struggles the company has gone through the past several quarters regarding same-store sales for their larger restaurant components, investors should expect more of the same.
Looking back at their fiscal 2014 full year earnings, Darden Restaurants saw revenues increase 2.4% to $8.76 billion while net income tumbled downward 30.5% to $286.2 million. Revenues included discontinued operations mainly from the $2.1 billion Red Lobster sale, though, so revenues, like net income, actually decreased on a year-over-year basis.
The biggest problem for Darden Restaurants in the past few years has been same-store sales. While LongHorn Steakhouse and the Specialty Restaurant Group (NYSE:SRG) were positives in fiscal 2014 growing 2.7% and 1.6%, respectively, Olive Garden saw sales fall 3.4% while ex-Darden Restaurants component Red Lobster saw sales drop 6.0%.
Nevertheless, investors are paying a larger price-to-earnings (PE) trailing twelve months (TTM) multiple to own Darden Restaurants' stock when compared to some of their peers as shown below.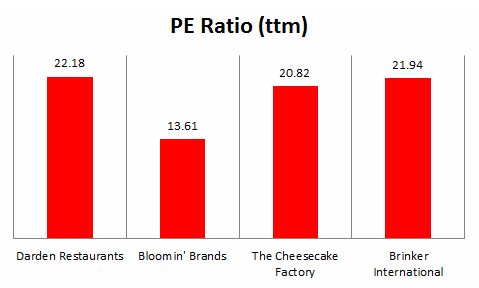 (Source: YCharts)
What is more interesting is that over the past 5 years, despite Darden Restaurants' lagging unsolved problems, investors are paying a larger and larger premium for the chain. While its PE ratio is slightly over 22, its current PE ratio using August 22, 2014 closing price is 34.59.

Click to enlarge
(Source: YCharts)
Big Problems in Darden Restaurants' Long-Term Future
At first glance, one of Darden Restaurants' biggest problems has been its inability to manage its multiple restaurant concepts. Despite Red Lobster's departure, the company still owns 7 concepts. Because some of its restaurants are in close proximity to one another (and sometimes right next to each other), cannibalization is a potential issue.
Other problems include the lack of differentiation, especially from a customer's point-of-view, massive marketing expenses due to running 7 different ads throughout the year, and not focusing investments on the correct restaurant concepts.
The lack of consistency over the remaining brands introduces the question of to sell or not sell Olive Garden as well. Olive Garden, which specializes in Italian-American cuisine, doesn't seem to fit in with the other 6 concepts that include a mid-tier steakhouse (LongHorn Steakhouse), a Caribbean inspired restaurant (Bahama Breeze), a fresh grill and wine bar (Seasons 52), a fine-dining restaurant (The Capital Grille), a prime seafood/beef and oyster bar (Eddie V's), and a restaurant that specializes in over 100 craft beers (Yard House).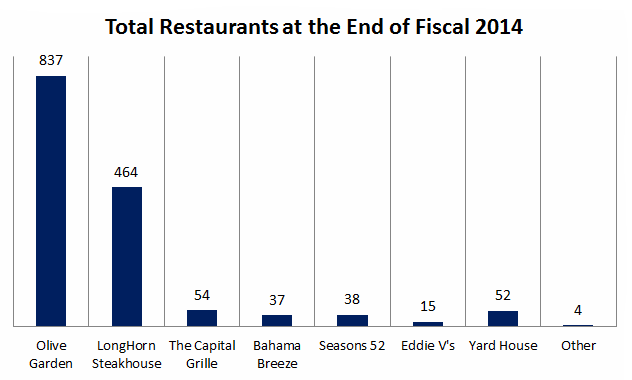 (Source: Darden Restaurants earnings report)
Recent investment into Olive Garden locations is the perfect example of Darden Restaurants' inability to focus investments on the correct restaurant concepts. While management believes that addressing its 837 Olive Gardens is top priority, Olive Garden will only become a bigger and bigger burden for the company overall.
Darden Restaurants recently spent $40 million just to change about 9% of the Olive Garden fleet. While you can't just multiple by 11.1 to get the overall needed investment for the entire Olive Garden re-branding due to variance in renovation needs and restaurant size differences, it is easy to see it's a big investment for a company that is trying to fix a chain that is losing overall in terms of sales growth.
Making matters worse is management's idea that the remodeling of Olive Garden is needed because sales at older locations lagged newer locations by more than 2% when the entire group is having sales problems overall.
Furthermore, Darden Restaurants' management is sitting on two gold mines that they seemingly ignore in that of Yard House and Bahama Breeze. Yard House and Bahama Breeze were named the No. 2 and No.9 fastest-growing chains in the nation by Nation's Restaurant News. Yet, Bahama Breeze, for example, has been sitting in the 30's in terms of location count since 2012 and has actually been a part of Darden Restaurants since 1996.
In fiscal 2014, Yard House saw average unit sales rise 0.3% to $8.2million while Bahama Breeze saw its average unit sales rise 4.1% to $5.6 million. Olive Garden's average unit sales were just $4.4 million last year.
In addition to the obvious future threat of Olive Garden contributing nearly 60% of future revenues for Darden Restaurants overall, endless industry threats are big problems for the company in both the short-term and long-term.
Short-term, Darden Restaurants may be impacted negatively by its peers offering limited-time offers like TGI Fridays did the past couple of months through its Endless Appetizers promotion. Long-term Darden Restaurants, like many other full service dining concepts, will be impacted by the growing trends in fast casual concepts.
Additionally, mom & pop restaurants are gaining momentum and popularity given the increased use of social review sites which are providing customers more confidence to test out non-chain restaurants. The NPD Group recently showed that since the spring of 2012, the number of independent restaurants increased by 13,654. Comparatively, chain restaurants grew by just 7,380.
Potentially the biggest long-term threat is the possibility that the retail environment over the past 12 months will continue for several more months or even years. Below is a chart showing the last 12 months of retail and food services sales seasonally adjusted.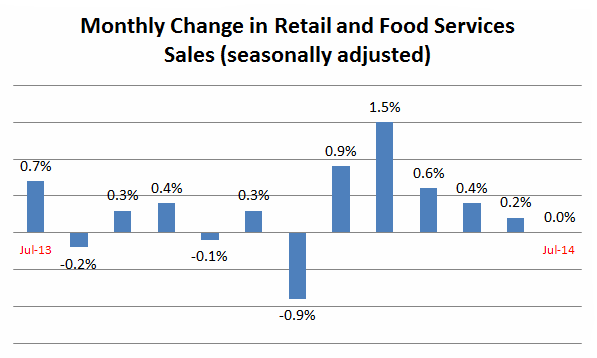 (Source: USA Today Money / Census Bureau)
Darden Restaurants' questionable leadership got much worse recently when long-time CEO Clarence Otis stepped down after months of activist investor pressure. Under Clarence Otis, Darden Restaurants grew annual sales from $5.2 billion to $8.7 billion. This is despite visits to casual-dining restaurants recently falling to 6-year lows.
Expect leadership problems to drag down the company for the next several quarters as the activist investors are now fighting over board seats. Starboard, one of the activist investors involved, now has plans to replace the entire 12-person board. This could make Darden Restaurants' current inability to manage its multiple restaurant concepts even worse. New faces mean different viewpoints that may not result in a uniform vision.
Last week, past and present leadership problems were further highlighted when news came out that Red Lobster's future prospects may have been significantly exaggerated in order to aid its sale to Golden Gate Capital. This goes directly into the credibility of Darden Restaurants regarding future earnings when they give outlook on their remaining restaurant concepts.
In particular, investors should be wary when the company issued fiscal 2015 outlook in their most recent conference call. Darden Restaurants predicted same-store sales to be between 1-2% for LongHorn Steakhouse, about 2% for the SRG, and 0-1% for Olive Garden. While the figures for LongHorn Steakhouse and SRG are believable, the outlook for Olive Garden doesn't seem realistic given the negative performance of the chain in the past several quarters.
In the end, new investors are buying Darden Restaurants' sales at a much larger premium than its peers. Looking at EV / EBITDA values against its peers, Darden Restaurants is not only above its full service restaurant peers, but generally above the majority of established fast food restaurant chains that often have an EV / EBITDA of less than 11x.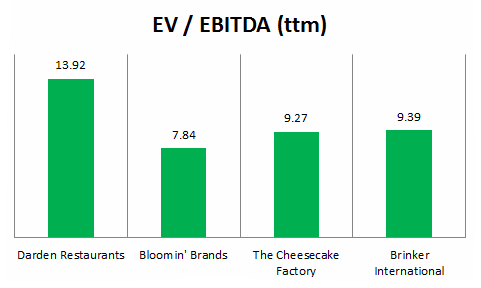 (Source: Yahoo Finance)
Conclusion
Right now Darden Restaurants is in the 97th spot for most shorted S&P 500 component. Making matters worse is that the days to cover the short of Darden Restaurants' stock has trended upwards the past couple of years showing that the market is becoming more suspect of the company's ability to turn itself around.
Darden Restaurants recently re-introduced its Buy One, Take One menu offer, but has added a free one-night Redbox movie rental. This appears to be another desperate attempt to fix its biggest portfolio component. However, what happens when the deal ends? Do the customers go back to Darden Restaurants' competitors until another similar promotion is offered?
Overall, Darden Restaurants looks like it added more problems this past fiscal year with the heavy investments in Olive Garden, the stepping down of long-time CEO Clarence Otis, and the now potential problems revolving around the Red Lobster sale.
Disclosure: The author has no positions in any stocks mentioned, and no plans to initiate any positions within the next 72 hours.
The author wrote this article themselves, and it expresses their own opinions. The author is not receiving compensation for it (other than from Seeking Alpha). The author has no business relationship with any company whose stock is mentioned in this article.