Shares of Eastman Chemical (NYSE:EMN) have moved lower over the past few weeks after the company reported second quarter results that failed to meet expectations. EMN shares have pulled back nearly 10% from an all-time high reached in early June.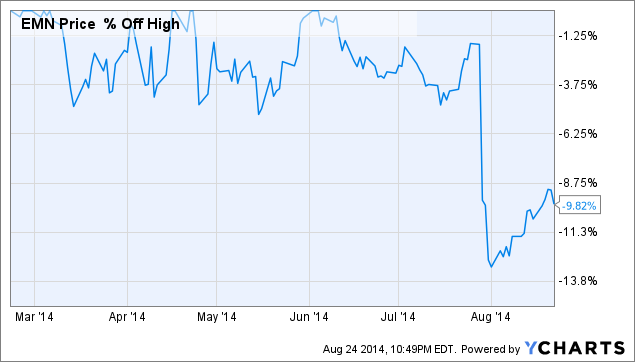 EMN data by YCharts
Earnings Results
EMN reported income of $292 million or $1.93 per share up from $264 million or $1.69 per share during the same period a year ago. EMN reported revenue of $2.46 billion compared to analyst estimates of $2.51 billion. I believe that the market reaction to EMN's quarter was an overreaction. The company reported a good quarter and guidance was also in line with expectations.
Valuation
The primary reason why I believe EMN is a buy has to do with valuation. Due to the strength of the equity markets as a whole, shares of many strong companies are now trading at valuations close to historic highs. However, as shown by the charts below, based on multiple metrics, EMN is not overvalued. Given EMN's strong growth prospects, I believe the current forward PE ratio of 11.8 is very cheap. EMN is expected to grow earnings by about 8% for the next few years. One of EMN's peers, DuPont (NYSE:DD) is also expected to grow earnings by about 8% annually over the next few years. DuPont trades at a forward PE of 14.75. If EMN were to trade at the same valuation, shares would be worth $114 per share.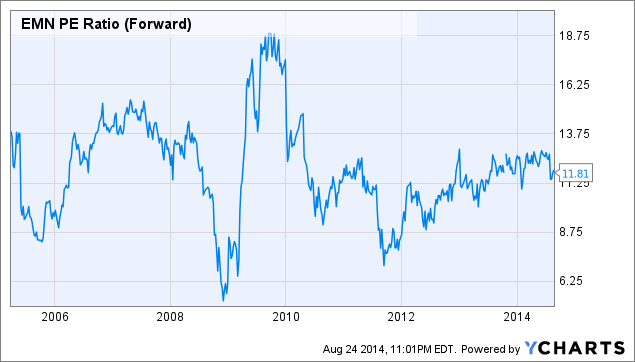 EMN PE Ratio (Forward) data by YCharts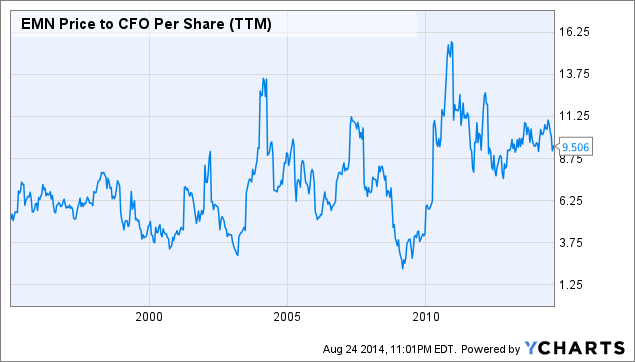 EMN Price to CFO Per Share (NYSE:TTM) data by YCharts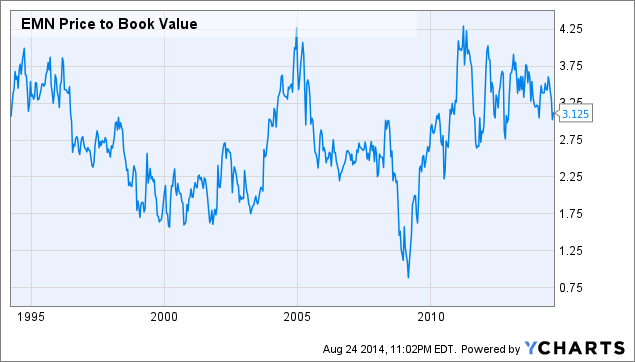 EMN Price to Book Value data by YCharts
Stock Buyback
In February 2014, EMN's board approved a new $1 billion stock repurchase program. Given EMN's current market cap of just over $12 billion, this buyback amounts to a significant percentage of EMN stock outstanding. While EMN also pays an annual dividend of $1.40, I believe increasing the buyback was a better move than increasing the dividend due to the low valuation of EMN shares. EMN's large buyback should help support EMN shares at current levels.
Conclusion
In my view, EMN shares are attractive because they are not currently overvalued. For this reason, I believe EMN shares can perform well even if the equity market as a whole fails to advance. At current market levels, value investors are faced with relatively few value stocks. Due to this, I expect EMN to become a popular pick for value managers who are forced to sell some of their better performing stocks because they are no longer value plays. In my view, EMN shares could trade as high as $114 without becoming expensive.
Disclosure: The author has no positions in any stocks mentioned, and no plans to initiate any positions within the next 72 hours.
The author wrote this article themselves, and it expresses their own opinions. The author is not receiving compensation for it (other than from Seeking Alpha). The author has no business relationship with any company whose stock is mentioned in this article.