As earnings approach on August 28, investors are probably trying to figure out what to do with their shares of Dollar General (NYSE:DG). After the company announced a proposal to buy Family Dollar (NYSE:FDO), potentially pulling the deal out of Dollar Tree (NASDAQ:DLTR)'s hands, shares of the discount giant soared 12%, coming in just 2% below their 52-week high. While this deal could change the business's fundamental value significantly, should investors consider taking a stake when a deal is uncertain and analyst expectations are high?
High expectations could stop Dollar General in its tracks
For the quarter, analysts expect Dollar General to report revenue of $4.77 billion. If this forecast turns out to be accurate, it will represent a 9% jump in sales over the $4.39 billion management reported the same quarter a year earlier. In the event that the company does see this kind of growth, it will likely come from a combination of higher comparable store sales growth and an increase in the number of locations in operation.
Earnings Preview
| | | |
| --- | --- | --- |
| | Last Year's | Forecasted |
| Revenue (billions) | $4.39 | $4.77 |
| Earnings per Share | $0.77 | $0.83 |
Looking at profits, analysts still expect strong performance, but not quite as strong as what revenue growth is expected to come out to. For the quarter, Mr. Market anticipates Dollar General to report earnings per share of $0.83, nearly 8% above the $0.77 seen in last year's quarter. More likely than not, any growth in profits at this level will be attributable to rising sales and a lower number of shares outstanding but will be partially offset by a decrease in margins.
Earnings or not, Dollar General is interesting
Over the past few years, Dollar General has had one heck of a run. Between 2009 and 2013, the retailer's revenue soared 48% from $11.8 billion to $17.5 billion, as a 26% jump in store count was accompanied by a 32% rise in aggregate comparable store sales. This growth has been noticeably faster than Family Dollar, whose sales rose 40% from $7.4 billion to $10.4 billion, and only slightly behind Dollar Tree, whose top line expanded by 50% from $5.2 billion to $7.8 billion.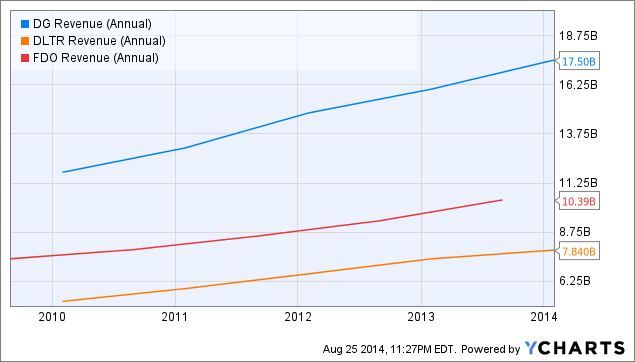 DG Revenue (Annual) data by YCharts
In terms of profits, Dollar General has been even more impressive. Over the past five years, the retailer's net income skyrocketed 202% from $339.4 million to $1 billion, as higher sales were met by lower costs in relation to sales and a reduction in interest expense. This is far greater than the 86% rise in profits posted by Dollar Tree from $320.5 million to $596.7 million, and trounced the 52% jump in net income posted by Family Dollar, which rose from $291.3 million to $443.6 million.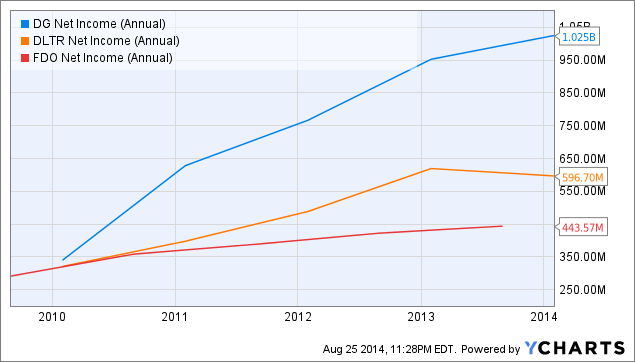 DG Net Income (Annual) data by YCharts
Takeaway
Putting aside the prospect of a Family Dollar buyout that has been initially turned down by the acquiree, Dollar General makes for an interesting long-term play. Despite the fact that expectations are high this quarter, the company's long-term results suggest that it may make for a sensible prospect irrespective of its quarterly performance. The only downside that investors should be focused on is that with its shares trading at $64.14, it's trading at 20 times profits and 18 times forward earnings, making the business a bit on the pricey side.
Disclosure: The author has no positions in any stocks mentioned, and no plans to initiate any positions within the next 72 hours.
The author wrote this article themselves, and it expresses their own opinions. The author is not receiving compensation for it (other than from Seeking Alpha). The author has no business relationship with any company whose stock is mentioned in this article.