Nordstrom (NYSE:JWN) is one of the best companies operating in the departmental stores industry. It is a fashion specialty retailer with 140 Nordstrom Racks and Jeffrey boutiques and 117 full-line stores located in 35 states of the U.S. The company has a robust e-commerce business through HauteLook and Nordstrom.com. The company is looking to aggressively expand its network of stores all around U.S. and Canada. Looking at the increasing demand for its fashion specialty products, the company plans to open three full line stores in Jacksonville, Houston, and in Florida in this quarter. In addition, Nordstrom is expanding its geographic foot-print and will start its first store in Canada in this quarter. On the whole, it has opened 11 stores in the first half of this year and is likely to open 16 stores in the remaining part of the year.
The company is also looking to expand its foot-print with the recently announced acquisition of Trunk Club for $350 million. Trunk Club's business of stylist service along with the convenience of its online business with a touch of high class, personalized shopping experience aligns with the core business of Nordstrom. Trunk Club has the ability to generate double digit growth which I believe will significantly expand its revenue base and market share. I further believe that the company's strategy of expanding its retailing presence, entering into new markets and making investments in its stores is working out and is creating multiple long-term growth opportunities.
On top of that, Nordstrom's focus on enhancing each individual channel by leveraging technology, supply-chain logistics, inventory access, reward program and powerful marketing is improving customer experience and sales for the company. This plan continues to work for the company as evidenced by the 9% growth in its sales generated in the past three years. At the end of the 2013 fiscal year, Nordstrom had generated 3.4% growth in sales which took its annual sales to $2.2 billion and the company's earnings exceeded its projected guidance. In this year, Nordstrom is expecting to generate a 5-6% growth in sales and earnings per share at $3.90/share compared to the past year of $3.71.
Nordstrom is on track to achieve its growth targets. In the second quarter of this year, Nordstrom has generated a 6.2% growth in sales and earnings per share came at $0.95/share. The company dividend growth looks sustainable to me even with the company's intention of spending massive amounts of cash on store expansion and the acquisition of Trunk Club. At the moment, the company is paying a quarterly dividend of $0.33 per share. Recently, it increased its quarterly dividend by 10% to $0.33 per share. In the past five years, it has been able to increase its dividend by 106%, representing more than 10% increase in each year.
With its expansion plan and the addition of Trunk Club business, which has the ability to generate double digit growth, will further strengthen its cash position and dividends. In the short-term, the company will experience pressure on its cash flows due to the expansion strategy but in the long-run this will bear fruits for the company. Looking at the risk side, I believe Nordstrom is standing at the low end of the ladder as its fashion specialty business is gaining momentum and the company is expanding its network after seeing a strong demand in the market. Its cash position is also stable and the growth in its revenue base will further stabilize its cash generating potential.
In Conclusion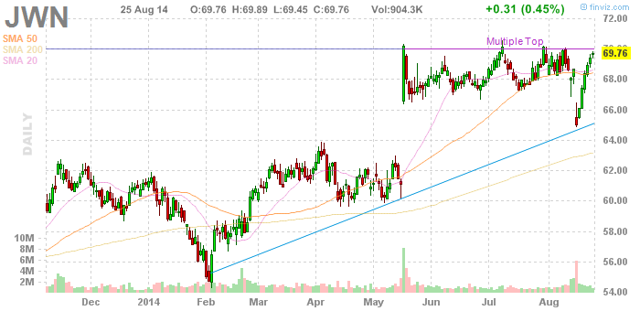 Click to enlarge
Nordstrom is heading in the right direction. The company's strategy of improving each channel of its business is enhancing the customer experience and demand for its products. Therefore, the company has started to expand its foot-prints in U.S along with Canada. Investors are also showing confidence on the company's strategy and financial performance. Year to date, the stock is up around 12.38% and stock has surged by over 21% in the past twelve months. It is still trading in the buying zone based on price to earnings ratio of 18. Its forward price to earnings of 16.4 tells that the company has strong upside potential. I believe if the company been able to smoothly integrate its recent acquisition and investments on store expansion, it will be one to watch. Its revenue base is expected to expand significantly in the coming days with the additional stores and acquisition.
Disclosure: The author has no positions in any stocks mentioned, and no plans to initiate any positions within the next 72 hours.
The author wrote this article themselves, and it expresses their own opinions. The author is not receiving compensation for it (other than from Seeking Alpha). The author has no business relationship with any company whose stock is mentioned in this article.