In May 2013, Google (NASDAQ:GOOG) (NASDAQ:GOOGL) launched a same-day delivery service in collaboration with local retailers in selected areas. Unlike Amazon (NASDAQ:AMZN), Google does not try to compete with the local retailers but to partner with them to deliver goods to end customers based on the inventory these retailers have. In an earlier article, I described that Google chose a different approach to e-commerce than Amazon since it is less interested in the direct revenues from the delivery service and more interested in the revenues from product search ads that such service could yield.
Amazon operates in a traditional commerce business model: buying goods from suppliers at one price and selling to end customers in slightly higher price to benefit from the margin. This is a proven business model that works great for many retailers and e-commerce companies, however the thin margin makes the business fragile, and large investments can quickly shift the company to net losses. As the classic e-commerce model can be weak, and Amazon started to look for new markets to enter to generate additional revenues with higher gross margin. Amazon Web Services ("AWS") is an example for such market Amazon penetrated successfully that helped lower the dependency on e-commerce. Another revenue stream that Amazon could pursue is monetizing the product search and generating substantial revenues that could make the company a main online advertising player such as Google and Facebook (NASDAQ:FB).
Google Shopping Express enables Google to collect data about product search preferences and purchasing history of its users that could be used to offer specific product ads in a similar way as Google does in the search engine ads. Unlike Google, Amazon operates in the e-commerce market since it was founded in 1994 and already had a huge database about its users' preferences worldwide. Amazon's large and rich database is a significant advantage over Google as it already contains search and purchasing histories, billing preferences and other user information that could be easily used to offer tailored ads to users.
As shown in chart 1 below, Amazon constantly increases its advertising revenues from 2011 and expected to generate more than $1B in ads revenues in 2014 based on its current advertising model.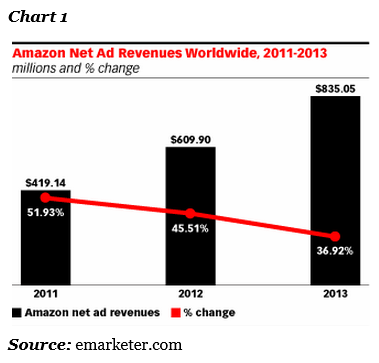 Once Google started offering Google Shopping Express, Amazon had no other option than to fight back on product search and online advertising and try to block Google from taking over that niche. The first step Amazon should take is to replace Google's ads in amazon.com with Amazon's ads. That way Amazon could take control of the pricing in its ads space and prevent potential ad revenues to end up with its rival Google. The next step should be expanding its online presence by increasing the number of third party partners in Amazon's affiliates program. In order to truly compete with Google and offer a real alternative to advertisers, it should be able to advertise not only on Amazon's website but on another website with quick links to purchase the offered items in the Amazon store.
Amazon started the process to change its advertising model and already contacted potential advertisers and notified them about the new advertising platform the company will launch by the end of the year. Even if that new platform will fail badly it is only the first step in the journey of Amazon to become an online advertising giant.
Conclusions
Google's move to generate revenues from product search may be the best thing that happened to Amazon as it leaves Amazon no other option than to fight back with Google and expand its advertising services. Amazon's increased ads sales could be translated into higher revenues and gross margin and will reduce Amazon's dependency on its e-commerce revenues. When Amazon is less dependent on its e-commerce revenues, it may have some more space to look for future initiatives to increase profits. Amazon has the potential to be an online advertising giant such as Google and Facebook once it finalizes its ads platform, replaces Google's ads in amazon.com with Amazon's ads and expands the affiliates program further. Increased advertising sales and becoming a meaningful online advertising player can drive Amazon's revenues higher and have a positive impact on the stock price.
Disclosure: The author has no positions in any stocks mentioned, and no plans to initiate any positions within the next 72 hours.
The author wrote this article themselves, and it expresses their own opinions. The author is not receiving compensation for it (other than from Seeking Alpha). The author has no business relationship with any company whose stock is mentioned in this article.
Additional disclosure: Information provided in this article is for informational purposes only and should not be regarded as investment advice or a recommendation regarding any particular security or course of action. This information is the writer's personal opinion about the companies mentioned in the article. Investors should conduct their own due diligence and consult with a registered financial adviser before making any investment decision. Lior Ronen and Finro Financial Consulting and Analysis are not registered financial advisers and shall not have any liability for any damages of any kind whatsoever relating to this material. By accepting this material, you acknowledge, understand and accept the foregoing.