When it comes to my dividend investments, I like nothing more than falling stock prices. This is a universal investing principle that I follow religiously for my income portfolio: I buy quality stocks ranging from real estate investment trusts to master limited partnerships and business development companies and when their stock or unit prices fall, I double down. This strategy, also called dollar cost-averaging, has served me quite well over the last couple of years and might be even more successful in bears markets.
If you are investing for the long-term, you should welcome short-term setbacks, because they allow you to purchase quality, high-yielding companies at very attractive prices. More importantly, if high-yield investments fall in value for macroeconomic reasons or just because investors temporarily don't like a stock, their dividend yield immediately rises.
This is a different angle to income investing that I think is worthy of a lot of attention. Conventional wisdom dictates, that falling stock prices are a bad thing; something must be fundamentally wrong with the company or its earnings outlook. However, I don't think this fairly unconstructive approach to dealing with falling stock prices is helping investors with adopting the right mindset: Instead of avoiding stocks that are declining (especially stocks that pay dividends), investors should really take a close look at the company because falling stock prices immediately translate into higher, initial dividend yields (considering distributions are expected to remain stable).
Take Seadrill (NYSE:SDRL) for example: This offshore drilling company has sold off dramatically since November 2013 as investors increasingly started to doubt Seadrill's distribution prospects. At the end of April, when the offshore driller was quoting at $35, I have aggressively recommended the company in my article "Seadrill: Is This The Bottom?" as the stock was way in oversold territory and the yield of more than 11% was just too attractive to pass up.
The stock ultimately shot up to over $40 in June and has begun to consolidate once more into the mid-$30s giving investors another opportunity to snatch up this market-leading ultra-deepwater driller with a state-of-the-art fleet at a nearly 11% yield.
Besides the yield, Seadrill has got a couple of things going for itself, that justify the purchase of shares of the company. First of all, Seadrill's business has seen some decent EBITDA momentum over the last couple of quarters which I expect to continue over the next couple of years as global economic growth likely requires higher oil and gas supplies.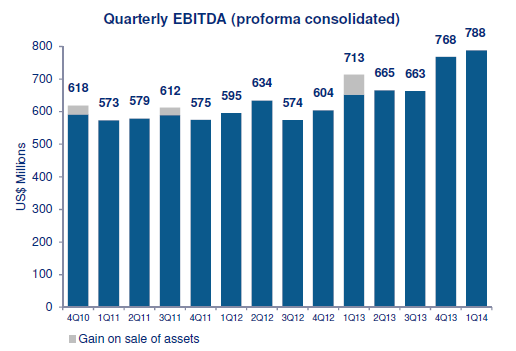 (Source: Seadrill Q1 2014 Earnings Presentation)
Secondly, I am not alone when suggesting that Seadrill should experience some crucial earnings tailwinds over the next couple of quarters. I have previously argued, that I am quite bullish on cyclical drilling companies which should benefit from increasing capital spending from oil and gas majors in the future as depleting oil and gas reserves will need to be replaced.
Consensus earnings estimates are consistently trending upward for Seadrill, suggesting that analysts expect higher quarterly earnings over the next year.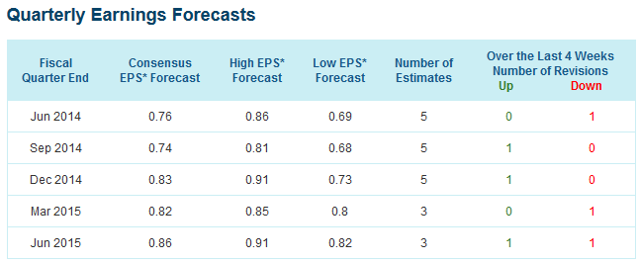 (Source: NASDAQ, Zacks Investment Research)
Chart situation
After the run-up in price in May and June, Seadrill shares have been taken a bit of a breather, but the company remains attractive on the pullback especially now that the company no longer trades in overbought territory.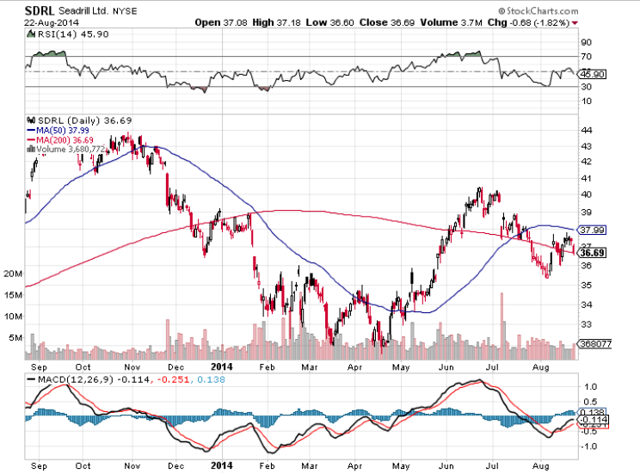 (Source: StockCharts.com)
Conclusion
I still think Seadrill is a great offshore drilling contractor to buy at a price of approximately $37 per share and at a yield of nearly 11%. Should the company be able to sustain EBITDA and earnings momentum, as implied by analysts' earnings forecasts, the stock price of Seadrill could also see regaining momentum and hit $40 in the short-term. Since the company is going to release second quarter results next week (which I expect to be solid), short-term upside momentum could be sparked sooner rather than later.
Disclosure: The author is long SDRL.
The author wrote this article themselves, and it expresses their own opinions. The author is not receiving compensation for it (other than from Seeking Alpha). The author has no business relationship with any company whose stock is mentioned in this article.