Still Powerful and Pungent?
International Flavors & Fragrances Inc. (NYSE:IFF) has been around since 1958, the "Mad Men" era, and its roots go all the way back to 1889, when a couple of Dutch relatives developed an interest in fragrances. IFF creates products that affect you every day, but you never think about them: the cologne on your co-workers, the perfume on the lady at the store, the smell of the soap in your morning shower. It is a global company that dominates its niche.
Recently, however, there have been reports that some insiders have been selling their shares. Can this mean trouble for the perfume king? Let's take a look.
Solid Fundamentals
It's always good to start off by looking at the annual reports and see what kinds of underlying trends those reveal. This is always the place to start, in order to get the big picture.
IFF Annual Earnings Numbers
Fiscal Year

Sales

($Millions)

Net Income

($M)

Shares

(M)

Net Income/share
2007
2,277
247
87,528
$2.81
2008
2,389
230
79,723
$2.86
2009
2,326
196
79,094
$2.46
2010
2,623
264
80,440
$3.26
2011
2,788
267
81,467
$3.26
2012
2,821
254
81,833
$3.09
2013
2,953
354
81,930
$4.29
Source: IFF Annual Reports
Looking at the fiscal year numbers gets us oriented, and we see a number of things of interest:
Sales have stumbled here and there, such as during the 2009 recession, but they are trending up steadily, if not spectacularly quickly;
Net Income shows the same pattern, a bit shakier but with the nice Hollywood finish in 2013;
Share count has remained steady since 2008, the changes probably due to executive stock incentives and the like;
Earnings/share had some hiccups in 2009 and 2012, but again finished well.
Nothing alarming about the annual numbers. Whatever difficulties the company had in 2009 and 2012, it appears to have shaken them off.
Let's move on to the cash flow figures and see if they confirm the solid performance of the other figures.
IFF Annual Cash Flows
Fiscal Year

Cash from Operations

($Millions)

Cap Ex ($M)

FCF

($M)

FCF/Share ($)
Dividends/share ($)
Payout Ratio
2007
314
65.6
248.4
2.84
0.88
.31
2008
221
85.4
135.6
1.70
0.96
.33
2009
292
66.8
225.2
2.84
1.00
.41
2010
315
106.8
208.2
2.59
1.04
.32
2011
189
127.5
61.5
0.75
1.16
.36
2012
324
126.1
197.9
2.42
1.30
.42
2013
408
134.2
273.8
3.34
1.46
.34
Source: IFF Annual Reports
These figures also tell a story.
Cash from operations was stagnant for several years, but finally broke loose in 2012 and 2013;
Capital expenditures have been rising pretty quickly, holding back free cash flow, though those, too, broke loose in 2012 and 2013;
Dividends per share have gone up at an increasing rate the last few years;
The company has been very conservative with its payout ratio, obviously determined to keep it under 40%;
The 5-year dividend growth rate (2009-2014) is 9.2%, and a compounded annual growth rate of 15% over the past four years.
There aren't any red flags so far. This appears to be a conservatively run company that is prudent - some shareholders might think a bit too prudent - about keeping its payout ratio low. The company clearly took a hit during the recession that it took some time to work out, but 2013 was a pretty good year all around.
Next, let's do a check with the latest quarterly numbers to see if past trends remain in place. This is always prudent, to make sure something hasn't gone terribly wrong recently. We're also curious to see if that big surge the company had in 2013 is continuing into 2014.
IFF reported its second-quarter earnings on August 5, 2014.
IFF Second-Quarter Earnings
Fiscal Year

Net Sales

($Millions)

Net Income

($M)

Net Income/Share ($)

Dividends ($)
Payout Ratio
2009
612.6
52.8
0.66
0.25
.38
2010
673.3
77.0
0.95
0.27
.28
2011
715.6
76.2
0.94
0.27
.29
2012
721.3
88.6
1.08
0.31
.29
2013
757.6
102.3
1.24
0.34
.27
2014
788.4
110.3
1.35
0.39
.29
Source: IFF quarterly financials
Everything looks fine with the quarterly numbers. There are several takeaways that help us to understand the company better.
The 2014 earnings/share numbers continue the upward momentum, but they aren't quite as much an improvement as those in 2012 and 2013 were over the preceding years;
Revenue is still climbing, but at a slightly slower pace;
The payout ratio for the year obviously is calculated in the second quarter, since those numbers are too close together to be a coincidence, and those low numbers show where the company's thinking is at regarding dividends;
The dividend payout is accelerating, after flattening briefly around the time of the recession.
Below is a graph showing the performance of the dividend since the mid-90s. It has shown consistent growth for the past decade. The board authorized a 21% increase in the quarterly dividend to $0.47 per share (up from $0.39) on August 4, giving the stock a yield of 1.88% going forward, so the trend remains intact.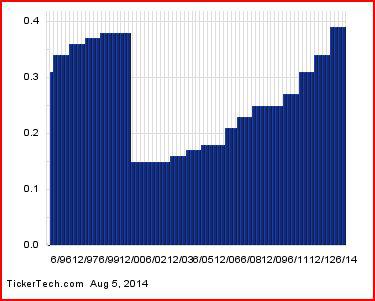 Source: Forbes
There also is a $250 million share repurchase program that was authorized by the board in December 2012. During the conference call, the company said that it spent $34 of that so far this year and $86 million overall, leaving a substantial chunk remaining. "Based on our programmatic share buyback program, we continue to expect that we will spend more on share buybacks in 2014 than we did in 2013." So, that means the company likely will ramp up its share repurchases for the remainder of the year.
It looks like everything is on track with the numbers through the second quarter. Let's turn to valuation to see if this steady performer also has an attractive valuation.
Valuation
Now that we know the company is growing nicely and understand that the company is conservatively run, we move to valuation. Even the best-run company can also be way too expensive for our tastes.
The price-earnings ratio is just over 20, while the price-to-book is 5.1 and the price/sales ratio is 2.7. The P/E number is not out of line, given the S&P 500 as a whole is trading in the same region. The price/sales ratio is a touch high - we prefer it under 2 when looking for an undervalued stock. The price/book ratio is high at 5.1, but not outlandishly so with an S&P 500 number of 2.78. Old companies like IFF tend to have a lot of old assets that are undervalued, and they also rely a lot on intellectual assets, such as specialized chemists and trained fragrance sniffers or what have you.
Our conclusion from those numbers is that IFF is no screaming bargain, but is pretty fairly priced by the market for what it has accomplished. If you are very strict about valuation, these sorts of numbers may make IFF a pass right off the bat, but there remains room for growth in the stock price if its performance remains on track.
Firmenich, Givaudan, and Symrise are IFF's global competitors. Givaudan is the largest company in the industry, replacing IFF several years ago. The first two of them are Swiss, and the other German, so trying to compare their valuations directly would introduce so many variables that it would be misleading. IFF is in its own class in the United States.
Overall, the valuation of IFF is a bit iffy for a value investor. The growing dividend is enticing, but let's look further to see what the company is up to and if that is enough to cause us to pull the trigger.
Looking Forward
IFF adjusted earnings came in at $1.37 per share for the second-quarter 2014. This was a healthy increase of 20.2% from the $1.14 earned in the year-ago quarter, with the result beating the Zacks Consensus Estimate of $1.35 per share. Net revenues were $788.4 million, up 4.1% year-over-year, but below the Zacks Consensus Estimate of $795.0 million. Since 75% of IFF's business is overseas, currency fluctuations play a major role in its numbers, and on a constant currency basis, revenues climbed 4% year-over-year.
Forward guidance was a touch weak for sales again. The company forecast lower volume in North America for its Flavors business in third-quarter 2014, and thus lowered its 2014 sales growth guidance to the range of 4%-6% from 5%-7% projected earlier. The revised forecast includes a 1% contribution from the Aromor acquisition in January 2014. For earnings, IFF expects double-digit earnings growth for both adjusted operating profit and adjusted earnings per share, helped by the typical cost-cutting vows.
There were news reports that some insiders were selling shares. Insiders sell shares for all sorts of reasons, but many interpret such sales negatively depending on several factors, such as who sold them, how much was sold, and whether they kept shares. One officer, Senior VP Angelica T. Cantlon, sold 1500 shares on August 18, 2014. She still owned 41,399 shares afterward, worth $4,166,809. In addition, Controller Richard O'Leary sold 1523 shares on August 11, leaving him with 21,556 shares. Senior VP Research/Development Baydar Ahmet also sold 700 shares on August 4, leaving him with 26,593 shares. There is a complete rundown of sales here, it appears more than anything as if several officers are consistently selling share without regard to the company's prospects, though other interpretations are certainly justified.
Meanwhile, these officers and several other insiders have been accumulating shares, no doubt as part of their pay packages, right along. Canton banked shares of the company on July 30 and August 14, O'Leary on July 30 and August 14, Chairman Douglas Tough on July 30 and August 14, Ahmet on July 30 and August 14, Group President/Fragrances Nicolas Mirzayantz on July 30, and General Counsel Anne Chwat on July 30 and August 14. You can read into the sales what you will; perhaps it is a sign of trouble ahead, but to us it does not look at all sinister.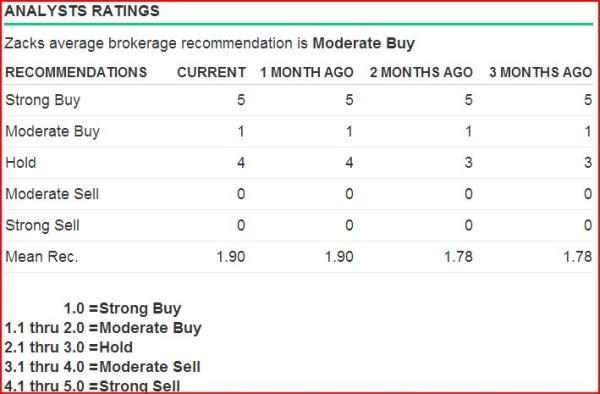 Source: MSN Money
Analysts remain mildly bullish on the stock. Argus reiterated a "Buy" rating on August 13, with a $111 price target, while Zacks reiterated a "Neutral" rating on August 8, with a $102 target, and JPMorgan reiterated its "Neutral" rating, with a $104 target.
The Big Picture
Now that we've looked at performance, valuation, and what the company and others have told us about what may lie ahead for IFF, let's look at other news about the company and see if that lends an attractive fragrance to the company's strong financial results.
Chairman/CEO Tough is stepping down as CEO effective September 1, 2014, to be replaced by board member Andreas Fibig. Eventually at a date to be determined, Fibig will replace Tough as chairman as well. New leaders promoted from within often have new plans they've been thinking about for a while that can make a company better.
IFF appears to be executing well. It was awarded "Best Supply Performance 2013" by Henkel. It's always a good sign when a company receives one of those industry awards, and shows it is respected by other companies.
The company is trying to go green. It recently opened a photovoltaic installation in Hazlet, New Jersey. That may be where a good chunk of its capital spending has been going.
The quality of IFF's products was emphasized recently, when it received a nice write-up for its Aromatics Elixir by Clinique, a fragrance which IFF produced 40 years ago and now is updating based on the latest chemical advances. It has been one of the best perfumes ever, and cachet like that is hard to get in any industry.
IFF won a $27 million jury verdict on August 19, 2014 in Iowa Federal Court in a "Popcorn Lung" trial. Those cases have settled in the past, but a victory at the trial level will at the very least give the company more leverage in negotiating a settlement, if it chooses to go that route. It also helps the company to refine strategy for future cases.
The Middle East, according to an IFF executive, is the fastest-growing market for fragrances in the world. According to figures supplied during the conference call, emerging markets now make up 49% of the company's business, and sales growth there is well ahead of the 5% in developed markets. IFF recently opened an office in Dubai to help target the region. They also are hiring in India, so things must be going well down on the sub-continent, too. Overall, there is opportunity in several regions abroad that should help the company over time.
On the charts, the stock price broke lower a few days before earnings, making a run down towards the 200-day moving average, which currently sits at 94.32. However, the stock has rallied since the earnings release, and currently sits only about 5% below its recent highs.
Conclusion
Individually, there is nothing remarkable about IFF's stock to recommend it highly. The company is not valued at a discount, it has seen some insiders selling recently, the yield remains low for a dividend investor even after recent increases, and it has been muted in its forecasts. However, overall, IFF's performance has been rock-solid over the course of several years, and it is doing the little things that a company like it must do to continue moving forward. These include raising the dividend at a fast pace without introducing new risk, expanding its global reach into new and promising markets, and retaining its aura of being a global leader in its field domestically. IFF represents a solid holding in a well-diversified portfolio slanted toward the income-growth investor.
Disclosure: The author has no positions in any stocks mentioned, and no plans to initiate any positions within the next 72 hours.
The author wrote this article themselves, and it expresses their own opinions. The author is not receiving compensation for it (other than from Seeking Alpha). The author has no business relationship with any company whose stock is mentioned in this article.