We are happy to report that 2010 was another strong year for Lakshmi Capital clients, as our average account logged a 67.39% return for 2010 (our full performance statistics can be viewed here). One of our main contributors to performance last year was our long position on silver. As the clock turns to 2011, we would like to reevaluate where where we see silver headed.
Silver has already had an extraordinary run, as evidenced by its 84% return for 2010. However, we believe the white metal has further left to rally.
Long Term Indicators: Managed Money Longs and Producer Shorts
The most recent Commitment of Traders report, spanning from 12/21-12/28, shows us that Managed Money net longs have begun to increase again, rising to 27,210 contracts from 24,365 the previous week. This represents a 11.7% increase in long positions by Managed Money.
Furthermore, Producer net short positions increased to 47,223 contracts from 44,426 during the same time period. This simultaneous move indicates that the "Producer" shorts (who are most likely commercial bank proprietary traders, and not true hedgers, i.e. miners, as discussed in our previous article), are ramping up their short positions at the same time Managed Money is increasing their longs.
This is a reversal from the recent trend that saw the Producers reduce their short exposure to silver significantly. As we have discussed previously, as long as the Producer short position remains so large relative to the amount of silver being mined each year, the potential for further short covering rallies in the price of silver remain.
Even though Managed Money increased their long positions significantly, the Managed Money long position is still 20,000 contracts less than the high set on September 28 of 48,532 contracts. As Managed Money continues to ramp up their long exposure, look for the price of silver to rally.
Recent SLV ETF and Silver Futures Price Action
Looking at today and yesterday's action in the SLV as well as silver futures reveals a few more interesting points.
click to enlarge images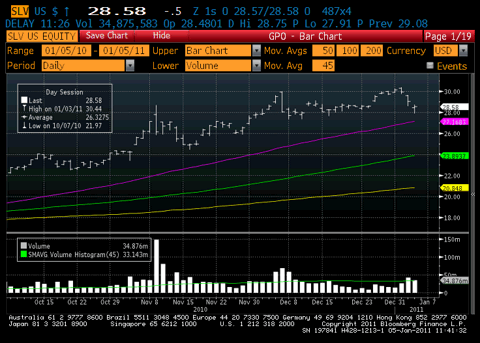 Click to enlarge
The SLV chart over the last few months looks like the perfect picture of health from a security in a bull market. Silver makes new highs, frequently on increasing volume, then sells off abruptly, then starts to grind higher again. This pattern of slow, grinding upwards movements, followed by sharp corrections is very typical of a bull market.
Also, the bottom bar chart shows the volume traded of the SLV. As can be seen, today and yesterday have shown only slightly above average daily volume on the silver ETF, which is not indicative of conviction regarding the sell-off. Let's look at the silver futures contract.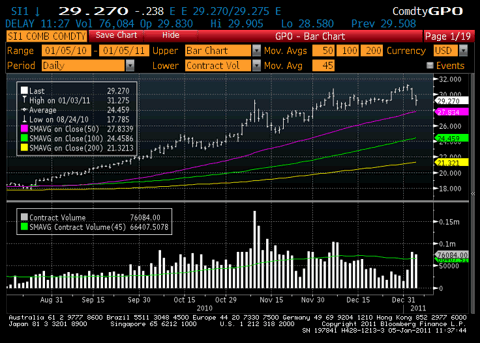 Click to enlarge
Silver dropped precipitously to start today's trading, trading as low as 28.58, only to rebound quickly as the day wore on, showing resilience and support at the 29 level.
As can be seen from the bar chart, the silver futures contract also exhibited only slightly above average daily volume. The volume today and yesterday did not even approach the volume during the parabolic run-up and consolidation at the beginning of November. Normally a rule, higher volume days indicate more conviction regarding that day's move. As the move in silver was very sharp yesterday, but volume only slightly above average, this is most likely not a change in the trend. Sell-offs in bull markets are almost always very high volume days even if the trend is continuing because of the tendency of "weak longs" to panic when a security is off of its recent highs. Silver failing to show convincing volume even on a very sharp down day shows that even a dramatic sell-off did not convince a large number of silver long holders to liquidate.
In addition, silver dropped precipitously to start today's trading, trading as low as 28.58, only to rebound quickly as the day wore on, showing resilience and support at the 29 level. In our opinion, there are enough buyers looking to enter the silver market on pullbacks that any correction will be short-lived. Trading Recommendation Both the silver Managed Money long and producer short positions, and action in the SLV ETF and silver futures, indicate consolidation and correction in an ongoing bull market. Furthermore, with the FOMC minutes confirming the Fed's vigilance in continuing their asset purchase program and keeping interest rates at artificially low levels, precious metals market fundamentals have been reaffirmed. We remain steadfast in our conviction that precious metals will continue to outperform.
We view the current pullback as an excellent buying opportunity. We have added to our positions in silver futures, as well as increased our holdings of SLW, GDX, and GDXJ.
Disclosure: I am long SLV, SLW, GDX, GDXJ and am also long silver futures