Investors are starting to get interested in GNC Holdings (NYSE:GNC) again. There are a number of factors driving this interest. For one, shares are down about 36% since the start of the year and wiped out all the gains the stock has made in the past two years. Shares are now trading at just 11.79 times next year's earnings.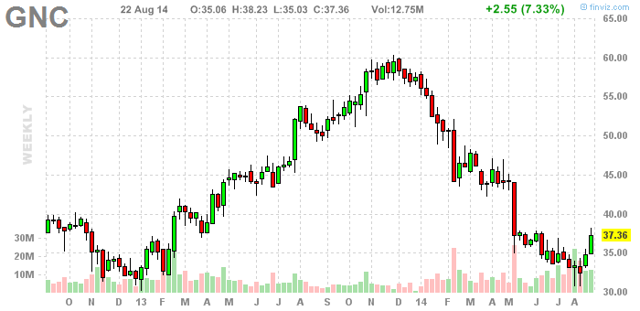 Click to enlarge
Second, shares rebounded off the lows last month after Credit Suisse raised its rating on GNC from Neutral to Outperform. Credit Suisse also cited a potential merger with Vitamin Shoppe (NYSE:VSI) as a smart move for both firms that would reduce costs and create many synergies. New CEO Michael Archbold was previously the President and COO of Vitamin Shoppe. So he certainly knows the company and a tie-up in the future could be a distinct possibility.
The third factor driving interest is that GNC unveiled a new $500 million share repurchase program. This will reduce total outstanding shares by about 15%. Considering how far shares have dropped, this is a good use of the company's FCF. Over the ttm, GNC generated $207 million in FCF. GNC could also put some of its FCF to boosting its dividend. Its dividend yield of 1.9% is only a 22% payout of earnings.
The fourth factor is the recent insider buying by the company's new Chairman Michael Hines. Previously, he only owned 7,118 shares. But earlier this month, he purchased 30k shares at $35.41 each. This $1 million purchase is certainly a sign of confidence in the company.
The fifth and final factor could be that the worst is already behind the company or already baked into the stock price. In Q2, results were hampered by a number of factors. Former CEO Joe Fortunato said in the press release.
"Our second quarter results reflect a difficult environment with widespread retail traffic challenges, a slower industry growth rate, and a tough anniversary of our very successful chain-wide Member Pricing launch. These pressures were compounded by our increased dependence on bundled-product promotions and a lack of third-party product innovation."
Even with all the challenges the company faced this year, GNC will likely earn $2.85 per share this year, or the same as last year. Consolidated revenue is expected to be flat as well. Even thou it was a difficult Q2, GNC did manage to boost its gross margin from 37.8% last year to 38.3% this year.
Going forward, all eyes will be on new CEO Michael Archbold. I think his expertise having run Vitamin Shoppe is giving investors comfort that a turnaround is likely. While it's tough to say that the low is in for sure, I like what I'm seeing and think the worst is behind the company. On any dip, I'll look to add to my position in GNC.
Disclosure: The author is long GNC.
The author wrote this article themselves, and it expresses their own opinions. The author is not receiving compensation for it (other than from Seeking Alpha). The author has no business relationship with any company whose stock is mentioned in this article.