Lately I have been reading "The Little Book That Makes You Rich" by Louis Navellier, which touts that it provides "A Proven Market-Beating Formula for Growth Investing".
Since I am one who is always on the lookout for market-beating ideas, I took note of the "eight tried-and-true key fundamental factors that drive stellar stock price performance" listed in the book. Interested to see what stocks would pass some of the fundamental factors, I applied screening criteria as indicated further below and came up with the following list of 11 stocks using Morningstar's Premium Stock Screener (click to enlarge):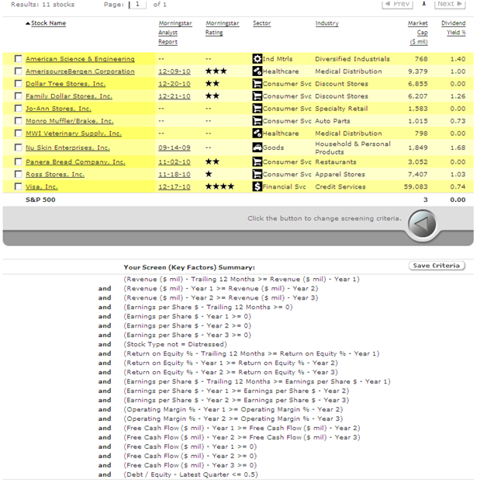 Of the 11 stocks, Morningstar covers 6 stocks of which only Visa (NYSE:V) has a buy rating. I decided to look at some of the other stocks not covered and began with Jo-Ann Stores (NYSE:JAS) only to find that it had recently been bought out in a private-equity deal.
At this point I began to think that there may be some merit to the key fundamental factors Louis lists. I then looked at Nu Skin Enterprises (NYSE:NUS) and was very impressed with what I came across. Zachs has the stock rated as a buy and then just today MagicDiligence came out with this article.
Fortunately for me, the stock price of NUS has corrected somewhat in the past few days so I felt comfortable in purchasing shares. I still need to look into the other shares but for now, I believe that using the eight key fundamental factors may just help me beat the market.
As always, please do your own due-diligence.