For a long time, I've been reluctant to consider American Axle & Manufacturing Holdings (NYSE:AXL) as an investment because of the company's substantial debt. Companies with more debt than equity have a nasty tendency to stay that way.
Yet American Axle seems to have done what so many others have tried and failed to pull off. They grew their way out of the hole, and finally, as of the end of FY2013, had more assets than liabilities.
American Axle: The overview
As you might imagine from the name, American Axle makes axles. They make drivetrains and chassis modules for vehicles for virtually every major automaker in the world, but historically have depended on General Motors (NYSE:GM) for the vast majority of their sales.
That's still a worry, as GM remained 71% of net sales in FY2013. That's less than years past, and American Axle has had great success in making deals with Chrysler's Jeep division and others. They've got Chrysler up to 12% of net sales.
Diversification is job one at American Axle right now, and their new order backlog is about 70% non-GM in nature. They're doing a great job executing, and while there's no reason to expect that the GM business is at risk, it will be nice to have enough other business not to have to depend entirely on them.
Diversifying outside of the United States is also a key goal, and in that regard, they've also made some significant progress. Look at the change from 2011 to 2013.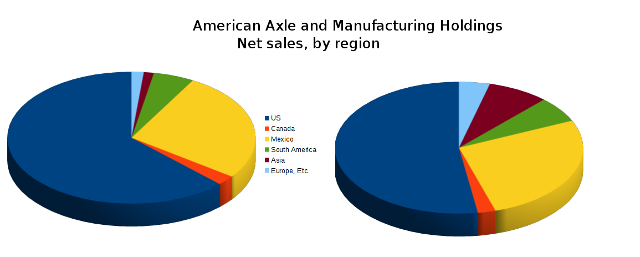 Chart made for this article, based on data from FY2013 10-K
Though American Axle of course remains America-centric, their growth is coming almost entirely overseas. That too is good news, as the company matures from a one-company auto parts maker into a global player.
EcoTrac: The focus on fuel efficiency
One of the biggest examples of American Axle successfully executing on this diversification was when their new EcoTrac drivetrain was announced for Jeep's resurrected Cherokee line. There hadn't been a new Jeep Cherokee for the US market since 2001.
Massive improvements in fuel efficiency were Jeep's defining improvement for the new Cherokee, and EcoTrac, which can save energy on parts of the on-demand all-wheel drive system when traveling on roads where front-wheel drive is all that's in use, was a key aspect of that improvement.
Growth: The real success story
American Axle has done an impressive job in growing net sales year over year, more than doubling their annual sales since 2009.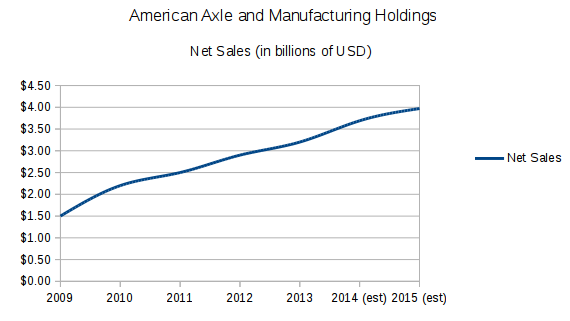 Chart made for this article, past data from 10-K, avg estimates as of 8/24/14
That steady growth has come with increases in income, as well. FY2013 net income is deceptively low, because of debt refinancing costs (more on that below). That means the current PE, with these costs, is a modest 14.6. The forward PE, based on estimates for FY2014, is just 7.7, and earnings are expected to grow even more into FY2015 and beyond.
The debt refinancing
That level of growth and trading at such a low multiple to earnings is almost unheard of. In the past, this could be explained away because of high debt levels dwarfing current assets. That's no longer the case, and American Axle has done an admirable job in getting a handle on that mountain of debt.
Buried under that mountain, American Axle was paying some pretty high interest rates, bonds in the 9.5% range were not unusual. Even in 2011, the average rate on their debt was 8.0%.
No longer the default risk it once was, American Axle can get loans at much lower rates now, and has been working to refinance the worst of their debts at those lower rates. That's not free, and costs related to that brought down FY2013 earnings a fair bit. On the plus side, it got the average interest rate on their debt down to 7.3%, a number that should continue to drop in the years to come.
Conclusion: A chance to get ahead of the market
In Q1, American Axle beat by 4 cents per share, and in Q2, they missed by 4 cents per share. It's a wash, right? But look at what the market did to them.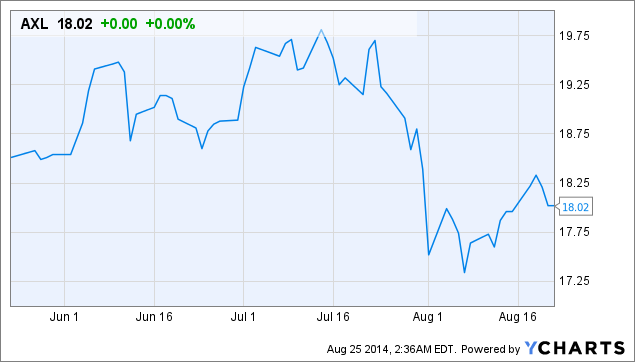 Market sentiment has a nasty momentum to it sometimes, and American Axle's years as a debt-heavy high-risk stock have stayed with it, with traders panicking on even the most modest bump in the road. They dropped $1.38 per share the day of the miss, and even though they recovered some of it, the stock remains extremely cheap considering its forward earnings estimates.
Being a contrarian means trying to get out in front of the market's sentiment, finding companies that are still unfairly maligned and getting in cheap before the broader market figures the company out. The extremely low forward PE suggests to me that American Axle is still a company the market hasn't totally appreciated.
Disclosure: The author has no positions in any stocks mentioned, and no plans to initiate any positions within the next 72 hours.
The author wrote this article themselves, and it expresses their own opinions. The author is not receiving compensation for it (other than from Seeking Alpha). The author has no business relationship with any company whose stock is mentioned in this article.