Inventories
The Department of Energy reported that in the week ending December 31st, 2010, U.S. crude oil inventories decreased by 4.1 million barrels, gasoline inventories increased by 3.3 million barrels, distillate inventories increased by 1.1 million barrels, and total petroleum inventories decreased by 6.3 million barrels.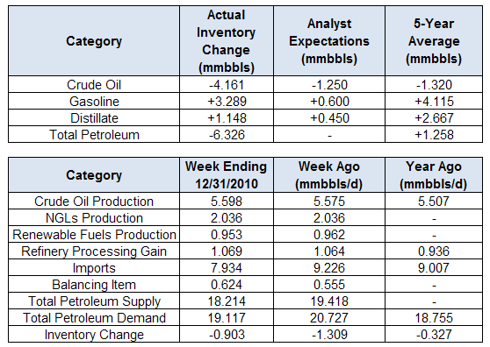 Click to enlarge
U.S. petroleum inventories continue to plunge. 9 of the last 10 weeks have seen a decline in the total petroleum surplus, which now stands at 49 million barrels, or 4.8%, down from 5.5% last week and less than half of the 110 million, or 10.7% surplus back in September. Most benchmark crudes are reflecting this apparent tightening of the physical market with Brent near $96 and LLS near $98.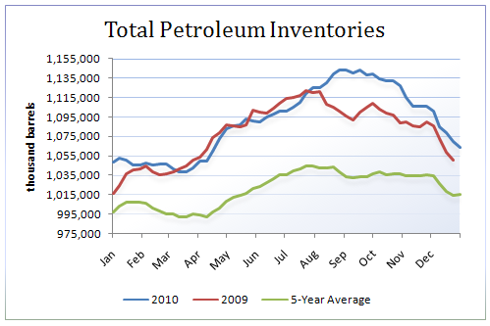 Click to enlarge
Crude oil inventories fell much more than normal. Levels are now 21 million, or 6.8% above the 5-year average versus 7.7% last week.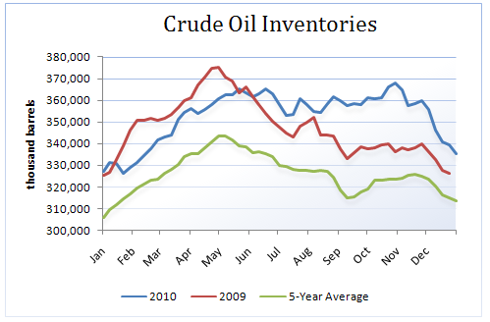 Click to enlarge
Product inventories continue to be well-supplied thanks to high levels of refinery utilization.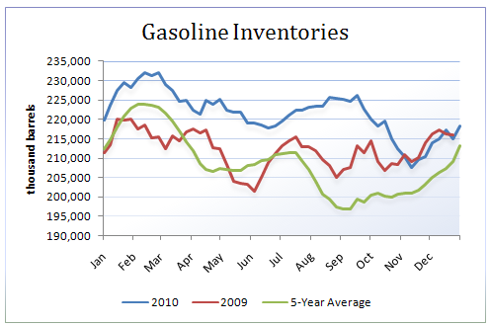 Click to enlarge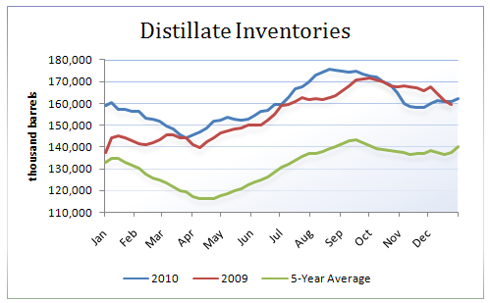 Click to enlarge
Demand
Demand fell sharply week-over-week in part due to the storms that have been bombarding parts of the nation. Nevertheless, on a four-week rolling basis, demand is up 4.4% year-over-year. Gasoline demand is up 2.8% and distillate demand is up 3.8%.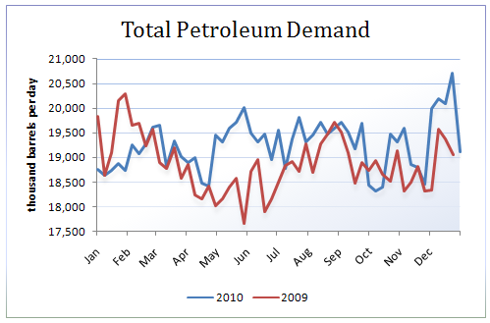 Click to enlarge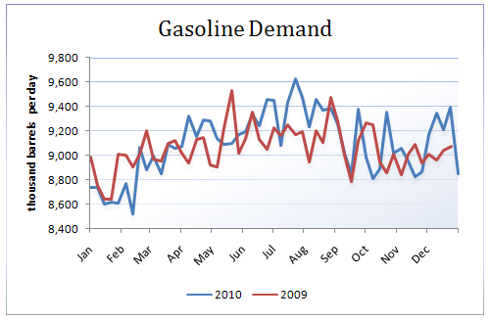 Click to enlarge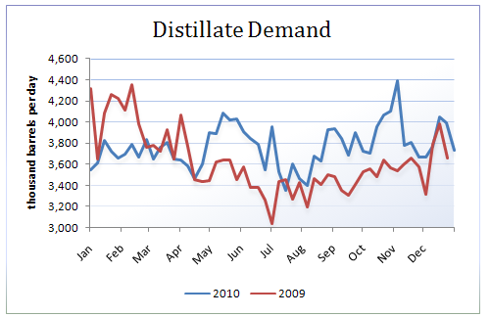 Click to enlarge
Imports
Crude oil imports fell about 0.4mmbbld/s week-over-week, but total imports including products fell a much more substantial 1.3mmbbl/d. Gasoline imports, in particular, fell to the lowest level in six years.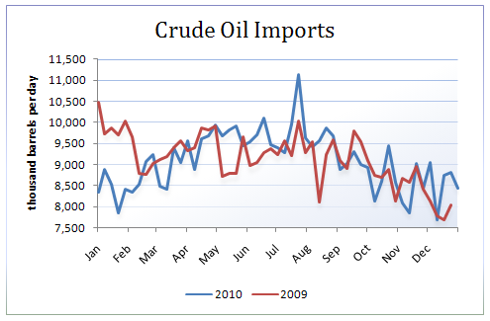 Click to enlarge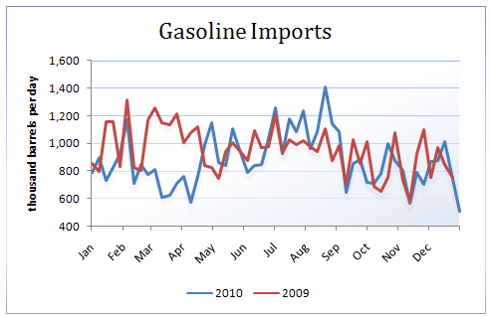 Click to enlarge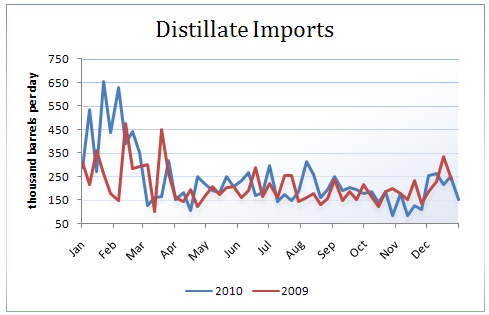 Refinery Activity
Refinery utilization ticked higher from 88.7 % to 88% and remains above the 5-year average. Even so, gasoline production fell nearly 350k barrels per day, while distillate production was steady.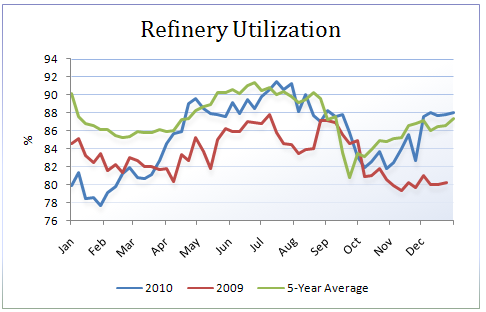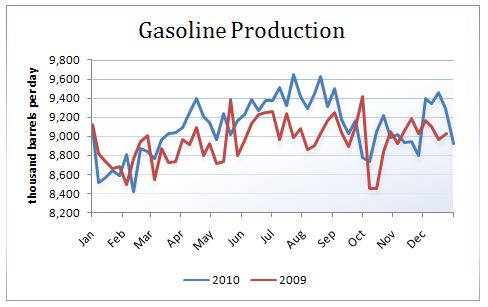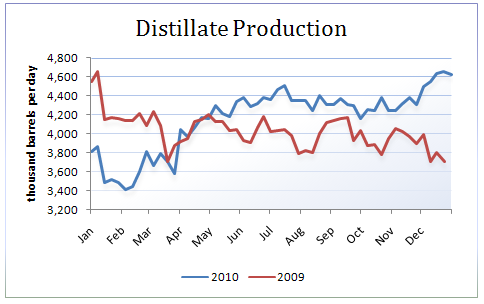 Miscellaneous
U.S. crude oil production was slightly higher week-over-week and remains remarkably stable near six-year highs. The weekly dataset indicates that U.S. crude production was up 187,000 barrels per day, or 3.5% in 2010.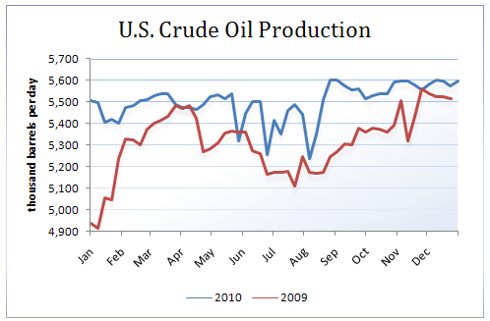 Click to enlarge
Inventories at the NYMEX delivery point, Cushing, Oklahoma rose 0.9 million barrels last week. Front month calendar spreads widened week-over-week from -0.91 to -1.16. WTI remains at an extremely substantial $5+ discount to Brent and $7+ discount to LLS thanks in part to the persistent glut at Cushing.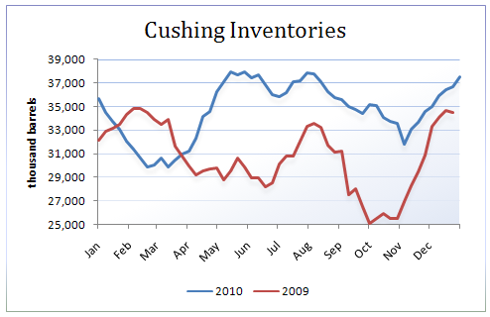 Click to enlarge
Disclosure: I have no positions in any stocks mentioned, and no plans to initiate any positions within the next 72 hours.