The WSJ announced that Cisco (NASDAQ:CSCO) is now entering the race to offer consumers Internet TV technology directly on their TV sets through Videoscape. The technology, which was introduced by Netflix (NASDAQ:NFLX) in a less advanced stage, has seen an intense race by rivals, as Netflix has seen a 250% 1 year growth. Apple (NASDAQ:AAPL), Google (NASDAQ:GOOG), and Roku have already successfully entered the market and Motorola (MOT) may soon be next to roll out the new technology.
Unlike Apple or Roku, Cisco will not lease the technology directly to consumers, but will do so through cable providers, such as Comcast (NASDAQ:CMCSA) or Charter Communications (NASDAQ:CHTR). The company claims that Cisco technology is much bigger than any of the previous versions as it combines social media with the streaming TV technology.
The new competition will undoubtedly have a significant effect on Neflix, as I mentioned a few weeks ago. My additional analysis shows that the company has seen extremely thin relative margins in their business and will not be able to sustain the high level of competition.
Comparing the companies at a high level shows that Netflix is the loser in Operating Margins and Cash and Short Term Investments growth among competitors, pointing to their potential weakness in fending off competition.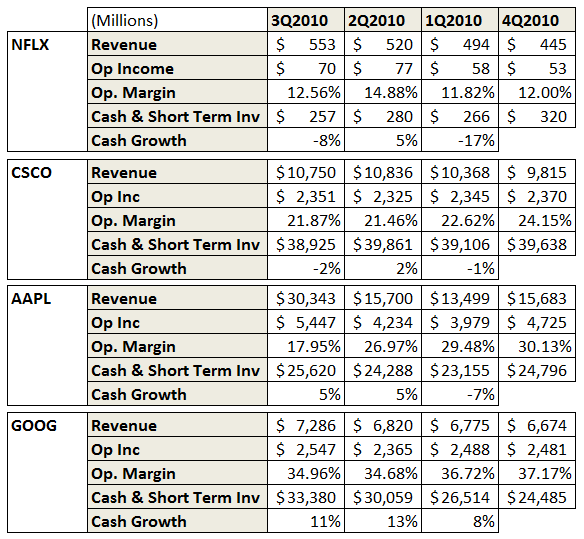 click to enlarge
Additionally, here are some of the other evident and significant areas of slow down:
Revenues per paid customers dropped from $39.33/paid customer in 2Q2009 to $34.87/per customer in 3Q2010, suggesting a lower willingness to pay for the product. Profits/per customer dropped by 23% since the period as well.
Netflix currently offers its potential customers a 1 month free deal. Unpaid customers totaled only 2% for most of 2009. During the previous quarter, that number increased to 6%, suggesting that Netflix customers are becoming more market and price intelligent, as competition rises.
Netflix trades at 68X earnings (Apple, 22x, Google, 25x, and CSCO 15x), indicating that investors expect growth from the company. That growth might be extremely difficult to achieve, if not impossible. From a financial standpoint, Netflix is in extremely dangerous territory and may be the first to lose the Internet TV war among its competitors. Expect a significant drop in market cap during the next few months.
Disclosure: I am long AAPL.