Throughout the month of August, Glu Mobile (NASDAQ:GLUU) has seen its share price decline despite minor changes in performance from older games, while seeing continued success of newly released games. During the second quarter, the top grossing games for the company included the following:
| Game | Non-GAAP Revenue |
| --- | --- |
| "Deer Hunter 2014" | $14.4M |
| "Eternity Warriors 3" | $4.7M |
| "Frontline Commando 2" | $2.0M |
| "Frontline Commando:Dday" | $1.6M |
The intent of this article is to demonstrate why Glu should continue to expect steady revenue from older games that is comparable to, if not better than, the second quarter. I will also demonstrate the success of newly released games and prove that Glu is successfully diversifying its gaming portfolio.
Steady Revenue
"Deer Hunter 14" ("DH14") was the biggest contributor to Glu's revenue during the second quarter, totaling $14.4M. "DH14" has declined within the top-grossing games leaderboard as expected, but Think Gaming's graph depicts a much better picture than expected.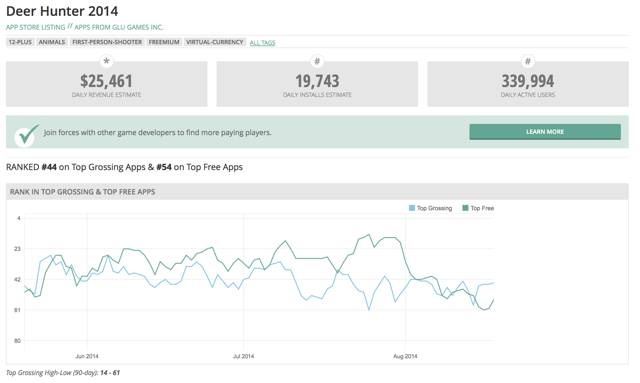 Source: Think Gaming.
Glu updated the game in each of the past two months, possibly helping "DH14" maintain its relevancy within the leaderboard. Although "DH14" has yet to be updated during the month of August, Glu has shown that it will keep the game fresh by not letting it go without an update for more than two months. If this trend continues, "DH14" should keep its place within the top 100 grossing games through the end of the year.
"Eternity Warriors 3" ("EW3") revenue decreased from $10.2M in the first quarter to $4.7M in the second quarter. The game had shown a significant decline within the leaderboard, but as of July, "EW3" has surged back up through the ranks possibly due to the game's last two updates.
Version 2.3.0 (Aug. 13, 2014): Explore two new dungeons in Kingdom 4.
Version 2.2.0 (July 15, 2014): Multiple updates including earning more rewards with a new VIP system.
If "EW3" maintains this pace, it will most likely have a greater revenue impact during the third quarter than the second quarter. This is better depicted by the following graph.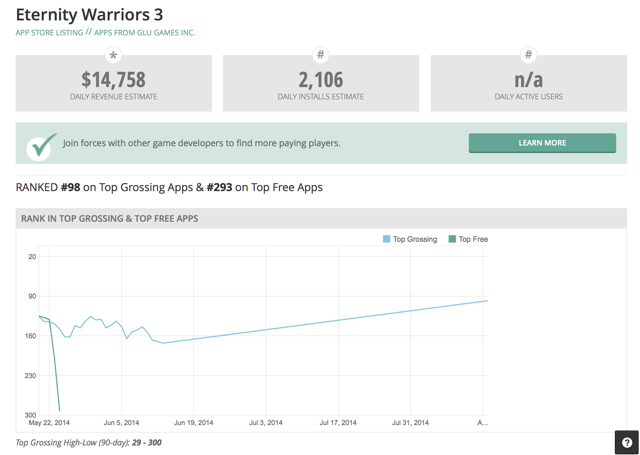 Source: Think Gaming.
Both games in the "Frontline Commando" franchise ("D-Day" and "FC2") have continued to decline in the leaderboard. The gradual decline can be interpreted as a sign of a well-established audience. This might all change as Glu plans to release "Frontline Commando: World War II" during the fourth quarter.
Newly Released Games
There is no formula to calculate how long a game can stay at the top of the leaderboard, but "Kim Kardashian: Hollywood" ("KKH") has shown no signs of slowing down. Its ranking within the iOS platform has been steadily at No. 4 since its release. According to Statista, was "KKH" ranked at No. 4 in the top grossing gaming applications during the month of July, with daily revenue of approximately $625,296. The game's engine has proven to be a success when combined with someone with the popularity of Kim Kardashian. But from an investor's perspective, it would be hard to believe that Glu has not brainstormed about who will be the next star.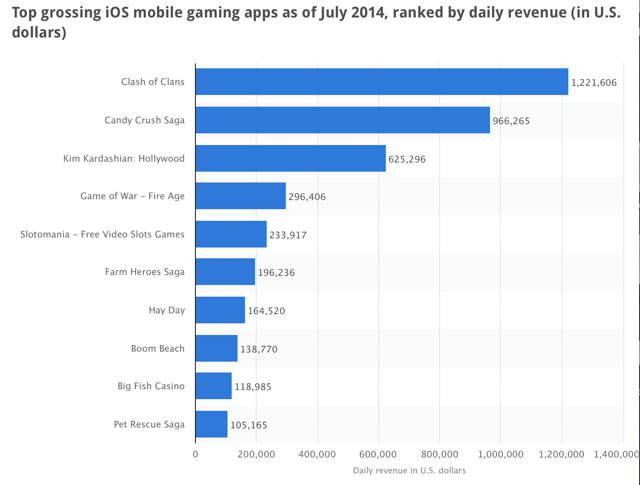 Source: Statista.
Glu acquired Pick 6 Studios back in November 2013 and finally released "Tap Sports Baseball" on Aug. 14, 2014. Surprisingly, it managed to make its way to the top 100 grossing applications in less than three days of its release. How much higher it can go and for how long still remain to be seen.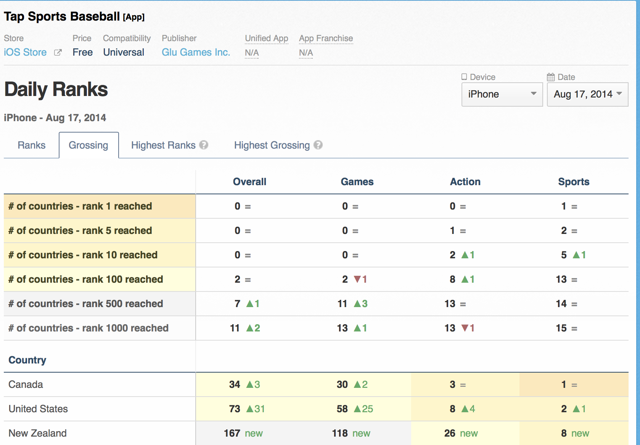 Source: App Annie.
The game was beta tested in Canada, and as noted above, "Tap Sports Baseball" has not lost its popularity in that country. This sudden success of the game should make every investor wonder whether Glu took into account the game's current revenue toward third-quarter guidance.
Finally, Glu completed the acquisition of Cie games on Aug, 20, 2014. This brings "Racing Rivals," the No. 1 racing game in the market, to Glu's growing portfolio. The timing of the acquisition seems to be perfect as the game's popularity has kept "Racing Rivals" on the top 25 grossing games list with an upward trend. Additionally, Glu announced plans to re-launch "Car Town" as a mobile application. With Glu's track record of successfully remaking already established games, investors should look forward to the announcement for its upcoming release date.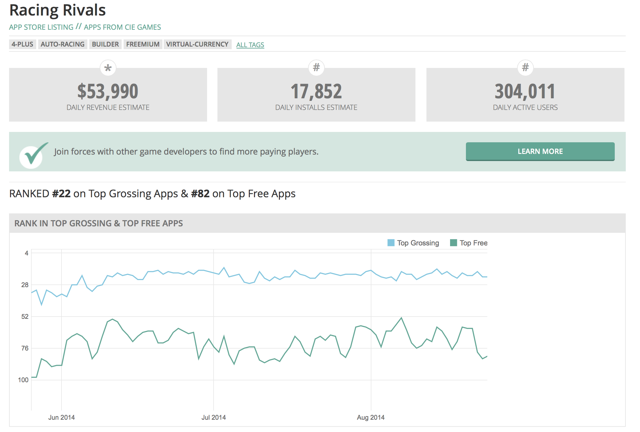 Source: Think Gaming.
Conclusion
GLUU has not only shown to be able to create successful games this year, but those that provided a significant revenue source in the previous quarter have remained relevant within the leaderboard. More importantly, Glu has successfully shown to be able to diversify its gaming portfolio with the acquisition of Cie Games and successful releases of "KKH" and "Tap Sports Baseball." Many articles have been written demonstrating that Glu's current lineup should beat third-quarter guidance. If the current success continues with the planned releases in the "Contract Killer," "Diner Dash," and "Frontline Commando" franchises, investors should expect Glu to increase its fourth-quarter guidance -- and most likely beat it at the end of the year.
Disclaimer: This article was written based on publicly available information and does not represent a professional analysis.
Disclosure: The author is long GLUU.
The author wrote this article themselves, and it expresses their own opinions. The author is not receiving compensation for it. The author has no business relationship with any company whose stock is mentioned in this article.