Airline stocks have been a volatile bunch to own over the last few months, being hampered by geopolitical news, but they're rallying of late thanks to a decline in crude prices. The big three airlines, American Airlines (NASDAQ:AAL), Delta Airlines (NYSE:DAL) and United Continental (NYSE:UAL) have been some of the most volatile.
American Airlines has been the perennial underperformer over the last three months. But given its valuation and new capital return plan, the airline looks to be a very appealing investment.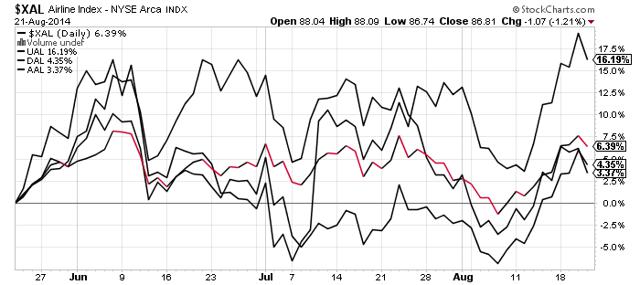 Click to enlarge
The hedge fund darling
Hedge funds are getting increasingly optimistic about airline stocks, but in particular, they love American Airlines. Following the merger of American Airlines and U.S. Airways, the post-merged company is one of the best positioned to capitalize on a rationalized industry. The airline is also one of the best priced in the industry when it comes to valuation.
The strong operating cash flows and rising revenues are not the only reasons hedge funds are bullish, the company is now better able to cope with swings in oil prices and has a greater ability to pass on increased costs to passengers without impacting revenues.
Goldman Sachs' latest research has found that the top five stocks appearing the most frequently in hedge funds' top ten holdings are Actavis (ACT), Apple (NASDAQ:AAPL), Facebook (NASDAQ:FB), Allergan (NYSE:AGN) and of course American Airlines.
Why you have to give American a closer look
It is true that the company was having a rough time when it entered bankruptcy in 2011, but the new merged company could be one of the market's great successes. Along with the increased operational efficiencies, American Airlines is actively engaged in expanding its coverage and updating its fleet. It has expanded its operations to China, where it operates five flights a day. This is significant given the travel boom we're seeing in China.
Its fleet modernizing is sure to increase passenger revenues per seat given the better fuel efficiency. Analysts expect the company to earn more than $6 per share in 2015, meaning the stock trades at just 6x forward earnings, the lowest of all the major airlines. Including Delta at 10.4x and United at 8.2x.
But, then there's the capital return plan.
Only a handful of airlines pay a dividend, including Southwest Airlines and Delta Air Lines. Currently, the leader in capital returns is Delta. Back in 2013, Delta initiated a dividend and authorized a $500 million stock buyback plan, which is part of its plan to return some $1 billion to shareholders over a three-year period.
American recently announced a share repurchase program amounting to $1 billion to be completed by the end of 2015 -- good enough to reduce shares outstanding by 3.5%. It also announced a quarterly dividend of $0.10 a share, the first cash dividend since 1980. American's dividend yield is 1%, while Delta yields just 0.6%. American Airlines also has a cash hoard of $10 billion and its net debt-to-market cap is 23%, compared to Delta's 21%.
Yet another encouraging fact is the airlines' contribution of $600 million to its defined benefit plan, which is well in excess of the $120 million that it is required to make. Overall, American Airlines' new capital spending program will involve debt payments and lease prepayment amounting to total of $2.8 billion.
Bottom line
American Airlines looks to not only be the best investment in the airlines industry, but also one of the best investments in the market. This comes despite its size, where it trades at a deep discount to the market. With the dividend back in place and buybacks flowing, you should also see more institutions nibbling at the stock as well.
Disclosure: The author has no positions in any stocks mentioned, and no plans to initiate any positions within the next 72 hours.
The author wrote this article themselves, and it expresses their own opinions. The author is not receiving compensation for it (other than from Seeking Alpha). The author has no business relationship with any company whose stock is mentioned in this article.