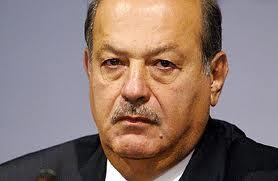 The much rumored takeover of Fresnillo Plc (OTCPK:FNLPF) by Carlos Slim, the Mexican billionaire, continues to rumble suggesting that the deal might be getting closer. Other than rumor though, there is very little to go on. Which makes sense as entrepreneurs do not get to be as rich as Carlos Slim by telegraphing their moves to the investment community in advance.
Fresnillo is the world's biggest primary silver producer with a market capitalization of just under twenty billion dollars so it is going to require someone with deep pockets to pull off such a move.
Does Carlos Slim have deep pockets? Apparently so. His worth is estimated to be in excess of $50 billion so, at a stretch, he could gain control of Fresnillo.
To get a 'feel' for the size of Fresnillo Plc, this is an excerpt from their latest Interim Management Statement and Production Report for the three months ended 30 September 2010:
Quarterly silver production of 10.69m oz reached a new record level (including 0.82m oz of the Silverstream).
Record quarterly attributable gold production of 91,822 ounces, a 44.4% increase over the corresponding period last year.
On track to achieve 2010 production target of 340,000oz attributable gold and of 41.1moz of silver (including 3.0 m oz of the Silverstream).
Construction of the Saucito development project on schedule for start up in 1H 2011.
Expansion of Ciénega's milling capacity is progressing according to schedule.
Positive exploration results were achieved at the Herradura mine (Centauro Deep) and at the San Julián and Orisyvo projects.
Cost control measures and efficiency initiatives remain firmly on track.
We draw your attention to the 2010 production target of 41 million ozs of silver. For someone with pots of cash and the desire to enter the silver market in a big way this company fits the bill.
Now, what if Fresnillo were to be acquired in order to fill the role of silver generator for its new owner? It's not inconceivable that Fresnillo's silver production could be taken off the market completely and diverted to underground vaults somewhere in Mexico. This would be one way to be build up a larger silver holding with a continuous supply making the 'stash' ever larger as each day goes by.
One wonders what the effect would be on silver prices if this were to happen.
Disclosure: I have no positions in any stocks mentioned, and no plans to initiate any positions within the next 72 hours.