Given all the hand wringing over the performance of global stock markets in 2010, it wasn't such a bad year. The Morgan Stanley Capital International (MSCI) - "World, All" - index, a major international equity markets index, was up almost 10% in 2010[*]. In the US, where the global financial crisis originated, the S&P 500 index was up almost 13% for the same period. In fact, most international country's stock markets were up in 2010.
Winners: Southeast Asia provided some significant winners. In terms of US dollars, Thailand (SET) was up 55%; Indonesia (JSX) was up 50%. Many countries experiencing strong stock market advances were resource based: Chile (IGPA), up 47%; Russia (RTS), up 23%; Canada (TSX), up 20%.
Ground Zero for Global Losses: The only major global region where the majority of countries making up that region experienced a preponderance of losses was the eurozone.
Using the DJ STOXX 50 as a proxy for the eurozone's stock markets' performance, that index was down 12.8% in 2010. In terms of US dollars, only Germany (DAX) and Austria (ATX) generated positive stock market returns, 7.1% and 6.6%, respectively. However, other major eurozone countries booked losses.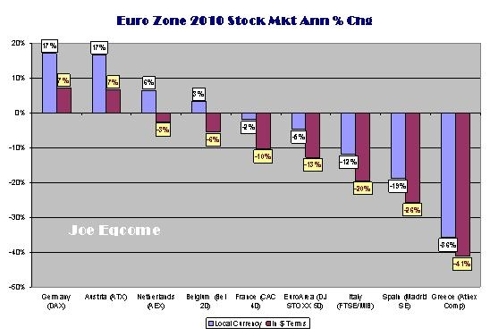 The related chart looks at individual eurozone country's stock market performance for 2010. It ranges from Germany (up 7% in USD terms) all the way down to Greece (down 41%).
Dogs of the Globe: While there is still significant sovereign debt risk in the eurozone, a discernable trend of positive US economic activity may spill over into the eurozone. This may temporarily lift the cloud on its longer-term structural problems and tempt investors to increase their investment exposure to this region.
Eurozone ETF Plays: One of the easiest ways to play a potential eurozone stock markets rebound is through Vanguard European ETF (VGK). Its average 3 month daily trading volume is around a million shares. It also supports a distribution yield of 4%. Additionally, VGK is an optionable stock.
Double Dare: If one wanted to speculate on a more robust rebound in some of last year's poorer performing stock markets in the eurozone, there are the following iShares ETFs: France (EWQ), Italy (EWI) and Spain (EWP). All have decent trading volume and all have annual distribution yields over 2%. (There are many other ETFs that could provide investors similar exposure to the region and the countries making up the region.)
Caveats: There is no shortage of political, economic and financial issues with regards to the structural inefficiencies within the eurozone arrangement.
In addition to the fundamental risks noted above, there is a currency risk related to this strategy. One could be right on the direction of the markets but wrong on the direction of the US dollar—assuming these investments will be made in US dollars. This could mitigate gains. There is also the potential of compounding losses if an investor guesses wrong both on the direction of the Euro markets and the US dollar.

---
[*] Source: The Economist, January 1st, 2011, pg 82, "Markets" as of December 28th, 2010.

Disclosure: I am long VGK. I may initite positions in EWQ, EQI or EWP on further price weakness