Gold prices have been showing weakness in the past couple of sessions. With gold prices down, despite what should be positive news for the reflation trade, and analysis from the likes of Bespoke showing that this kind of price action may be the start of a prolonged period of weakness, is it time for gold bulls to panic?

It's time to take a deep breath and watch what the rest of the commodity complex is doing. After all, commodity prices are the canaries in the inflation-deflation mine. The chart below shows the ratio of gold to the Reuters/Jeffries CRB Index of commodities. On a relative basis, gold has retreated but remains solidly in the middle of the trading range with other commodities.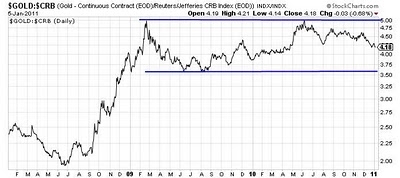 How are commodity prices behaving? Looking at the chart below - just fine, thank you very much.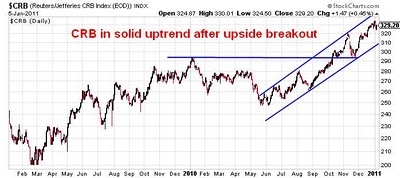 In fact, the point and figure chart of the CRB below shows that commodity prices have outrun their uptrend line!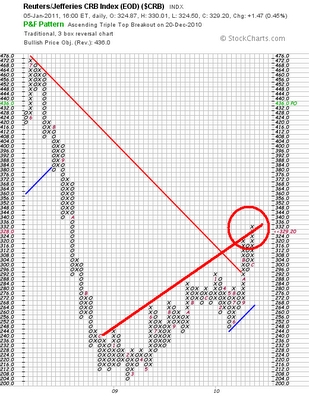 This just looks like a short-term hiccup for bullion. Gold bulls should just relax. (This is one of the reasons why I remain a long-term commodity bull.)