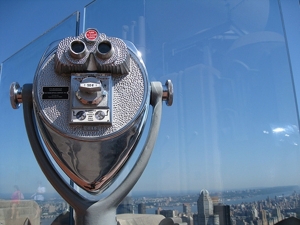 In Las Vegas, techies are congregating at the Consumer Electronics Show (CES) where technology firms present shiny new gadgets. Technology exchange traded funds have enormous potential to move if the news coming out of the show is earth-shattering enough.
Here are some things to look out for in the coming days:
Driven by the consumers' increased use in high-definition Web video and digital photo sharing, computer chip makers are focusing on assembling graphics chips that will provide flashy and impressive visual performances for desktop computers, reports Ashlee Vance for The New York Times.
Flashier graphics chips could lead to a wave of upgrades and benefit semiconductor ETFs like SPDR S&P Semiconductor (XSD) and Semiconductor HOLDRs (SMH).
At the 2011 Consumer Electronics Show, Microsoft Corp. (MSFT) will unveil a new Window-based set top box to compete with the Apple TV, writes Bertrand Vasquez for Erictric. The Microsoft TV will use a easy-to-use TV program guide, and the product will be available later this year for $200. Software HOLDRS (SWH) and iShares Dow Jones U.S. Technology Sector Index Fund (IYW) could benefit from the move; Microsoft is 17.8% and 9.5% of each, respectively.
Online oddsmaker Bookmaker.com says there is a 28% chance that Verizon (VZ) CEO Ivan Seidenberg will announce an exact launch date for the iPhone on the company's network, comments Kym McNicholas for Forbes. Seidenberg will, however, be talking about the phones that are compatible with the Verizon's new 4G LTE network. Vanguard Telecommunications (VOX) and iShares Dow Jones U.S. Telecommunications (IYZ) could surge on any iPhone report; Verizon is 23.9% of VOX and 12.6% of IYZ.
On top of all that, industry analysts believe that competition among tablets will heat up for mobile tech, remarks Jacob Chung for Neon Tommy. Additionally, the tech industry will likely be pushing its 3D technology, web-application-enabled TVs and the integration of gadget-/internet-connected tools for cars.
Max Chen contributed to this article.