The end of Titan Machinery (NASDAQ:TITN) appears to be rapidly approaching. The common stock of Titan Machinery has fallen from its all time high @ $32 to a new 4 year low this month at $13.30. Titan has constantly struggled to generate positive cash flow over the last 5 years and was in dire need of the $150 million convertible indenture it received in April 2012 through Wells Fargo (NYSE:WFC).
Since the original note was issued, Wells Fargo has tightened the covenants on the terms of the loan, making the bond more speculative, resulting in the indenture hitting a new all-time low yesterday @ $79.00, with a yield of 9.39%. #bearish
Bond:
Titan Machinery (TITN)
Convertible Bond 3.75% Maturity:2019.
Closed Yesterday: $79.00 w 9.39% yield.
Date of Offering : April 18,2012
Amount of Debt: $150 million Convertible
http://www.cherrytree.com/news/releasearchive/titan_0412.htm
(more on investment banker Cherry Tree can be found here)
Stock: (Stock Research)
Titan Machinery closed yesterday at $13.65 on volume of 120,358 shares. The stock has closed below $14 for the ninth consecutive session.
Titan Machinery FY2014 annual report (10K) .
FY 2014 Net Income declined 79% from $42 million in FY 2013 to $8.8 million for FY 2014.
April 10th announced the closing of 7 construction stores and 1 agriculture location
TITN 2 year chart vs. S&P500 (source: BigCharts )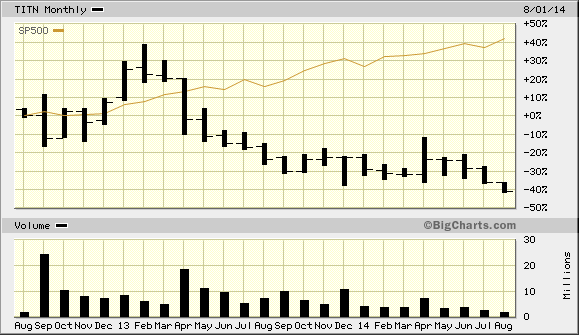 Disclosure: The author has no positions in any stocks mentioned, and no plans to initiate any positions within the next 72 hours.
The author wrote this article themselves, and it expresses their own opinions. The author is not receiving compensation for it. The author has no business relationship with any company whose stock is mentioned in this article.