Volume & trading activity has been moving higher the past three days as Celsion (NASDAQ:CLSN) is bouncing off of the near low of $1.98. Investors are realizing that this company is undervalued with the pipeline they have set to be realized in 2011.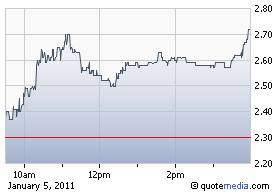 CLSN is a small-cap biotech company that is very undervalued with a market cap of only $30 million. The company has over 12 million shares in the float and only 13 million shares outstanding. From the most recent 10Q, the company only has 75 million shares authorized so even if (in the most unlikely circumstance) the company did a shelf registration filing for all 75 million shares (diluting every share) at $3.00, the market cap would only be $225 million. As it stands now a $3 stock price with the current share structure is only a $39 million market cap for a company with a lot of potential based on the advancement of their clinical trials.



Most companies have larger amount of shares authorized so that they can utilize them should they need additional financing. Disposing of shares is typically an easy way for them to access capital, especially in the biotech world. The company only has $3 million in cash so investors could be concerned about the company disposing of shares.
It looks like a dilution of shares won't occur in the next six months as the company has a $15 million credit line they opened in the summer of 2010 when they entered into a Committed Equity Financing Facility with Small Cap Biotech Value Ltd. They have drawn $2.8 million from it thus far. They have over $12 million in cash left on their credit line left and are working at a burn rate of $1.3 million per month. That will get them through nine months of 2011. Celsion hopes to have a partnership by Q3. This allows for a potential PDUFA date in Q4 2011 as they have a rolling NDA and a six month priority review for their Phase III SPA trial for primary liver cancer. This would give a potential approval date of Q4 2012 or Q1 2013.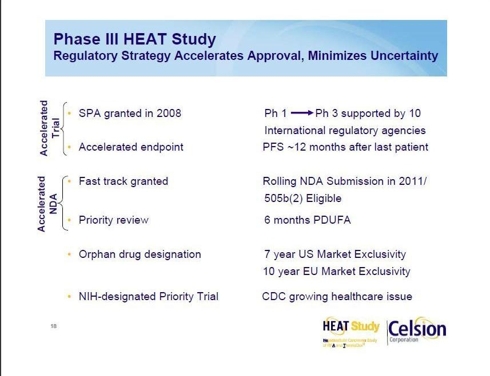 (Click to enlarge)
There was also a stockholder in the company that was disposing of shares as late as December 27th which had a negative reaction in the stock price toward the end of 2010 as shown in this filing:
"This Prospectus Supplement No. 2 supplements and amends the prospectus dated August 9, 2010, which we refer to as the Prospectus, which forms a part of our Registration Statement on Form S-1 (Registration Statement No. 333-168314). The Prospectus relates to the disposition from time to time of up to 2,444,434 shares of our common stock, which are held or may be held by the selling stockholder named in the Prospectus. We are not selling any common stock under the Prospectus and this Prospectus Supplement No. 2, and will not receive any of the proceeds from the sale of shares by the selling stockholder named in the Prospectus.

Our common stock is listed on The NASDAQ Capital Market under the symbol 'CLSN.' On December 27, 2010, the last reported sale price of our common stock on The NASDAQ Capital Market was $2.07."
The recent filing above was the reason for the drop as the company got near its 52-week low of $1.98. The 52-week high for the company is $5.63 but the company is approaching some near-term milestones that can keep this moving higher in the months to come.
The first risk for shareholders of Celsion is that because they only have $3 million in cash available they could sell shares to gain more capital even with the $15 million credit line in place. This doesn't seem likely in the near-term as they have demonstrated thus far by their equity financing that they are working to have other funding options in place before disposing of shares for capital. The second risk is that the data demonstrates a failure to enhance PFS (progression-free survival) and in turn disrupts the growth of the Thermodox franchise. This would impair the growth of Thermodox for their first indication in Primary Liver Cancer. This could hurt the future prospects of the company.
The Near-Term Milestones & Catalysts in Q1:
Phase II study of Thermodox in Colorectal MLC pts with initiation in Q1-2011.
Philips Joint Research Agreement Phase II Protocol Agreement w/ FDA Mtng scheduled for Feb 2011.
Phase III HEAT Study has a rolling NDA submission. They are 505b(2) eligible and were granted priority review so they have a six month PDUFA. They have orphan drug designation so they obtain 7 years of U.S. market exclusivity and 10 years of EU exclusivity. Celsion has an NIH-designated Priority Trial.
Blinded interim analysis at 190 PFS events expected in Q2-2011.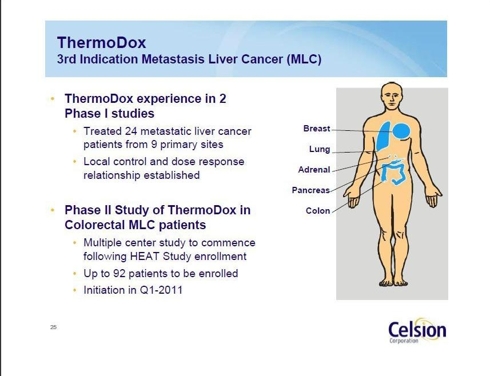 (Click to enlarge)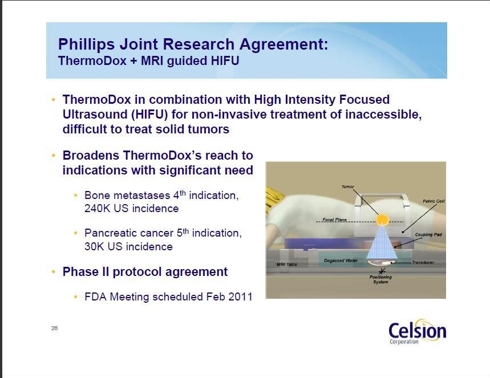 (Click to enlarge)
Celsion clearly has a lot of catalysts moving forward that could move the stock much closer to its 52-week high rather than its 52-week low from 2010. The activity throughout 2011 will allow Celsion to move their HCC program faster than most companies. With HEAT study's accelerated trial review via special protocol assessment, orphan drug status, accelerated approval and priority review, things should really move quickly as the company looks to obtain approval for Thermodox in Q4 2011. The other products will follow suit as Celsion has many indications waiting in the wings. Investors should look forward to an active company in 2011.

Disclosure: I am long CLSN.

Additional disclosure: My position in a stock can change at any time.