Yesterday I wrote an article on natural gas that compared that commodity to a major natural gas producer called Comstock Resources (CRK). In that article I also introduced my methodology, which I call Mycroft Research (MR). For those new to MR here is that article, which introduces it.
The first part of MR is called Statistical Indicator Analysis (SIA). Now let us present our SIA chart for gold: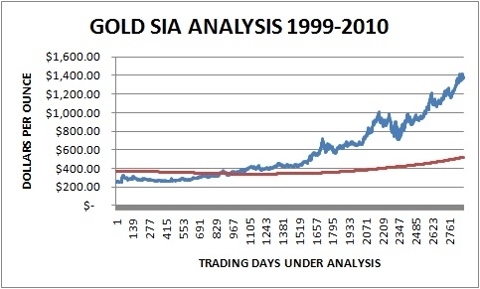 In analyzing the SIA chart above, one will notice that gold is currently trading at about 2.65 times its SIA line (red line), which is currently at $520.69. So we are nowhere near par and are beyond my Price to SIA (P/SIA) sell result of 2.0.
Analysis of Barrick Gold (ABX)
I selected ABX as the subject of my first "Better Gold Commodity Investment" analysis as it is one of the most profitable gold producers when judged by earnings. So before we analyze the company's fundamentals, let's see how ABX did using our SIA analysis: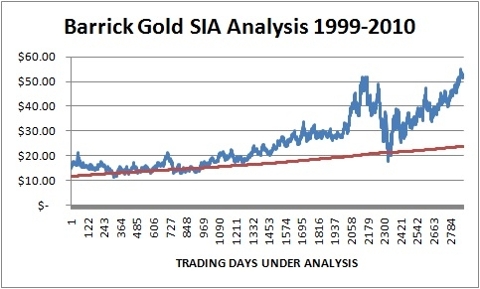 You will notice instantly that both charts deal with almost the same trading days under analysis, which makes our job that much easier. The SIA gold analysis started (#1) on July 19, 1999 and ABX started (#1) on July 15, 1999. From the gold chart you can see that gold stumbled for a while at #2265 (July 15, 2008) where it fell from $986.00 to #2336 (October 24, 2008), $712.50. That turned out to be a 27.7% drop, which was not too bad when you compare it to what ABX went through when it dropped from a high of $51.87 on March 3, 2008 to a low of $17.66 on October 27, 2008.
That comes out to a 66% drop before recovering. So ABX during the crisis fell 2.38 times further than gold did. This also proves that as investors were panicking and running to gold for safety, they were selling their index funds to buy it; ABX went down with the index funds, rather than fighting the trend since it should have been a safety play. In bear markets, this example clearly showed that there was little correlation to be found between gold and ABX.
But what about in bull markets: Was there a correlation there? Actually ABX, which fell below its SIA and was selling at an 18% discount to it, trounced gold in the last correction and again proved there was little correlation to be had between producers and the commodity itself . MR states that the farther you go away from the SIA, the greater your risk; the closer you get to it or fall below it, the lower your risk becomes. So in the recovery, ASX went from $17.66 to a close of $52.59, for a gain of 198%, while gold went from a low of $712.50 to its close of $1378.50 for a return of 93%.
At $51.87 ABX had a SIA of $20.55 or 2.52 (P/SIA) and at the close of $52.59, ABX has an SIA of $23.93 or trades at a (P/SIA) of 2.20. Gold, on the other hand, at $986 had a SIA of $410 for a (P/SIA) of 2.40 and, as we mentioned earlier, currently has an (P/SIA) of 2.65. So gold is currently trading at higher risk levels than ASX is and both are trading at about the same (P/SIA) levels, where they last corrected.
Before we decide which is "The Better Commodity Investment," let us analyze ASX from a qualitative and quantitative point of view using fundamental analysis.
Analysis of Barrick Gold:
The first thing we have to do is present ABX's table of its Owners Earnings (OE) over time: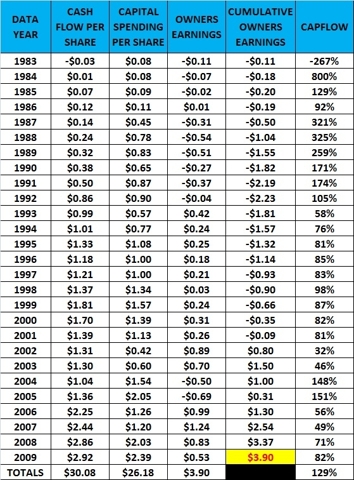 The table above does not paint a pretty picture for ABX, as the company produced $30.08 a share in cash flow from 1983-2010, but required $26.18 in capital expenditures to keep its operations going. Therefore we are left with a Cumulative Owners Earnings (COE) of just $3.90 for the years 1983-2009.
Even with gold prices hitting new record highs over the last few years, ABX was still spending way too much in capital expenditures. Gold mining -- like all forms of mining -- is very capital-intensive, and though a company may increase its earnings over time at healthy growth rates, it means nothing if it can't grow its OE as well. The best investments are those that are able to grow their free cash flow over time, because OE basically tells the investor how much is left in the cash register at the end of the day.
If we estimate that ABX will generate $1.20 in owners earnings per share in 2010, then at $51.67 it is trading at 43 times its OE. I personally like to sell at 30 times and try to buy at 15 or less. So if you must invest in gold and cannot wait for a correction, then MR clearly is of the opinion to buy the commodity over ABX..

In conclusion, from what our SIA analysis proved above, we have no other option than to suggest that investing in the pure commodity is much safer than ABX is. That is if you must do so! Gravity plays a major role in SIA; the higher up you go away from SIA, the greater the risk.
The best way to do so might be through ETFs, but since MR cannot get an SIA from ETFs (as they have not been trading for more than 3,650 trading days) we cannot give you an MR opinion on them. But nevertheless, here is a list of gold ETFs and I would look into them as a way to invest in gold, if you must invest in it.
DGL -- PowerShares DB Gold Fund ETF
DUST -- Direxion Daily Gold Miners Bear 2x Shares ETF
GDX -- the Market Vectors Gold Miners ETF
GDXJ -- Market Vectors Gold Miners Junior ETF
GLD -- StreetTracks Gold Shares ETF
GLDX -- Global X Gold Explorers ETF
GLL -- UltraShort Gold ProShares ETF
GLZ -- IQ Global Gold Small Cap Equity ETF
HUG -- Horizons BetaPro COMEX Gold ETF
IAU -- iShares COMEX Gold Trust ETF
NUGT -- Direxion Daily Gold Miners Bull 2x Shares ETF
SOGL -- ETFS Physical Swiss Gold Shares ETF
UGL -- ProShares Ultra Gold ETF
DB -- PowerShares DB Base Metals Fund ETF
DBP -- PowerShares DB Precious Metals Fund ETF
GLTR -- ETFS Physical Precious Metal Basket Shares
PSAU -- the PowerShares Global Gold & Precious Metals ETF
Disclosure: No positions