Dilemmas Among Family Dollar, Dollar General and Dollar Tree
Competition has led to the need to grow even bigger, which has culminated in a fight over Family Dollar (NYSE:FDO) by Dollar General (NYSE:DG) and Dollar Tree (NASDAQ:DLTR). This week, Family Dollar rebuffed Dollar General's $9 billion cash offer and went with the lower $8.5 billion cash and stock deal offered by Dollar Tree. The reasoning was that a combined Family Dollar and Dollar Tree would have an easier time passing the scrutiny of regulators then a merger with a competitor who is already the largest in the industry.
As expected, Dollar General disagrees with this conclusion and stated that it was willing to sell 700 stores as part of the proposal, which was hoped to satisfy regulators. In a letter to Family Dollar's board written by Dollar General's CEO, Rick Dreiling, the company cited experienced counsel and an economist had reviewed the antitrust question and found it not to be an issue.
Further aggravating the process, the letter also went on to state: "We have presented you with a superior proposal for your shareholders (although perhaps not for Mr. Levine [referring to current Family Dollar CEO Howard Levine] personally)." In previous meetings between the two companies Mr. Levine was seeking to lead any combination of the two entities. Therefore, Mr. Dreiling's comments appear to imply that the reason Dollar General's offer was not accepted was not due to the price but due to Mr. Levine's ego.
Dollar General is assessing its next move and has stated publicly it is committed to the deal.
Proliferation of Dollar Stores
Everyone loves a deal, which is why dollar stores have proliferated America's shopping centers over the past several years. The great recession has transformed many US consumers into value hunters. This shift awarded dollar stores a large consumer base that does not look to be fleeting anytime soon. Many "value" focused merchant have also gained a certain cachet as it has become chic to save. This has played out further on television with shows like Extreme Couponing and Extreme Cheapskates airing on cable television channels.
One of the key differentiators in this segment of retail is their locations. Grocery stores and retail power centers have frequently required landlords to agree not to lease to dollar stores in the centers in which they anchor. This has handicap was turned into a strength for many of the chains in the market. The lower rents and predominately local tenant mix of these "B" rated retail centers has made them standouts within the local communities. Further embracing this trend, dollar stores have began offering a broader selection of merchandise including various high-traffic food items and upgrading the look of their stores and merchandise presentation. These efforts have further increased their appeal to a broader demographic of value-focused consumers.
What is Best For Shareholders?
A combined Dollar General and Family Dollar would be a strong competitor to a struggling Wal-Mart (NYSE:WMT) who targets the same consumer demographic. Wal-Mart has already recognized the need to "go small" and plans to open 300 smaller foot print stores this year. The larger size would also give it greater power with vendors, also allowing it to better compete with the world's largest retailer.
The reasoning behind accepting a lower offer is not very strong. The growth of the internet and the ability of consumers to shop in the real and virtual worlds, practically simultaneously, has changed the competitive landscape for retailers, making physical footprint market dominance less of a concern. For example, recently the Federal Trade Commission (FTC) allowed Office Depot and Office Max to combine as well as Men's Warehouse with Joseph A. Banks. It is plausible that the FTC would provide some push back, but with Dollar General's openness to selling stores, the probability of a compromise is very likely.
Even with the strong likelihood that a deal would not be blocked by regulators, there is no indication that Dollar General's offer would insulate Family Dollar from any regulatory hurdles through a break-up fee or some other measure.
Dollar Tree's offer would provide many of the same scale benefits that a merger with Dollar General would, albeit to a lesser extent. Dollar Tree's offer of $74.50/share in cash and shares compared to Dollar General's $78.50/share all cash deal would allow current shareholders to take some money off the table as well as participate in an upside in any turnaround.
Family Dollar's Performance
Recently Family Dollar has been struggling. Its third quarter earnings fell 19% and same store sales declined 1.8%. It also lowered its full-year earnings forecast from $3.05-$3.20 to $3.07-$3.17 on anticipation that the fourth quarter would also be disappointing on account of an increasing competitive market environment and continued restructuring charges.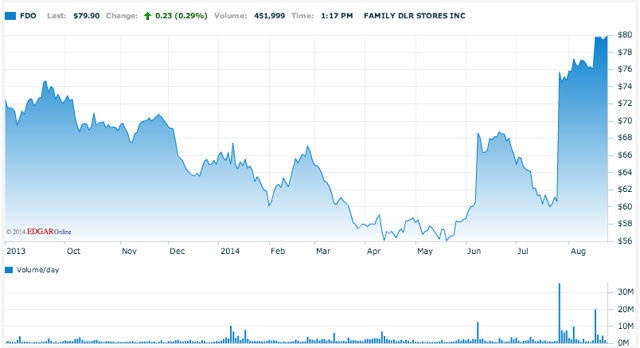 Click to enlarge
(Nasdaq.com)
Restructuring efforts include price reductions on over 1,000 items and closure of over 370 under performing stores.
The recent merger announcement, however, was accompanied by a strong boost in stock performance, suggesting a brighter future for FDO in the second half of 2014.
We encourage readers wishing to join the discussion on Family Dollar to click +FOLLOW above the title of this article - and those wishing for the latest updates to click +Get real time alerts.
Disclosure: The author has no positions in any stocks mentioned, and no plans to initiate any positions within the next 72 hours.
The author wrote this article themselves, and it expresses their own opinions. The author is not receiving compensation for it (other than from Seeking Alpha). The author has no business relationship with any company whose stock is mentioned in this article.