Microsoft (NASDAQ:MSFT) shareholders would be hard pressed to complain about the 2.7% dividend yield or the $40 billion the company is using as a part of its stock buyback program. Even so, with the recent departure of former-CEO Steve Ballmer from the Board of Directors, Mr. Softy is in a position to enhance its cash treatment of its owners. Ever since early 2013, when hedge fund manager David Einhorn sued Apple (NASDAQ:AAPL) stemming from the company's use of cash, the subject of cash in tech firms has been a hot one. What the question does for Microsoft is make an attractive stock even more appealing.
Trajectory Higher
Microsoft shares are up over 22% in the last six months and over 32% in the last year. While Apple has done better, this puts the software giant well ahead of Google (NASDAQ:GOOGL) (NASDAQ:GOOG), which is essentially flat for the same six-month period. Microsoft shares are flirting with 52-week highs, and an announcement about increased cash outs for shareholders could be the type of catalyst that drives prices up. According to a recent post from The Wall Street Journal: "UBS estimates Microsoft could 'comfortably' add between $8 billion and $11 billion of buybacks through fiscal 2017. Nomura goes further, suggesting the company consider a 'bold move' in buying back about 10% of its shares, around $38 billion worth."
While the company has continued to struggle in the realm of smartphones -- research firm IDC showed that Windows Phone dropped from 3.4% of global market share to 2.5% through the second quarter of 2014 as compared to the same quarter a year earlier -- the battle for productivity users has been more solid. Many analysts are calling for the "death" of the only real alternative to Apple's iOS and Google Android, but Microsoft has the staying power to keep fighting.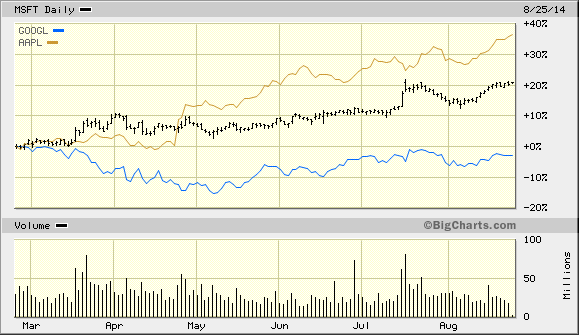 A New Technology SurgeWhile what is known is scant, Engadget recently reported that Microsoft is thought to be building a Chromecast competitor called Miracast. Based on filings with the FCC, the company may be preparing to release a device codenamed HD-10 that is expected to be a casting dongle similar to Chromecast:
"The dongle will likely be able to mirror phone, tablet and laptop screens on a TV then, so long as they're loaded with those platforms. Unlike Chromecast's technology, though, Miracast can only show what's on the source device's screen."
Pricing is likely to be one of the most critical elements of the new device; Chromecast, priced at $35, gives users a lot for the money. Apple TV prices out at $99, and options from Roku range from $49 to $99. There are other options as well, so the market is somewhat saturated at this point, particularly if the Microsoft product offers limited functionality.
In order for this to be meaningful for Microsoft, I believe that additional functionality will need to be built in before it goes to market. While Miracast technology is already a part of Android, users will need a reason to give the dongle a chance, particularly given the number of available alternatives. One of the criticisms of Chromecast is that there are a limited number of integrated apps relative to the competition. The Microsoft entrant will need to offer apps and something more if it hopes to make a dent. Still, the message to investors is that Microsoft continues to look to refresh its product line and push ahead. The company has never had much success on the hardware side, so expectations are low.
Cash Is King
As was pointed out by Rick Sherlund in a recent interview on CNBC, Microsoft is sitting on $100 billion of cash and long-term investment. With the departure of Ballmer, who was known to be conservative in terms of keeping cash on the books, Sherlund expects to see a more accommodative board. He further points out that when cash is backed out, the stock is trading at about 13.5 times expected 2015 earnings. Despite the strong performance of the stock, there is still upside in the price because of that cash position.
It is important to note that with the meeting typically taking place in mid-September, some color might be given to the company's position. It is at this meeting that the dividend policy gets set. That said, with layoffs fresh in focus on Wall Street, the board may choose to remain conservative for a period -- cutting jobs while returning money to shareholders might not look great to some. What the issue underlines, however, is that under new leadership, Microsoft is establishing a somewhat new identity and may find ways to run. If Ballmer's departure spurs an improvement in cash distributions, the stock will be even more attractive immediately, but these reserves keep the stock a buy, even with the strong showing of late.
Disclosure: The author has no positions in any stocks mentioned, and no plans to initiate any positions within the next 72 hours.
The author wrote this article themselves, and it expresses their own opinions. The author is not receiving compensation for it (other than from Seeking Alpha). The author has no business relationship with any company whose stock is mentioned in this article.