The Importance of Agility in Enterprise aPaaS
Certain companies like to consolidate their compatibilities, making it impossible to utilize other vendors for various services. Companies like Apple (NASDAQ:AAPL) and Sony (NYSE:SNE) have been known to do this. Is this helpful in generating revenues and does it create a leverage over its peers in pricing strategy? Who's the bigger player, Android or Apple? I believe the biggest player will be whomever provides services with more agility. Locking in conglomerates of enterprise aPaaS deliverables would be antithetical to an industry with such competition. Providing more agility requires a loose integration of software oriented architecture, enhancing compatibility.
As a corporation, growth and profit margins are some of the most important variables. Utilizing an ERP system, lacking compatibility with other SaaS, can be counterproductive in managing ad hoc situations. One vendor may not be able to fulfill all of the company's needs. Consequences could include delaying traceability in Business Activity Monitoring (NYSE:BAM) and Create /Read /Update /Delete (NYSEARCA:CRUD) corrections.
Fortunately, companies that provide loosely integrated services still exist and are increasing in number. Not only do they exist, their ROAs are successful. Allowing compatibility does not necessarily mean providing one form of service. Companies such as VMware (NYSE:VMW) produce Virtualization Enterprise Wide SaaS, comprised of all the Enterprise Resources a business requires. However, they still maintain an open network infrastructure, allowing compatibility with other technology, such as Cisco's (NASDAQ:CSCO) virtual switch.
How does VMW benefit from this?
Due to compatibility, corporations utilizing VMW as an Enterprise aPaaS vendor alleviates concerns over high switching costs. If one aspect of the SaaS is not sufficient, they may utilize other vendors. This agility would not be possible if the SOA was tightly integrated.
Through this business strategy, VMW dominates two-thirds of the server virtualization market. The $5 billion in virtualization returns, outperforming Microsoft (NASDAQ:MSFT), is credited to VMware's x86 server virtualization aPaaS. The cloud based enterprise oriented architecture allows multiple software applications on one server. Loose integration merits countless value propositions, including reduction in customer-service provider interactions. However, as the market saturates, firms are phasing in tightly integrated SOA strategies (Ray 2014). Based on my logic above, this would hurt ROAs. However, the strategically implemented tightly coupled SOA also includes a lower cost for renewal agreements.
As a result of market headwinds, VMware is increasing capital expenditures in R&D, thus enhancing the product turnover rate. The company is expanding its moat of products in the subsequent categories:
Networking
Storage
Security
Application Deployment
Endpoint Computing
Hybrid Cloud technology
VMware's future faces many negative headwinds - relentless vexation from opposition such as Amazon (NASDAQ:AMZN), IBM (NYSIBM) and MSFT. At the same time, enterprise aPaaS leaders such as RedHat (NYSE:RHT) and Citrix (NASDAQ:CTXS) have yet to match VMW's performance (Ray 2014).
VMW's profit margin has a lot to do with high switching costs (Simonson, Karthik and Mukerjee 2009). As mentioned above, competitors embellishing on this concept are altering pricing strategies to gain more customers. MSFT is utilizing this concept, lower switching costs, to enhance growth in hypervisor and virtualization management agreements. With market saturation, VMW may be more inclined to do the same. This industry-wide trend has been seen in many ERP SaaS providers, including SAP (NYSE:SAP).
VMW is persistently striving toward maintenance of its dominating presence in the server virtualization market. VMW's August 2014 acquisition of CloudApps heightens BAM, agility and real-time mobile management of data through enterprise applications (Zacks Equity Research 2014). Reduced switching costs will be feasible once operating expenses dwindle as an upshot of CloudApps technology. Tailwinds from this strategy have already penetrated VMware's financials.
VMware's History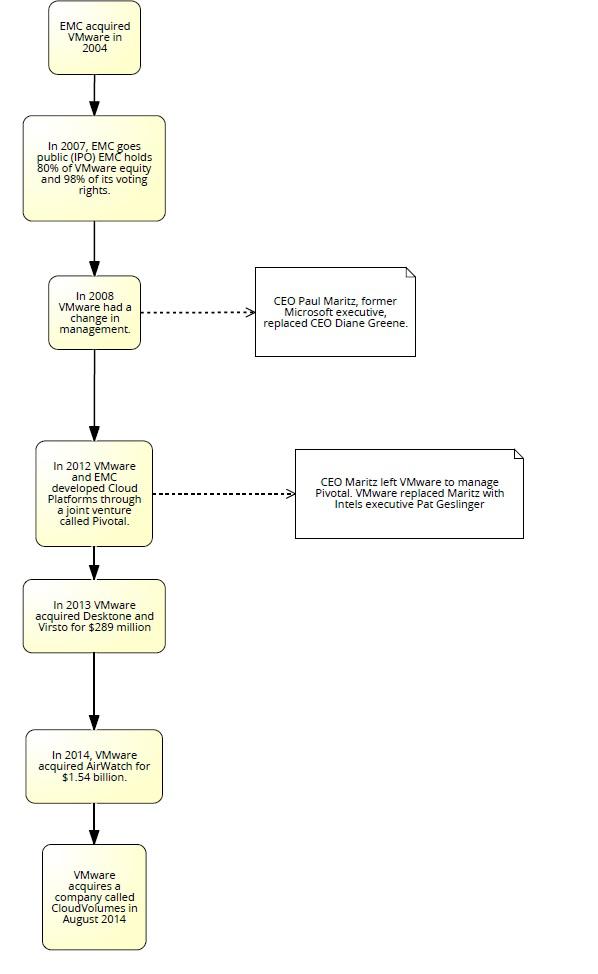 (Diagram produced by author utilizing morningstar.com, cited at the end of the article)
As you can see, from the diagram above, EMC (EMC) still holds a large share in VMW. This 80% holding allows the corporation access to EMC's very lucrative cash flows and leading industry position (Ray 2014).
VMware's Financials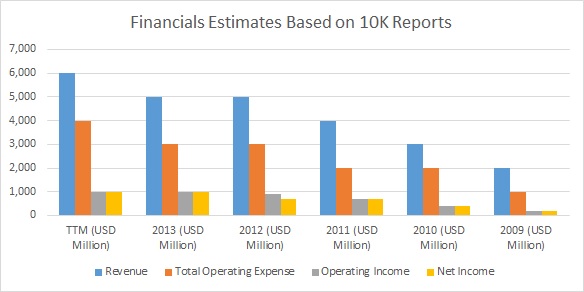 VMW's financial KPIs, such as revenue and operating income, have been increasing YOY. However, due to the competitive market which lies ahead, so are the total operating expenses.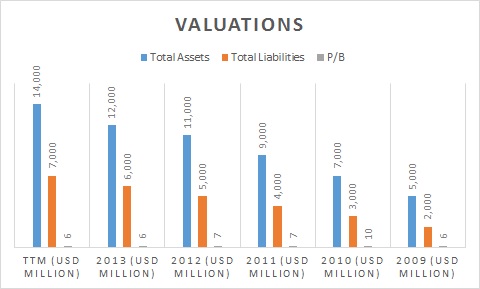 Although the company's P/B is higher than the industries, total assets to total liabilities are positive.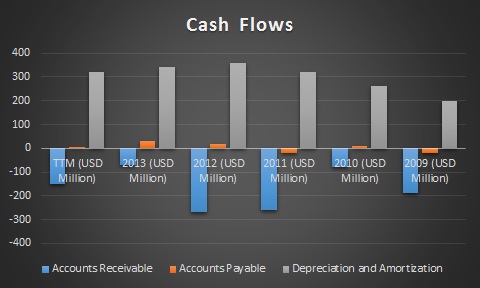 The AR is greater than the AP. Many companies are in debt to VMware. This debt makes sense due to the nature of VMware's business being contract based, with renewal agreements. VMware's AP is very little relative to debt others owe the entity. After subtracting the assets' salvage value from its current value, the cost of both intangible and tangibles have been decreasing since 2012.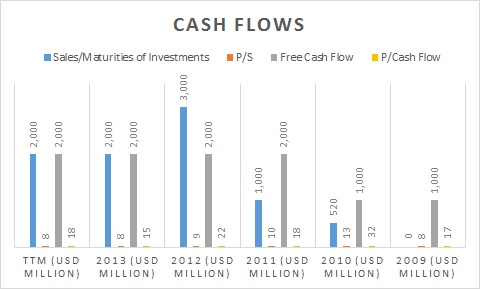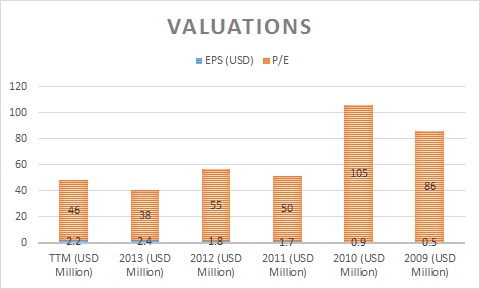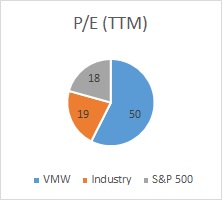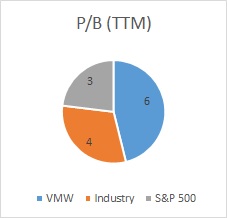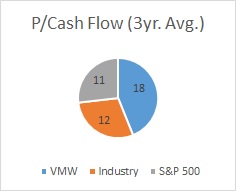 Financial charts and graphs produced by Author utilizing information from 10-Q Report (Copyright © 2014 VMware, Inc. All rights reserved 2014)
Although a very high PE relative to both industry and S&P 500, the P/B and P/CF are fairly in-line. The company's EPS has been doing well, outperforming many analysts' predictions. VMW's Q2 reports demonstrated an EPS increase of $0.81, relative to Q1. Reports also showed $300 million in free cash flow. However, VMware did repurchase more than 2 million shares, totaling more than $200 million.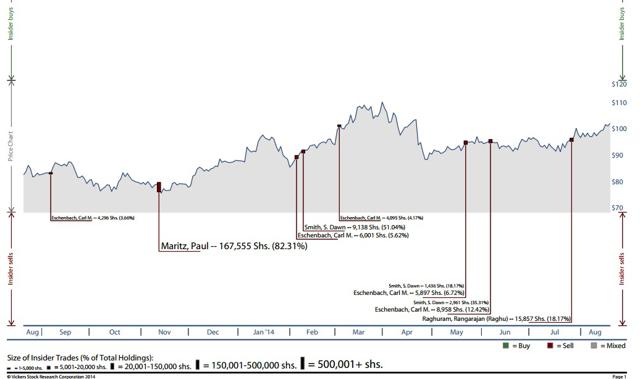 Click to enlarge
Image above: (© 2014 Vickers Stock Research Corporation. All Rights Reserved. 2014)
JayWalk Consensus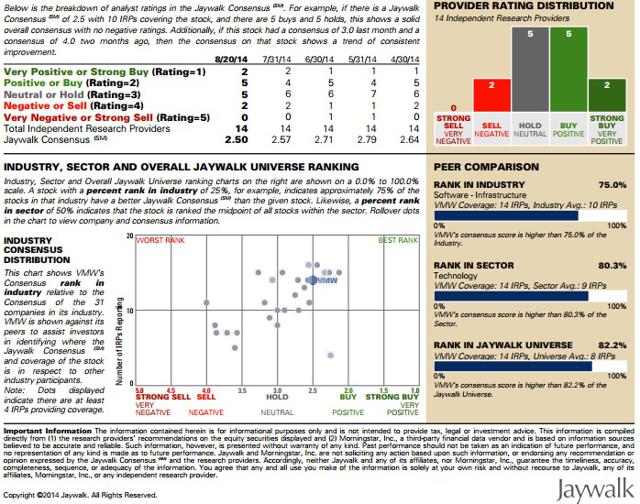 Click to enlarge
Image Above: (Copyright © 2014 Jaywalk. All Rights Reserved. 2014)
The data above is a little hard to interpret, as there are multiple ways one can model and analyze the KPIs. Since April 2014, a trend of improvement has been demonstrated. Analysts promoting the equity as a strong buy have increased. Out of the 14 analysts covering the equity, 7 have reported a rating of hold or higher, and the other 7 remain antithetical in stance. Its rank amongst the industry, sector and "Jaywalk Universe," are all higher than averages in their respective categories.
Other analysts from companies such as MarketEdge seem to hold a better opinion on VMW: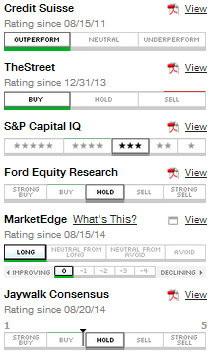 Image from: (© 2014 TD Ameritrade 2014)
Given this data and its relationship with the powerful leader EMC, I would not only give this equity a "buy," I would give EMC a "strong buy," EMC generates nearly 20% of returns from VMware. In other words, VMware is responsible for 20% of EMC's success (Wahlstrom 2014) (Copyright © 2014 VMware, Inc. All rights reserved. 2014) (Copyright © 2014 VMware, Inc. All rights reserved 2014) (Ray 2014) (© 2014 TD Ameritrade 2014).
References
© 2014 TD Ameritrade. 2014. TDAmeritrade©. ©Thomson Reuters. All rights reserved. Accessed August 25, 2014. here.
© 2014 Vickers Stock Research Corporation. All Rights Reserved. 2014. Insider Trades. Insider Trading for VMware Diagram, © 2014 Vickers Stock Research Corporation. All Rights Reserved. Accessed August 25, 2014. here.
Copyright 2014 Jaywalk. All Rights Reserved. 2014. VMWare Performance Analyses and JAYWALK Rating, Copyright 2014 Jaywalk. All Rights Reserved. Accessed August 25, 2014. here.
Copyright © 2014 VMware, Inc. All rights reserved. 2014. SEC Filing: 10Q Report. SEC Filing: 10Q Report, VMware. Accessed August 25, 2014. here.
Copyright © 2014 VMware, Inc. All rights reserved. 2014. Virtualization Basics. Accessed August 25, 2014. here.
Ray, Tiernan. 2014. "EMC, VMware: Re-unite! Says Wells; Changing Landscape Diminishes Rationale of Separation." Barron's: Tech Trader Daily, May 21: 1. Accessed August 25, 2014. here.
Simonson, Eric, H. Karthik, and Shyan Mukerjee. 2009. The hidden cost and complexity of managing multiple ADM suppliers. White Paper, Copyright 2009, Everest Global, Inc. All rights reserved. Accessed August 25, 2014. here.
Wahlstrom, Peter. 2014. "Morningstar." VMware looks to extend its existing leadership position beyond server virtualization., 07 23: 1. Accessed August 25, 2014. here.
Zacks Equity Research . 2014. "VMware Acquires CloudVolumes for Faster Installation of Apps." Zacks, August 21: 1. here.
Disclosure: The author has no positions in any stocks mentioned, and no plans to initiate any positions within the next 72 hours.
The author wrote this article themselves, and it expresses their own opinions. The author is not receiving compensation for it (other than from Seeking Alpha). The author has no business relationship with any company whose stock is mentioned in this article.