By Chris McKhann
Put trading is active this morning as Fifth Third Bancorp (NASDAQ:FITB) bumps up against long-term resistance levels once again.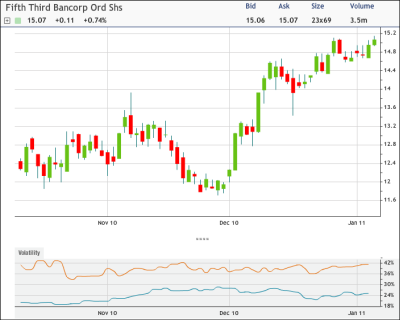 FITB is up just shy of 1 percent to $15.10, an area is resistance that goes back to September 2008. Shares of the regional lender are 50 percent above the 52-week lows and a whopping 1,400 percent above the March 2009 bottom.
Today's option volume is tied up in one trade, the sale of 5,000 January 15 puts for $0.46. This was against open interest of 14,315, so could have been an opening or closing the position. At the same time, the trader bought 5,000 of the February 15 puts, paying $0.77 at volume that was 10 times open interest.
With two weeks before January expiration and those last two weeks representing the greatest period of time decay, this appears to be a straight roll out a month. In that case, the trader would be selling to close those January puts and buying more time for the position to work.
This cost the trader $0.31 but reduces the time decay as seen through the theta, from $0.02 to $0.01. The implied volatility of the February calls is also lower.

Disclosure: No position