Investors are acting like they should expect disappointing guidance and poor results from Ciena Corporation (NYSE:CIEN) when it reports quarterly earnings on September 4. Influenced by concerns from Cisco Systems (NASDAQ:CSCO), Alcatel-Lucent (ALU) and weak results from Juniper Networks (NYSE:JNPR), investors are forgetting that Ciena was confident in June that it would benefit from strong order flows for the rest of the year. Though Ciena shares are up marginally from the $19 short-term bottom set in early August, chances are good that the stock will move up from here.
Short squeeze
Short float was 18.25 percent. Short sellers are betting a higher inventory buildup is bad news. Ciena boosted optical inventory, in anticipation of meeting demand from new customers and improving lead times. A higher cash flow will support the view that orders are improving. The biggest convertible debt payment of $187 million is not due until early next year. Holders of this investment are likely to convert this to equity.
Share price of communications equipment makers fell since July 2014: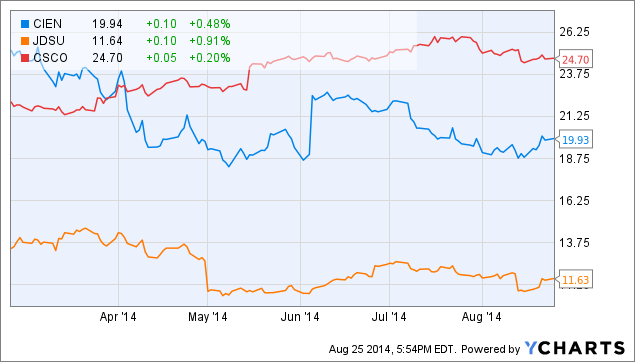 CIEN data by YCharts
Solid customer list
Ciena generated 60 percent of its revenue from its top ten customers. Its two top customers were AT&T (NYSE:T) and Verizon Communications (NYSE:VZ). This may prove worrisome for investors if rumors of capital expenditure cuts are true. Even if spending from customers falls, carriers still need to sustain a healthy level to support growing data demand from customers. Any cut in spending will hurt service, lowering customer satisfaction.
Growth areas
There is growing demand for the converged single network. This means strong demand for the Converged Packet Optical segment for Ciena. In the submarine market, Alcatel-Lucent recognizes its value is not being realized by the market present. Similarly, Ciena commands 30 percent of the submarine market, up from zero only just a few years ago.
The trend for 100G in metro deployments is only just beginning, and is another growth area for Ciena.
Seasonal strength
Ciena said in its conference call it expected a stronger second half of the year. It observed this seasonal strength over the last two to three years. The trend for strong order flow and backlog should continue. Ciena pointed to the Brazil market as a source for international growth. For example, in Q2 Ciena added 15 customers for 100G. It now has 129 in total. The firm also added 5,400 customers in Q2. Investors may reasonably expect continued momentum from its optical transport platform in Q3 and Q4.
Bottom line: Ciena a buy
Investors should not equate a disappointing outlook from JDSU Uniphase and Alcatel-Lucent with the upcoming positive earnings potential from Ciena. Aggressive investors should consider accumulating the stock ahead of quarterly results in September.
Disclosure: The author is long ALU.
The author wrote this article themselves, and it expresses their own opinions. The author is not receiving compensation for it (other than from Seeking Alpha). The author has no business relationship with any company whose stock is mentioned in this article.