Web development platform Wix (NASDAQ:WIX) reported its Q2 2014 financial results at the beginning of August with record high revenues and small improvements in operating and net profit margins. The company showed a quarterly revenue of $33.9M, which is an 18% increase quarter-over-quarter and 82% increase year-over-year and beat analysts' revenues expectations by 6.5%. Although Wix's revenue increase quarter-over-quarter is in the double digits, the company still remains in start-up mode as total expenses (operating expense and cost of revenue) increase even higher and drive the company to an operating loss. As shown in chart 1 below, in Q2 2014 Wix slowed down the increase in operating loss and presented an operating margin of -40%, which is 10 percentage points better than Q1 2014, but 16 points worse than Q2 2013.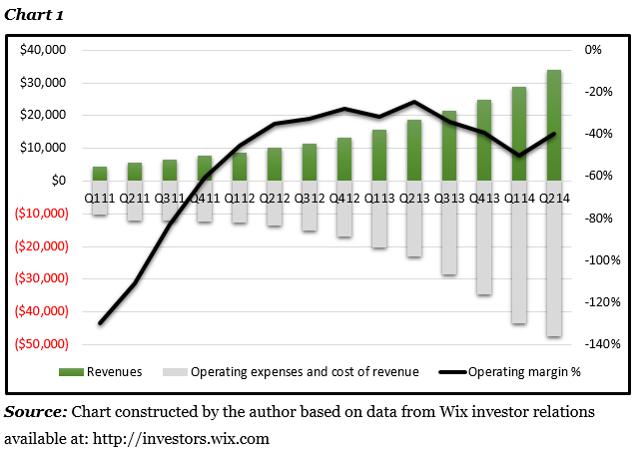 Click to enlarge
In an earlier article, I presented Wix's conversion rate that represents the quarterly rate in which Wix users switch from registered users' status to premium subsections. As shown in chart 2 below, Wix's conversion rate (in gray) in Q2'14 decreased by 2 percentage points compared to Q1'14. However, excluding the peak of Q1 2014, the Q2 2014 conversion rate is back to the 2013 level of around 3% and continues the upward trend.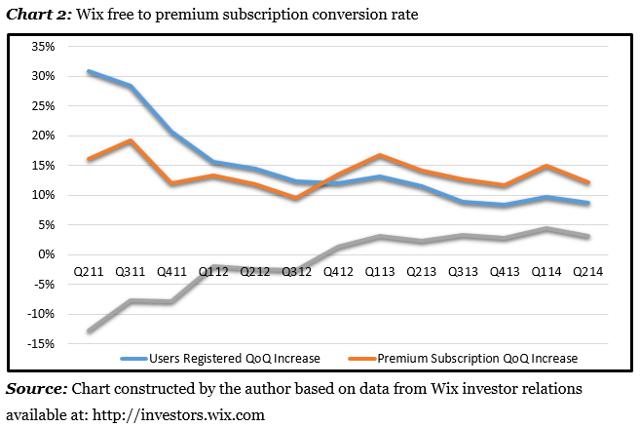 Click to enlarge
At the earnings release, Wix presented the previously announced Wix-Google partnership with Google (GOOG, GOOGL) Domains. The partnership is targeted at GoDaddy and expected to generate additional revenues to Wix for its web development tools and allow Google to gain substantial market share in the domains market that is currently dominated by GoDaddy. In an earlier article about Google Domains, I mentioned that the hidden strategic benefit Wix has from the Google partnership, on top of the potential revenues, is the impact on GoDaddy from Google's move. Wix's biggest competitors in the web building market are GoDaddy, Weebly and Squarespace, and with GoDaddy losing market share to Google in the domains segment, it will also lose market share in the site creation segment and will pose less of a threat to Wix.
Another announcement that Wix made in the earnings release might be more meaningful to its future. Wix introduced a new hotel reservations feature, named WixHotels, which marks a change in the way Wix is thinking. Until recently, Wix has offered a one-size-fits-all web development platform. Using that platform, every small business owner or individual can create a custom-made website according to their wills using the same general tools available for every user. Wix offered different templates and even tailor-made designs, but the development tools were the same for every site in every business in every market, and frankly, it might be too simplistic for some businesses.
Wix identified a problem in the online reservations market that could resolve and attract new paying customers to use its platform. WixHotels will allow small hotels or travel agencies to accept and manage reservations through the Wix platform and free them from offering their deals in the various online reservations services. The new WixHotels feature will encourage small hotels and travel agencies to create their platform instead of using a third-party aggregator to display their offers. That way, small hotels and travel agencies could save commission dollars, control the content better, and interact directly with potential clients. WixHotels has real potential in encouraging small hotels and travel agencies to become premium users in order to reduce their dependency on the big online reservation sites. If this new feature is successful in bringing new premium users, Wix will have a bigger challenge - to identify a new market that could benefit from a unique feature that could drive revenues in the future.
Conclusions
Wix proved it could generate revenues and increase its user base every quarter. However, it is still in rapid growth mode, and the constant increase in expenses drives the operating loss. The partnership with Google presents an opportunity for Wix not only to gain additional revenues as a development platform for domains purchased through Google Domains, but also to take market share from GoDaddy. The new WixHotels feature marks a change in the way of thinking from a one-size-fits-all to dedicated solutions for specific markets. Small hotels and travel agencies that want to reduce their dependency in the large reservations sites could use Wix to create their site and interact directly with their potential clients. Because of the structure of the travel market, this feature has a real potential to succeed, and Wix will have the challenge to identify another market that it could offer a dedicated solution to attract premium users.
I still believe Wix is a solid, small-cap long-term investment for the technology portfolio. However, investors should pay attention to the fact that Wix stock is highly unstable. The stock completed an almost 50% drop since it hit an all time high price of $31 only four months after it went public with a $16.5 IPO price. Investors looking for a short-term investment horizon should use options to defend their investment from the stock's high volatility.
Disclosure: The author has no positions in any stocks mentioned, and no plans to initiate any positions within the next 72 hours.
The author wrote this article themselves, and it expresses their own opinions. The author is not receiving compensation for it (other than from Seeking Alpha). The author has no business relationship with any company whose stock is mentioned in this article.
Additional disclosure: Information provided in this article is for informational purposes only and should not be regarded as investment advice or a recommendation regarding any particular security or course of action. This information is the writer's personal opinion about the companies mentioned in the article. Investors should conduct their own due diligence and consult with a registered financial adviser before making any investment decision. Lior Ronen and Finro Financial Consulting and Analysis are not registered financial advisers and shall not have any liability for any damages of any kind whatsoever relating to this material. By accepting this material, you acknowledge, understand and accept the foregoing.