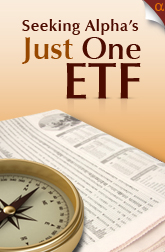 Several times a week, Seeking Alpha's Jason Aycock asks money managers about their single highest-conviction position - what they would own (or short) if they could choose just one stock or ETF.
---
Aradhana Gupta Kejriwal is a portfolio manager for GV Financial Advisors, an Atlanta-based RIA managing over $800M in assets. She's co-chair of the investment committee and previously managed $2 billion in short-term debt in the Treasury Group at Home Depot.
Which single asset class are you most bullish (or bearish) about in the coming year?
GV Financial Advisors has always believed in creating diversified portfolios allocated among an appropriate variety of asset classes. Diversification among stocks, bonds, commodities and real estate has been demonstrated to be an efficient long-term strategy to mitigate risks. Generally, the theory is to invest in asset classes that are currently out of favor and thereby have cheap valuations and low expectations (such as stocks currently). Versus investing in asset classes that are currently in favor, expensive and have high expectations (such as bonds currently).
We firmly believe that the short-term market is unknowable; we contend that betting on a single asset class is akin to gambling. Our investment strategy focuses primarily on the long term. Within that framework, we seek to make shrewd tactical allocation adjustments to our portfolios based on detectable data about the markets or the economy. To be clear, we do not make bets on guesses about what the future might hold; we seek to uncover evidence that might suggest there are opportunities or inefficiencies and then make tactical shifts seeking to capitalize on these opportunities.
Currently, we see evidence suggesting that large-cap equities are relatively cheap, both from a valuation and fundamental perspective. We believe that investment in large, developed companies with outsized exposure to the emerging markets, along with a weak dollar, could be an attractive proposition for investors in 2011.
What ETF position would you choose to best capture that?
We believe that the exchange traded fund iShares Russell 1000 (NYSEARCA:IWB) provides a good representation of the opportunities available in the large-cap domestic equity space, as it offers greater diversity and exposure to a much broader universe of the large-cap companies than other commonly quoted large-cap benchmarks such as DJIA and S&P 500. IWB has many multinational company holdings with international exposure which could benefit from the weak dollar and global growth.
Two of the top 10 holdings of IWB are ExxonMobil (NYSE:XOM) and Apple (NASDAQ:AAPL). Exxon's 2009 annual report states that 83% of its earnings were generated from non-U.S. sources, while Apple's 2010 annual report states that 56% of its revenue came from non-U.S. sources. IWB is held in some client accounts as a backup for tax-loss harvesting and as a representation of the blended large-cap space.
We primarily use a combination of iShares Russell 1000 Growth (NYSEARCA:IWF) and iShares Russell 1000 Value (NYSEARCA:IWD) to represent the Large Cap space. Since you asked that we select a single ETF, we chose IWB as a large-cap blended ETF.
How does IWB fit into your overall investment approach?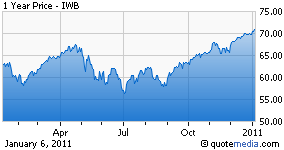 GV Financial Advisors' investment approach stems directly from our firm's mission to "help successful families use their wealth to create the life they desire." As we seek to accomplish that goal, we use asset allocation and appropriate diversification, including both active and passive management, to construct custom portfolios. For the actively managed portion of our portfolios, we select top-quality managers. For the passively managed portion of our portfolios, we use ETFs that represent and track style-pure benchmarks, with an industrywide use and liquidity.
Our goal is not to chase outsized returns in any given quarter or year, but to select an appropriate long-term investment strategy designed to increase the probability that our clients will be able to achieve their long-term goals. To use a baseball analogy, we are not looking to hit a home run at every at bat; we instead seek to avoid strike-outs and consistently hit singles and doubles. We never forget that risk and reward are two halves of the same coin. As such, our goal is to take only those risks necessary to achieve the return our clients actually need to achieve their goals.
Tell us a bit more about your strategy and goals, and upcoming themes.
Asset allocation is our primary investment approach, but from a tactical viewpoint, we believe that 2011 will be a year of excess liquidity, low rates and slow growth. We believe there are opportunities in the large-cap sector of the U.S. equity market and that growth in emerging markets will drive demand. If so, high-quality large-company stocks, especially those with exposure to emerging markets, may prosper.
Healthy corporate earnings, coupled with foreign domestic investment by leading U.S. firms should generate attractive returns using relatively cheap capital. While the debate as to whether active or passive management provides better rewards rages on, historical data show that the passive managers have an edge over active managers in the Large Cap space. The figure below illustrates median manager excess returns and information ratios. While we do use some active managers with long-term track records in the Large Cap Equity space, we have a high conviction in large-cap ETFs such as IWB.

(click to enlarge)
Source: Challenging Conventional Wisdom: Active manager excess returns, iShares, BGI, Morningstar, MSCI Inc., Russell and S&P as of 12/31/08.
Tell us a little more about equities in particular. What makes this area your top pick?
We believe that energy, emerging-market consumers and technology are some of the key investment themes for 2011. We believe that the large-cap equities have a higher probability to outperform small-cap equities that face high valuations, lofty earnings expectations and low cash levels from equity managers. We believe that large-cap companies may benefit from the following tailwinds: a weak U.S. dollar; better access to capital in the tight credit environment; greater global exposure; higher dividend yields; and cheaper valuations.
As the emerging-market consumer is the current investment growth story - but may be reaching crowded and lofty investment sentiment levels - indirect access to the emerging consumer through large-cap companies may be a less risky, more attractive proposition. Many large-cap multinational corporations are smartly deploying capital in the emerging markets to access this consumer.
Valuations in large-cap stocks also appear to be relatively cheap on both a Price/Sales and a Price/Cash Flow basis. From a contrarian viewpoint, the mutual fund flows showed that the large-cap funds were a favorite source of liquidity.
Are there alternative ETFs that could be used to capture the same theme? What makes this specific ETF your first choice?
There are a number of large-cap ETFs, including iShares Morningstar Large Core Index Fund (NYSEARCA:JKD), SPDR S&P 500 Trust (NYSEARCA:SPY), iShares S&P 500 Index Fund (NYSEARCA:IVV) and Vanguard Large Cap VIPERs (NYSEARCA:VV). In most circumstances, we believe that IWB would be a better choice as it tracks the broader Russell 1000 Index rather than the narrower S&P 500 Index.
Moreover, IWB has a high industry acceptance (according to the 2009 Annual Benchmark Survey by Russell Investments, Russell indexes remain the preferred benchmark for more than 63% of the U.S. institutional equity products), low expense ratio, and a better 10-year track record.
We focus on managing portfolios with a keen eye on tax efficiencies. As a whole, iShares ETFs have kept their tax distributions quite low; for example, in 2010 a total of 2% of the iShare ETFs had a capital gain distribution (0% of Equity iShares and only 16% of Fixed Income iShares).
We also look at the structure of the ETFs when determining which ETF best suits our clients' needs. IWB has a dedicated, standalone structure and is not a share class within an existing mutual fund. We believe this structure could help insulate shareholders better than some other ETFs. Since inception, IWB has maintained a low tracking error of 0.11% relative to the Russell 1000 Index, making it a good replicator of the large-cap equity space.
As noted earlier, at GV Financial Advisors we typically use more style-pure ETFs such as IWF and IWD specifically to access the large-cap space.
Does your view differ from the consensus sentiment on large-cap equities?
Looking at the mutual fund flows, it appears that our views differ as large-cap funds have been seeing more outflows than the small-cap funds. Year to date, as of November 2010, small- and mid-cap stocks have been outperforming the large-cap stocks.
What catalysts, near-term or long-term, could move the sector significantly?
The defensive characteristics that allow large companies to weather the market and economic conditions better may hinder its performance if the U.S. economy unexpectedly roars ahead faster than the consensus. A faster-growing economy could benefit the small-cap stocks. If the market continues to reward risk-on trades, small caps may continue their outperformance.
If the economy slows down considerably or there is another global financial crisis, larger companies may be more able to sustain growth due to their access to the capital market for financing. This effect might be negated from a strengthening dollar in such an environment.
Using historical market cap patterns of performance, small- to mid-cap stocks tend to perform better in the early cycle. This gap narrows and large-cap stocks take over as the cycle matures. Near-term, we could say that we are 16 months past the early cycle as recession ended in July 2009 (per National Bureau of Economic Research (NBER) announcement).
So higher corporate earnings and dollar weakness are part of your outlook; but many investors I talk to don't even trust the fundamentals they're seeing because of the marketwide effects of QE2. You're bullish on large equities, but how much will their market performance be based on momentum that may be partly derived from Fed intervention?
One cannot ignore the impact of the government-driven policies, regardless of the market fundamentals. We believe that the Fed intervention has a big role in the dollar weakness, the low-interest environment and a positive growth environment for the corporations. All this fiscal and monetary stimulus only works if it can help businesses and people revive their risk-taking ability and thereby their spending habits.
The holiday sales numbers may reflect that consumers are starting to spend. Businesses that are flush with cash in such a low-rate environment may have eked out all they can from their workforces, and may stimulate jobs and productivity growth in the future. These speak for better fundamentals. The risks remain from high unemployment and scarcity of growth among other factors.
We are bullish on large-cap equities, given the rich valuations of small caps, the Fed's intervention that led to dollar weakness, the emerging-market consumer, businesses flush with cash in an improving but tight credit environment and the headwinds that still remain in the economy. In general, large-cap companies have a better ability to access credit in a tight credit environment.
As you mention, broader market investors often look to small caps to outperform in the early stages of a recovery. Does your conviction in large caps make any statement on odds of a housing-led double-dip recession - or at least a substantial correction?
Our analysis of large-cap equities was not based on a double-dip scenario. Should the double dip or market correction occur, our conviction for large caps would get stronger. GV Financial strongly believes that the short-term performance of the market is unknowable and we do not make market predictions.
What could go wrong with your pick?
If the dollar strengthens, or if the economic recovery picks up momentum, risky asset classes such as small-cap stocks may continue their run.
Thanks, Aradhana, for sharing your ideas with us today.
Disclosure: Long positions in IWB
Disclaimer: The opinions in the preceding commentary are as of the date of publication, are subject to change based on subsequent developments, and may not reflect the views of the firm as a whole. This material is not intended to be relied upon as a forecast, research, or investment advice regarding a particular investment or the markets in general. Nor is it intended to predict or depict performance of any investment. This document is prepared based on information GV Financial Advisors deems reliable; however, GV Financial Advisors does not warrant the accuracy and completeness of the information. Consult a financial
advisor on the strategy best for you.
Read more Just One ETF interviews »
If you are a fund manager and interested in doing an interview with us on just one stock or ETF position you'd hold, please email us at Just One Stock.