About Murphy USA
Murphy USA (NYSE:MUSA) markets and distributes motor oil and gasoline products through retailers across the USA, with a focus on the south and Midwest. Its products are a mixture of ethanol (E-85 and E-10), diesel, ultra-low-suffer diesel, biodiesel, winterized diesel, and kerosene. Retail space also sports soda, alcohol, snacks, and tobacco products. The company has experienced cigarette sale declines and has since rolled out e-cigarettes in all of its stores.
In its most recent quarterly earnings call, the gas station and convenience store chain announced it completed construction of nine new stores along with five additional stores after quarter end, bringing the total stores in operation to 1,228.
During its annual shareholder meeting in May, the company announced a $50 million share buyback. According to the CEO, the company is, "well-positioned to complete the execution of our $50 million share repurchase program."
Valuation
The $2.5 billion company has $260 million in cash on its balance sheet with $492 million of long term debt representing only 70 percent of shareholder equity. For the second quarter 2014, Murphy reported net income of $73.2 million, down from $77.6 million for the same quarter last year.
Since spinning off from parent company Murphy Oil (NYSE:MUR) last summer, Murphy USA's stock price has appreciated more than 40 percent from its opening price of $38 to just above $54 where it trades today.
This is what's baffling.
Murphy USA's price has appreciated so rapidly it appears as though fundamentals mean nothing anymore. In almost all area of valuation, the company is slowing down or declining, yet the stock races higher.
The table below illustrates the declines year over year for the first and second quarters. The company does have a trend with the Q2 results typically beating Q1 results, but that still doesn't explain the decline in sales from June 2012 to June 2014.
| | | | | | | |
| --- | --- | --- | --- | --- | --- | --- |
| | Jun-14 | Mar-14 | Jun-13 | Mar-13 | Jun-12 | Mar-12 |
| Sales (millions) | 4,758 | 4,164 | 4,944 | 4,456 | 4,990 | 4,702 |
| | 2014 Q2 | 2014 Q1 | 2013 Q2 | 2013 Q1 | | |
| Percent Change y/y | -3.76% | -6.55% | -0.92% | -5.23% | | |
Net income is no different. On an annual basis, the company's profitability can be described as spotty at best. Year-to-date the company has earned $82.1 million. If it can earn the same amount in the third and fourth quarters of 2014 as it did in 2013, the company will earn $138 million for 2014, marking an 11 percent decline from 2013.
| | | | | | |
| --- | --- | --- | --- | --- | --- |
| | 2010 | 2011 | 2012 | 2013 | 2014 (est) |
| Net Income (millions) | 143 | 205 | 84 | 156 | 140 |
Gross margins are also on the sagging, shrinking from 4.9 percent in 2010 and 2011 to 2.2 percent in 2013. In its most recent earnings call, CFO Malynda West explained, "gross margin and volume were impacted during the period by a flat to rising wholesale price environment." She also cited, "fewer days in the quarter of the Wal-Mart (NYSE: WMT) enhanced $0.10, $0.15 discount program."
Murphy USA's performance can't be dismissed, but it must be approached tentatively. Activist investors have been acquiring shares over the last six months. Janus and HighTower have been picking up shares and Elliott Management recently picked up 152,000 shares. Most of this buying has been completed by value and deep value investors, while growth managers have headed for the exits. This could be a sign of a near term price peak.
6 month position changes by owner: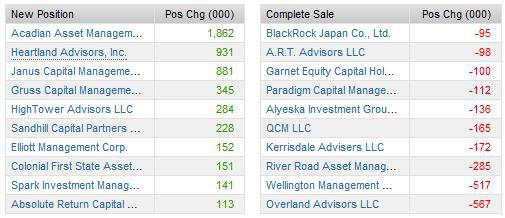 Source: FactSet
6 month change by investor type: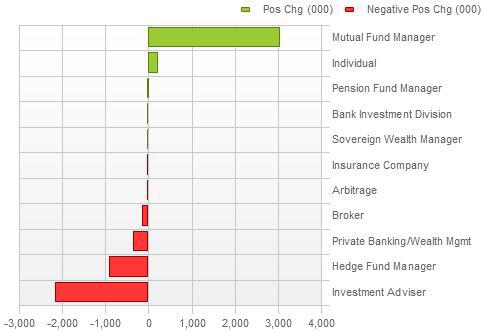 Source: FactSet
6 month change by holder style: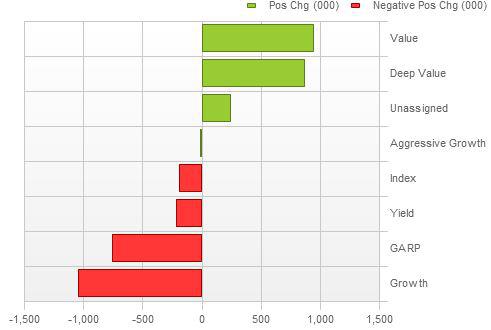 Source: FactSet
Bottom Line
Approach Murphy USA with caution. Given current levels and a very rocky sales growth rate, today the company is fairly valued. A reasonable price target would be between $57 and $60 per share, with the latter being generous. The big question is going to be, "can this company put it all together?" If it can consistently increase sales, grow its bottom line and maintain a reasonable margin, there is no reason this stock can't go higher.
If management doesn't change the course or activists don't step in to help, consider selling and locking in any of the outstanding gains made since its IPO. If the company pulls back some, it may be worth buying; however, prudence suggest waiting to see what the people running the show do.
Disclosure: The author has no positions in any stocks mentioned, and no plans to initiate any positions within the next 72 hours.
The author wrote this article themselves, and it expresses their own opinions. The author is not receiving compensation for it (other than from Seeking Alpha). The author has no business relationship with any company whose stock is mentioned in this article.