By John Feyerer
While many investors headed to the beach or the amusement park this summer, their money traveled to emerging markets. During the month of July, about $2.5 billion in net flows went to exchange-traded funds (ETFs) focused on emerging market stocks.1 That's in sharp contrast to recent trends - investors pulled about $6 billion out of emerging market ETFs in 2013, and another $5.3 billion at the start of 2014.2
The in-and-out nature of emerging market flows isn't terribly surprising - dramatic headlines about global events can spur investors to either flee from risk, or to pursue opportunities. However, due to the potential for emerging market economies to grow faster than developed economies coupled with attractive equity market valuations that may be affording an attractive entry point, I encourage investors to look at emerging markets as a longer-term destination for a portfolio allocation. It's important to note that an investment in emerging market countries carries greater risks compared to more developed economies, so investors should carefully consider their risk tolerance before investing.
Growth potential
While volatile world events can crop up at any time, investors should remember that the secular themes for investing in emerging markets remain intact:
Economic growth. The World Bank projects that economic growth in emerging markets over the next five years will more than double the growth of developed economies. (See chart below.)
Fiscal stability. As a whole, emerging market balance sheets are in much better shape than those of developed markets. Net debt as a percent of gross domestic product is projected to be 34% for emerging markets versus 109% for developed markets in 2014.3
Demographics. Emerging markets have a considerably larger working age population than developed markets, and their middle class is growing. These populations should spur demand for goods and services, as well as infrastructure upgrades and expansions.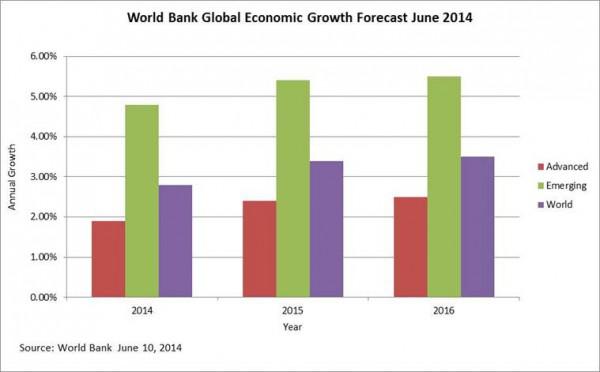 Recent valuations
Despite the recent run by emerging market equities (the MSCI Emerging Markets Index rose 16.75% between mid-March and early August), emerging market valuations are still historically cheap on an absolute and relative basis. The cyclically adjusted price to earnings ratio (known as Shiller P/E) of emerging markets was 15.1x as of June 30, 2014, versus 25.3x for the U.S.4 That represents an historically wide discount of 40% for emerging markets versus the U.S.
Valuation is a critical consideration for investors because it has historically been an indicator of the potential for long-term returns. Using Shiller P/E data for as far back as it's available, emerging markets have returned 9.1% annually over a five-year time horizon when starting valuations levels were comparable to where they have recently been, while U.S. stocks have returned 0.4%.

Talk to your advisor
Returns, especially in the short term, can rise and fall. But we believe that the growth prospects and valuation levels of emerging market stocks make them an attractive prospect for investors with long term horizons. Talk to your advisor to see how emerging market stocks could fit in your overall portfolio.
Sources

Bloomberg L.P., July 31, 2014
Bloomberg L.P., May 31, 2014
IMF as of October 2013
Robert Shiller Online Data, Bloomberg L.P., Encorr.
Important information
The MSCI Emerging Market Index is an unmanaged index considered representative of stocks of developing countries. An investment cannot be made in an index.
The cyclically adjusted price to earnings ratio is a valuation measure that uses real per-share earnings over a 10-year period.
The information provided is for educational purposes only and does not constitute a recommendation of the suitability of any investment strategy for a particular investor. Invesco does not provide tax advice. The tax information contained herein is general and is not exhaustive by nature. Federal and state tax laws are complex and constantly changing. Investors should always consult their own legal or tax professional for information concerning their individual situation. The opinions expressed are those of the authors, are based on current market conditions and are subject to change without notice. These opinions may differ from those of other Invesco investment professionals.
| | | |
| --- | --- | --- |
| NOT FDIC INSURED | MAY LOSE VALUE | NO BANK GUARANTEE |
All data provided by Invesco unless otherwise noted.
Invesco Distributors, Inc. is the U.S. distributor for Invesco Ltd.'s retail products and collective trust funds. Invesco Advisers, Inc. and other affiliated investment advisers mentioned provide investment advisory services and do not sell securities. Invesco Unit Investment Trusts are distributed by the sponsor, Invesco Capital Markets, Inc., and broker-dealers including Invesco Distributors, Inc. PowerShares® is a registered trademark of Invesco PowerShares Capital Management LLC (Invesco PowerShares). Each entity is an indirect, wholly owned subsidiary of Invesco Ltd.
©2014 Invesco Ltd. All rights reserved.