Although American Capital Ltd. (NASDAQ:ACAS) has traditionally been valued as a business development company ("BDC"), it is currently in the process of transforming itself into a funds' manager. The Jaded Consumer's coverage of ACAS has included annual overviews for 2011 and 2012; after an update halfway through 2013, the time is appropriate to revisit whether the factors that propelled the company's post-crash recovery continue to support investment.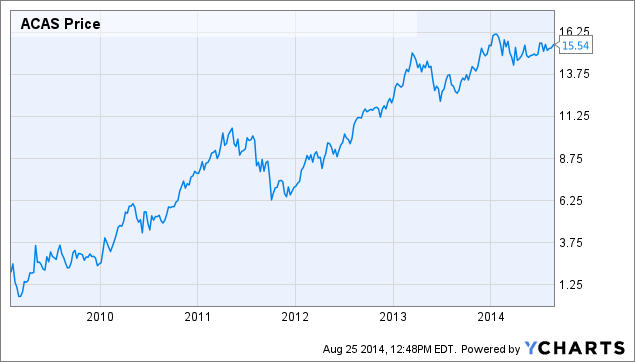 Old History
ACAS' dramatic price action since early 2009 has several explanations. The first is that in the immediate aftermath of the 2008 crash, share prices reflected irrational fear that bankruptcy would leave shareholders with worthless paper. Although ACAS continued to make interest payments without interruption, the change in value of ACAS' holdings constituted by itself a default on the terms of its various debt covenants. Those who didn't read deeply interpreted "default" to mean insolvency. The possibility that creditors could accelerate debt in light of the default drove fears that shareholders would be harmed by fire-sale disposal of assets. An opinion on ACAS' bankruptcy outlook appeared on the Jaded Consumer blog back in 2010, before the company announced its 2010 debt restructuring (link opens PDF) or the term-improving restructure of 2012.
But what kind of danger was ACAS really in? A look at the company's declining leverage shows that the company not only serviced its debt, but had the ability to pay it down in order to obtain leverage with creditors. The clear message was deal with us, or we'll stop borrowing your money: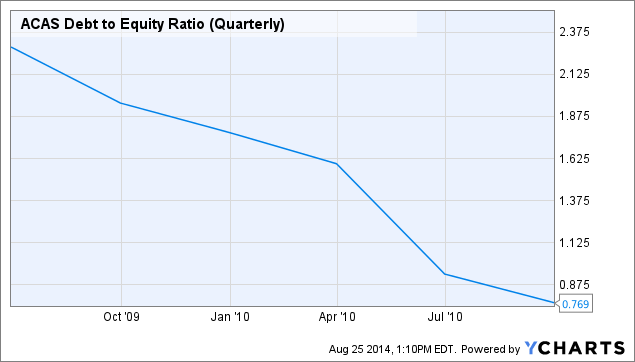 The above chart shows ACAS' leverage from mid-2009 through the date the first debt refinance. Since then, it's restructured debt to lower interest rates and improve other terms. Has eased lending given ACAS' management a spending fever? No: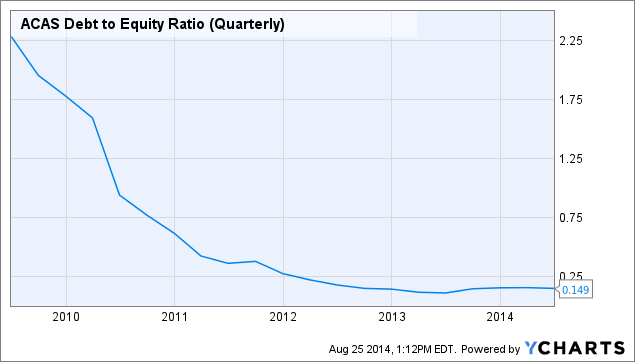 And what about claims ACAS is dead now, just paying off debt and winding down its business? Management hasn't been trading assets to eke out of debt. Far from it: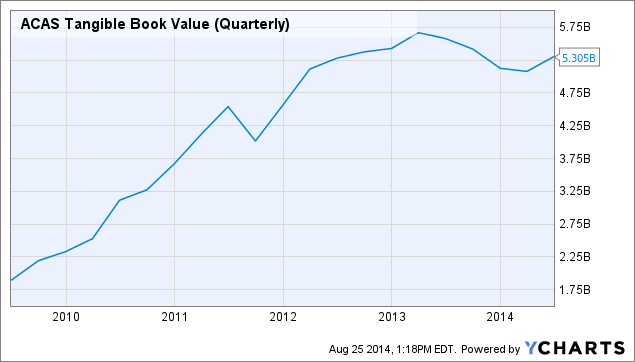 Even as ACAS paid down billions in debt, it grew book value.
ACAS is a solvent investor that's grows assets while reducing debt: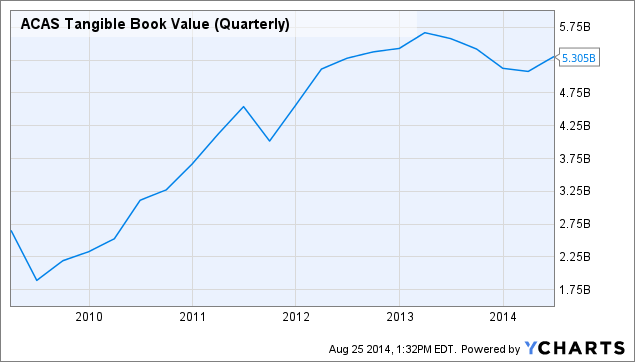 The Post-Crash Thesis
In the post-crash era, the first reason to buy ACAS was that its risks were overblown by those who misunderstood the outlook of a solvent debtor in a bankruptcy. But after the 2010 refinancing, that fear ought to have blown over: there'd never been a missed interest payment, and the new debt agreements eliminated the net-asset covenants that led to the temporary state of "default." The post-crash long case resulted from the net asset value ("NAV") discount, coupled with the supercharging effect of investment growth while management repurchased shares at prices less than the value of the assets behind each share. What if you could buy $1 for $0.80? Impossible?
Since the last annual period analyzed in these articles, ACAS has continued to maintain a NAV discount exceeding 10% -- usually 20% or more: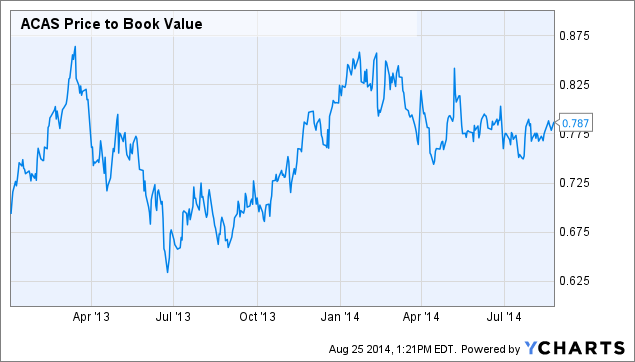 This discount hasn't been maintained during some kind of idle time; management has been growing NAV per share. Since the last annual analysis provided here, ACAS' NAV has exceeded $20 per share: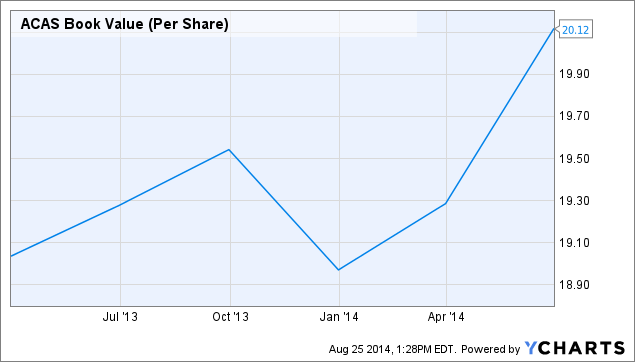 Following the crash and its attendant dividend suspension, ACAS aggressively repurchased shares even as it's reduced debt and -- in most years -- grown the company-wide (rather than just per-share) assets: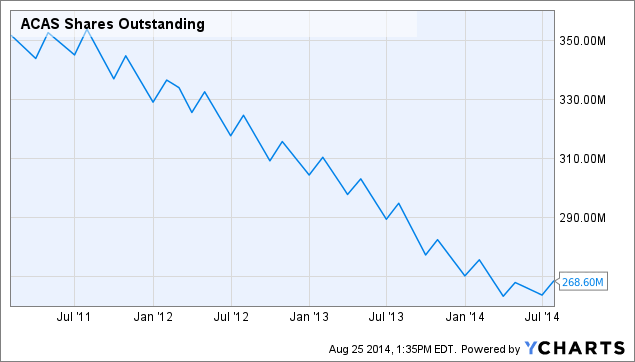 Until the share repurchase plan halted earlier this year, ACAS' repurchases supercharged management's returns. But the repurchases have been halted. What's makes ACAS a buy now? Anything?
Restructuring: A Plan To Change Valuation
In the post-crash era, ACAS has transformed from a company whose most valuable asset was a European investment portfolio to a company whose most valuable asset is its asset management subsidiary. The change reflects the company's longer-term strategy to transform its valuation from an asset holder (valuation based on NAV) to an asset manager (valuation based on fee-generation from asset management).
The European investment portfolio (European Capital, or "ECAS") was bought below book value, is carried at a discount to its book value, and gives investors value based on a double-discount: the discount with which ACAS carries ECAS on the books, and the discount with which the market values ACAS. While this is great from the perspective of potential to unlock value not currently reflected in share price (or, in the case of ECAS, even book value) it's no good for shareholders who want to see value now. Management can be counted among the shareholders who want to see value now: before the crash of 2008, ACAS' CEO Malon Wilkus complained on quarterly conference calls that the market assigned ACAS a value that was some modest premium to its net asset value. Before the crash, the price-to-NAV looked like this: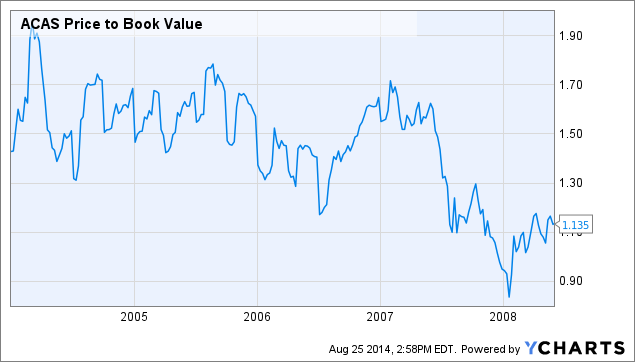 Wilkus argued that as an asset manager, ACAS should get a valuation based on its earnings from managing assets rather than a valuation based merely on the assets. Asset managers' valuations are rather higher. Presently Apollo Global Management LLC (NYSE:APO) has a P/E higher than 8 and The Blackstone Group (NYSE:BX) has a P/E over 15. Kohlberg Kravis Roberts & Co. L.P. (NYSE:KKR) has a P/E in the middle, just over 10. ACAS, as an asset holder, has "earnings" very different from its taxable income: unrealized changes in the values of holdings are considered GAAP "earnings" and reported in SEC filings even though they may have no effect on taxable income. From the beginning of 2012 to the present, ACAS' quarterly income has looked like this: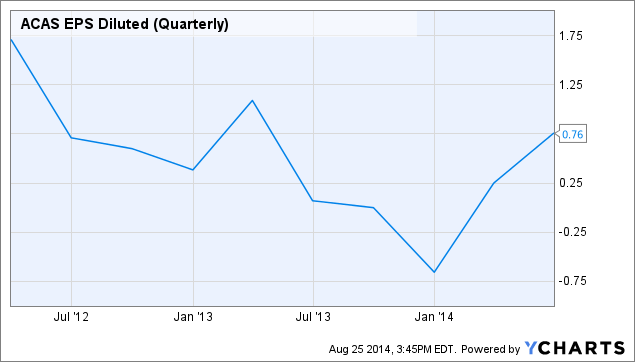 This isn't because ACAS is losing cash -- it's generated enough cash to repurchase shares while retiring debt -- but because its holdings are volatile. If the last quarterly income of 76¢ per share were regular income, and shares were priced somewhere between the multiples of APO and BX, annual earnings exceeding $3 would support a share price somewhere between about $24 and $45. However, this depends on regular income. Toward that end, ACAS has entered its asset manager subsidiary into a number of fee-based income arrangements to manage not only its wholly-owned fund ECAS but a variety of private equity funds, including some funds new this year: one over $600 million in size and one over $1 billion in assets. ACAS' asset manager also collects management fees from three publicly-traded investment companies for which it serves as the exclusive asset manager: American Capital Mortgage Agency Corp. (NASDAQ:AGNC), American Capital Mortgage Investment Corp. (NASDAQ:MTGE), and American Capital Senior Floating Ltd. (NASDAQ:ACSF).
ACAS' plan is simple: spin out its non-asset-manager business so that ACAS continues as an asset manager. Converting owned funds into fee-based managed funds will allow investors to invest in ACAS-managed BDCs focused on the asset classes they like. Senior debt? mREITs? (and if so, Agency-only or mixed?) One anticipates that equity holdings will be among future offerings, eventually leaving ACAS as an asset manager with a bundle of seed money for opening new investment vehicles. ACAS' second-quarter earnings report shows fee income at ACAS up in the second quarter from $12m to $17m (42% gain) year-over-year, and in the first half of the year up from $23m to $30m (30% gain) year-over-year. At the outstanding-share count of 263.7 million shares, 2014 fee income is 6.4¢ for the second quarter of 2014 and 11.4¢ for the year's first half.
ACAS earns fees outside its funds management business. According to ACAS' 2013 annual report, the company earned three types of fee income. ACAS' portfolio company advisory and administrative committee earned $17 million over the year, up from each of the two prior years. Funds management fees at its advisory and administrative services company (the funds-manager "ACAM") were $26 million in 2013, also up from each of the prior two years. ACAS participates in a number of complex middle-market transactions, many of which it arranges for a fee. Middle-market transaction fees amounted to $21 million in 2013, but this amount is driven by transactions and lacks the predictability of the advisory fees in the prior two fee segments.
As ACAS converts more of its owned assets into assets managed for a fee, these numbers should be expected to grow. ACAS' expertise in transactions will presumably continue to be employed on behalf of companies held in its various managed portfolios. One Stop Buyouts may continue, with different segments of a buyout's resulting investments ending up in different externally-managed portfolios. The difference will be that portfolio valuation fluctuations should impact ACAS less as ACAS' interest in investments transfers from a direct investment interest to the indirect interest of a fee-based manager.
The Discount
For the past several years ACAS has represented a NAV story driven by discounted share price. The sequential performance for 2Q2014 amounts to a nominal NAV increase of 83¢ over 1Q2014, which annualizes to 17%. Not bad, but it came on the heels of a rough year; some of that may have been bounce from an overstated decline with a down market (external markets impact "fair value" assessments). In 2013 -- and despite headwinds in its funds-management business -- ACAS grew NAV 6%. The NAV per share at the end of 2Q2014 stood at $20.12, up 84¢ from the year-ago quarter (a 4% increase).
But those metrics measure the NAV of assets held directly by ACAS. If one neglects ECAS and looks at its assets, ignoring the 13% NAV discount applied to give it a "fair value" of $892.1 million, the ECAS holdings have a value of $1,025.4 million. This reflects $133.3 million "lost" to discounts applied solely because the assets are held by ECAS rather than by ACAS directly. This extra NAV discount arguably understates ACAS' NAV by 50.6¢ per share. If ACAS is assumed to have a "real" NAV exceeding $20.62, then the NAV discount is cheaper and the value to be unlocked as it evaporates grows. At $15.57, shares with a "real" NAV over $20.62 would have a discount exceeding 24%. In other words -- if ACAS' NAV were fairly refigured by ignoring the discount internal to ECAS -- $1 spent on ACAS shares would give investors access to returns based on about $1.32 in invested assets.
ACAS also has a $197 million tax asset that it carries at a "fair value" value of $0. Although management believes it's probable that ACAS will continue to earn money against which the asset will stand as an offset against taxes, the standard by which such assets are valued requires more certainty than management's mere optimism. Also, one can't invest a tax asset, so it produces no return on its own; but such assets do improve the value of other investments by reducing the tax expense ordinarily associated with their resulting income. To the extent ACAS' tax asset may be applicable to future income, shares may have even more value than reflected in their understated NAV.
When there was no hope in sight for unlocking this NAV discount, the hope for supercharged returns lay in ACAS' aggressive share buyback program, that returned shares at below-NAV prices. This had the effect of concentrating underpriced NAV into fewer shares. With the buyback suspended, ACAS promises only returns based on discounted investments.
Unlocking NAV Discount
Transactions that move ACAS' portfolio companies and other investments into externally managed investment vehicles will continue to turn equity into cash. Cash should eventually make it to shareholders at face value (or become available for resumption of below-NAV share buybacks).
But a bigger change would affect ACAS' valuation by the marketplace. Suppose the valuation applied to ACAS changes from NAV-driven to P/E-driven as it evolves from a BDC to an asset manager. Share valuations over $24 are plausible at the earnings levels reflected in 2Q2014.
This year, management explicitly stated that was its plan: in answer to an earnings-call question whether ACAS would spin out ACAM to unlock its value to investors, management replied that ACAS would in effect spin out the BDC, leaving ACAS the asset manager. Of course, the structure of that transaction hasn't been finalized, and will turn on the tax effects of various transaction forms. ACAS has done an excellent job managing its affairs so as to make the most from potentially applicable tax law, and there's every reason to expect careful planning with respect to the tax effects of ACAS' conversion into an asset manager, ACAS' tax assets, and the restructuring that will affect both.
Conclusion
ACAS continues to be a profitable BDC, but it is in the process of transitioning into an asset manager. The form of that conversion has not yet been fixed, but it is likely to be driven by factors such as tax effects and the hunger in the market over time for BDCs holding various asset classes. Even without a conversion that re-invents ACAS (and its valuation in the market) as an asset manager, ACAS continues to offer both a growing NAV and an attractive NAV discount, particularly as one considers the double-discount in its European Capital portfolio and the potential value in the tax asset it currently assigns no value.
Disclosure: The author is long ACAS, AGNC, MTGE.
The author wrote this article themselves, and it expresses their own opinions. The author is not receiving compensation for it (other than from Seeking Alpha). The author has no business relationship with any company whose stock is mentioned in this article.