In its aggressive strategy to compete in numerous segments, Amazon.com Inc. (NASDAQ:AMZN) appears it is getting ready to combat Google (NASDAQ:GOOG) (NASDAQ:GOOGL) in its lucrative online advertising market, as it is developing proprietary software that will be used to place its own online ads in a manner similar to Google's Adwords.
This will not only compete against Google for online ad share, but will immediately shrink Google's ad share once Amazon replaces the Google ads across its own properties and puts its own up.
The new project will be called Amazon Sponsored Links, and is expected to launch sometime in the latter part of 2014. The market is gigantic, with over $50 billion in overall sales a year.
(click to enlarge) source: StockCharts.com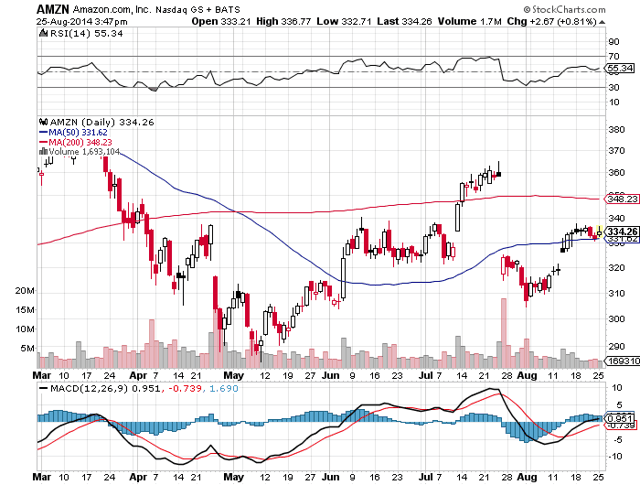 (click to enlarge) StockCharts.com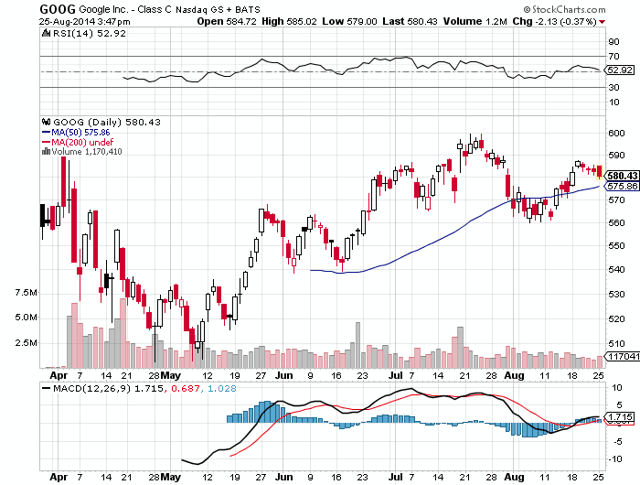 Amazon's Data Advantage
While Google is good at gathering consumer data, Amazon is even better, and has a database full of accurate data it could leverage to potentially provide better results for its marketing customers than Google does. This could help it to gain market share fairly quickly once the program is rolled out.
It looks like it'll take the step of removing Google ads now on its platform first. After that it'll then work on building up its online ad business with marketers.
Although not as big of a direct competitor in the online ad space, this would also have an impact on Microsoft (NASDAQ:MSFT), which competes in the online ad market segment.
If the data Amazon has available to it helps marketers to more effectively target consumers, they'll flock to the new ad platform. This will likely enlarge the market in general, but will also take share away from its competitors. Facebook (NASDAQ:FB) could be another company adversely affected if marketers decide Amazon has the most relevant and accurate data on prospective customers.
At this time Amazon has just under 250 million active users, which is a huge incentive for businesses and marketers to use the new ad service.
Google Affiliates
Where Google will have some advantage in the short term is via its Google Affiliate program, where those allowing Google to place ads on their blogs or websites, are given a percentage of the advertising dollars.
Amazon will have to compete in a way that is attractive to these businesses in order for it to gain significant share. With that in mind, we should expect Amazon to offer some of its existing partners a new way to make money beyond its existing revenue-sharing programs; and we will see this compete with Google in a way that it generates at least as much revenue as Google offers. If marketers believe Amazon's ads are more targeted and effective, it could command a premium price and pass part of that on to its partners, which has the potential to make more than Google offers. That in turn would grow out its network of blogs and websites offering Amazon ads instead of Google ads.
I could see partners placing the ads side-by-side on their web properties in order to see which program performs the best.
Initially this may take a little time, but if Amazon reports some good internal ad numbers, we'll likely see a fairly quick response to its new ads. When I say quick response, I mean within a 12-month period or so. The usual wait-and-see attitude among businesses and marketers to see how it performs, along with the tendency to be slow to respond to any new business opportunity, suggest to me it'll take some time to take hold, even if the numbers are pretty good in the short term.
Google affiliates will also have to be convinced using Amazon will improve the monetization of their web properties against Google Adsense. Once and if that happens, that's when Amazon's new initiative would take off.
Amazon Already in Ad Display Business
The online retail giant is already in the ad display business, generating over $700 million in revenue in the unit during 2013. That is expected to climb to around $1 billion in 2014, and that's without any help from its new business. If it launches it soon enough in 2014, those numbers are likely to be upwardly revised, depending on whether or not the number of ads offered are similar to what Google placed on its site, and if it's going to get more per ad using its own platform.
As mentioned, we're unlikely to see much of this outside of Amazon in the short term, so the comparable metrics are most likely to be between Google and Amazon internally. That will obviously change once it gets that in place and starts to roll it out to external web businesses and blogs.
For now though, I think investors can count on Amazon generating close to $1 billion in its display ad segment in 2014 (in the U.S.).
Amazon of course already has ads on a plethora of websites using its familiar and existing system, but this is taking it to another level and focus. What's important there is it could have an immediate base to expand the program out, using those customers already operating as Amazon affiliates. Again, its success will be determined by the level of acceptance by existing partners, as well as if it will be able to attract Adsense advertisers away from Google. To some degree I believe it can, and this offers the potential for a new multi-billion dollar revenue stream.
Amazon's Strategy
The software tool being built by Amazon is for the purpose of primarily offering ad agencies the opportunity to buy in large quantities from numerous advertisers. This is the foundation Amazon would work from to offer online websites the chance to add another revenue stream to their businesses.
Not only is this going to provide opportunities for partners to make money when a potential customers clicks an ad, as it does with Adsense or Adwords, but it's also working on providing another source of income by using CPM (banners) that will provide an additional revenue stream for some ads that are viewed but not clicked on.
Amazon is definitely expanding beyond its somewhat tired Amazon Associates program to drive more interest and encourage partners to put more of their products up on their websites.
That appears to be part of its overall strategy in preparation for the new rollout, as it will only be as successful as the number of websites and/or blogs that participate in the program and allow the ads on their online properties.
Together I think this should generate a lot of interest and buzz, along with positioning the company to be better perceived by its existing associates, and those that will come on board in the near future.
Conclusion
Amazon has been introducing a seemingly endless number of new products and/or services lately, with a number of them having potential to be decent revenue generators.
This latest effort plays into Amazon's existing network, and has a built-in strength of being able to immediately replace internal ads from Google with its own. Presumably it should be able to increase margin if it chooses to do so. In the past it hasn't been too concerned with that as it tends to operate on a low-margin model in order to gain market share quicker and deeper, so it's not a surety that it will immediately attempt to widen margin in the ad business, assuming margin in the new business will increase.
For Google, this could be the most serious challenge to its dominating presence in this market, and just losing Amazon as a customer will take revenue down a notch, as Amazon is one of the biggest ad partners it has.
It's likely Amazon will combine its various revenue streams once this is in place and will offer it as a package deal to many, if not all of its associates. That will be a serious marketing tool to attract more partners and websites to its advertising business.
Overall, of the many new businesses Amazon is entering, this one has one of the clearer and better opportunities to do very well in a reasonably short period of time.
With the retail space getting extremely competitive, this could be just the thing Amazon needs to renew confidence in its ability to successfully implement and grow new revenue streams.
Disclosure: The author has no positions in any stocks mentioned, and no plans to initiate any positions within the next 72 hours.
The author wrote this article themselves, and it expresses their own opinions. The author is not receiving compensation for it (other than from Seeking Alpha). The author has no business relationship with any company whose stock is mentioned in this article.