So far in 2014, several upstream MLPs have fallen short of meeting expectations. The largest and perhaps most well-known example has thus far been Vanguard Natural Resources (NYSE:VNR), which reported distributable cash flow results below 1 times distributions for the third quarter in a row. Vanguard had been plagued by a few things in the past, namely various drilling delays by operating partners in its recently-acquired Pinedale acreage. As a result, Vanguard revised its DCF guidance downward to 0.9-1.0 times distributions.
Other examples include Memorial Production Partners (NASDAQ:MEMP) and Mid-Con Energy Partners (NASDAQ:MCEP), which have each posted DCF results slightly below distributions for the quarter, although some of this sup-bar performance had to do with the timing of waterfloods and of acquisitions. Even still, both of those two partnerships, which previously had among the highest DCF coverage guidance in this industry, will have to make up a lot of lost ground in order to reach a coverage ratio of 1.0 times in 2014.
Linn Energy (LINE), the largest upstream MLP by far, has so far been a big exception to this rule in 2014. Linn's good performance comes from two things: Some great acquisitions, in which overall maintenance capex intensity has been reduced, and also better than expected production results from California. Because of these two factors, Linn has actually increased its DCF guidance for the full year. Originally slated to earn distributable cash flow of only 1.01 times distributions for the full year, Linn has now revised DCF guidance up to 1.10 times distributions.
At this rate, and with this revised guidance, Linn Energy is a pretty good value compared to other upstream MLPs. Back in January of this year I believed that Linn was regaining the premium compared to its peers; a premium that it had lost in 2013 thanks to several media attacks which nearly derailed Linn's acquisition of Berry Petroleum.
My prediction ended up being off the mark thanks to two quarters of lukewarm results from Linn. The biggest negative catalyst, since this January, was when Linn revised its full-year DCF guidance back down to 0.96 times distributions (it has since revised it back up to 1.10 times). As a result of these not-so-great results, Linn has continued to stay valued at roughly the same multiple as most other upstream MLPs.
At the risk of going out on a limb and being wrong for a second time, I believe that Linn is now well-poised to regain its premium vis-a-vis other upstream MLPs. This article will look at Linn's improved results, its portfolio shakeup, and finally valuation vis-a-vis other upstream MLPs.
Out with the new, in with the old
Linn has been hard at work restructuring its portfolio in a tacit admission that the company no longer wants to operate in horizontal plays. Essentially, Linn has been selling off it's less-mature horizontal assets for more mature, vertical-drilling acreage. Lately the company has made quite a few acquisitions, sometimes in the same geography. This makes keeping up with all of Linn's actions somewhat tough for the retail investor, who usually has a full-time job elsewhere, so let's review what Linn has purchased and disposed of over the last few months:
| | |
| --- | --- |
| Disposals | Acquisitions |
| Granite Wash, plan to sell 147,000 acres | Large acquisition from Devon (NYSE:DVN), including 360,000 acres in the Rockies |
| Midland Basin, plan to sell about 30,000 acres | Same Devon acquisition included 159,000 acres in South Texas, and less acreage in three other locations |
| Midland Basin, already exchanged 20,000 acres with ExxonMobil (NYSE:XOM) | Hugoton Basin, 500,000 acres with XOM |
| | Hugoton Basin, 236,000 acres with Pioneer Natural Resources |
Let's first go over the asset sales. Linn's plan to sell its Granite Wash assets is a definite move away from horizontal drilling. Back in 2011, when Linn first acquired Granite Wash acreage, it did so with the hope that Granite Wash may become another Bakken or Eagle Ford. While there was some good reason to believe in that possibility back then, disappointing well results dashed Linn's initial hopes. Linn is now wisely selling this acreage, which has a decline rate of well over 50% and will use the proceeds of that sale to fund its acquisition from Devon.
Linn is also interested in selling its Midland Basin horizontal drilling acreage. The Midland Basin acreage was part of the Berry Petroleum acquisition even though Linn didn't intend for the Midland Basin to ever become part of it's company portfolio. Therefore, the company has been actively looking to sell its acreage. A good portion of the Midland Basin acreage had already been swapped in a deal with ExxonMobil for lower-decline Hugoton Basin acreage.
Now for the acquisitions. Linn received half a million acres in the Hugoton Basin. This acreage produces mostly dry gas. While the rate of return is likely lower than that of the Midland Basin acreage which Linn traded away, the 7% decline rate on Exxon's Hugoton acreage is much lower than that of the Midland Basin. As cash flow maximizing entities, upstream MLPs are best suited for acreage with a low decline rate.
Most recently Linn also acquired yet more acreage in the Hugoton from Pioneer Natural Resources (NYSE:PXD). This acreage is very contiguous with Linn's existing Hugoton acreage, and the acquisition gives Linn another gas plant in the area. With over 1.6 million acres in the Hugoton Basin, Linn Energy is now the largest operator there.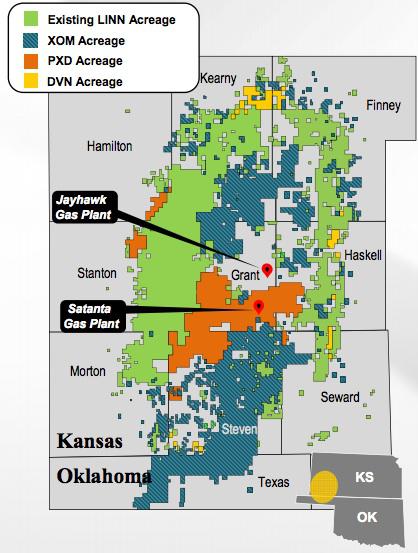 Courtesy of Linn Energy Investor Relations
Finally, Linn acquired almost 900,000 acres in five separate geographies for $2.3 billion. Like the others, this acquisition was done in order to lower the company's overall decline rate. The largest single acreage parcel was in the Rocky Mountains, and over half of the production will come from there. Other areas include South Texas, Oklahoma, East Texas and northern Louisiana. Most of the acreage is gas-producing. Below is a table better explaining this acquisition. While decline rates in these geographies are certainly not the lowest in Linn's portfolio, the low double-digit rate is still pretty good.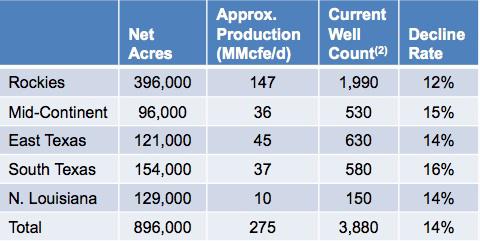 Courtesy of Linn Energy Investor Relations. [2] Well count based on active wells.
Compare these low double-digit decline rates with those of the Granite Wash, which Linn will sell to ultimately finance this transaction, and one can see Linn's rationale as an upstream MLP.
Out of the penalty box
As mentioned in the beginning of this article, I believe that Linn is not trading at a premium to other upstream MLPs only because its distribution coverage has been razor thin over the last couple years. Last quarter, however, marked a possible change in that trend when Linn posted distribution coverage of 1.13 times for the quarter and revised its full-year coverage guidance from 1.01 times to 1.10 times.
Why was Linn able to do this? There were a few reasons. First was better than expected production growth in southern California from the Diatomite formation acreage acquired from Berry Petroleum. Originally drilled in the 1920s, this acreage has been 'reborn' thanks to steamflooding, an enhanced oil recovery technique. The company's McKittrick acreage grew production by over 30%. Overall, production in California grew by 9%, and nearly all production was oil. Right now Linn is actively pursuing bolt-on acquisition opportunities in California. With Occidental Petroleum's (NYSE:OXY) big spinoff in the region, Linn may get a chance to acquire significant California acreage, which is an opportunity that does not come around very often.
Perhaps more importantly, decreased capital intensity has resulted in less required maintenance capex. The reasons for Linn's lower capital intensity stem from a shallower overall decline rate, which Linn has achieved by restructuring its portfolio in the ways mentioned earlier in the article. Anyways, for upstream MLPs, distributable cash flow is considered the most relevant metric in determining a partnership's ability to pay distributions, and maintenance capex is subtracted directly from distributable cash flow. A lower decline rate means less capital is required to keep production treading water.
If Linn can make due on its promises for a higher coverage ratio, and we have every reason to believe that it will, then Linn will be valued at only 9.6 times 2014 expected DCF. That puts Linn in the range with Memorial at 9.2 times DCF and Mid-Con at 9.0 times DCF. Even so, Linn's coverage ratio in 2014 is so far significantly better than that of those two. (Although Linn is more levered than is Mid-Con.)
Comparing Linn to its large competitor, Vanguard, shows an even wider rift. At its lowered 2014 DCF guidance, Vanguard trades at 12.4 times distributable cash flow; significantly higher than Linn. Yet, Vanguard expects DCF to come in somewhere between 0.9 and 1 times this year, while Linn now expects coverage of 1.1 times distributions. Linn also has more solid growth prospects than does Vanguard, which has only recently attempted meaningful organic production growth through acquisitions.
The negative media attacks are long over. Most can agree that the company's Berry Petroleum acquisition was successful, and the partnership seems intent on a coverage ratio of 1.1 times distributions. I think it's time to take Linn out of the penalty box. Currently, LINE yields a healthy 9.35%. At a yield of 8.5% Linn would trade at 10.6 times distributable cash flow, which is a valuation still lower than that of Vanguard. The broader market seems uninterested Linn's notable progress, and I believe that creates an opportunity for the income-minded investor.
Disclosure: The author is long LINE, LNCO.
The author wrote this article themselves, and it expresses their own opinions. The author is not receiving compensation for it (other than from Seeking Alpha). The author has no business relationship with any company whose stock is mentioned in this article.