Editors' Note: The author has made a significant change to this article since original publication (see his explanation here).
When researching companies for investment, it always pays to develop a checklist to help guide your research and decision making. This is especially true for companies that reside in the small to mid-cap range because they lack overall financial media coverage. The following six-point analysis should help you determine the merits of a company you're considering as an investment.
1. What does the company do?
Investors who buy shares of a company effectively become part owner of that business. As a business owner you want to know what products and/or services your business sells.
Today I am going to talk about Zumiez (NASDAQ:ZUMZ), which sells action sports footwear, accessories, and hard goods. People looking for merchandise related to surfing, snowboarding, skateboarding, and bicycle motocross go to this store. The company operates roughly 564 stores with the majority, 520, located in the United States. Zumiez operates the remaining 44 stores in Canada (30) and Europe (14).
2. What do the fundamentals look like?
Investors should always focus on companies with superior fundamentals that have the potential to translate into excellent investment returns over the long term.
That said, over the past five years Zumiez saw its revenue, net income, and free cash flow increase 78%, 403%, and 8%, respectively (see chart below). Factors such as economic recovery, same-store sales (with the exception of 2013), and store expansion contributed to the increases in revenue and net income. However, the company was somewhat lacking on the free cash flow generation front. Heavy capital expenditures stemming from investments in-store expansion over the past three years served as a drag on free cash flow.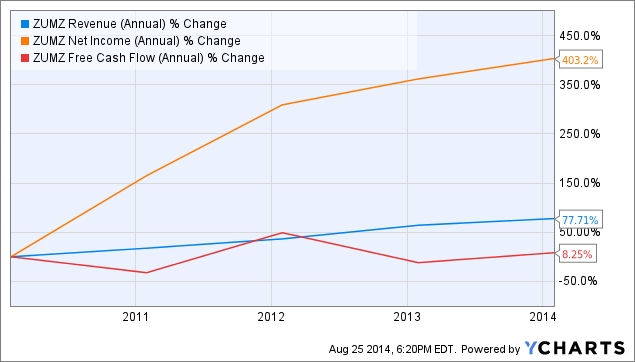 ZUMZ Revenue (Annual) data by YCharts
Notable long-term trends include a steady decline in operating margins since 2012. Zumiez experienced an increase in selling, general, and administrative expenses during that time. It also looks like this trend continued into the first quarter of 2014, with operating margins going to 2.3% vs. 2.7% the same time last year. It's important for any business to keep expenses under control; otherwise, Zumiez could see its profitability and cash flow erode over time.
Zumiez sits on an excellent balance sheet with its $107.8 million in cash equating to 33% of stockholder's equity. The company possesses no long-term debt. Long-term debt creates interest, which chokes out net income and free cash flow over the long term. Investors should always look for companies with long-term debt to equity ratios of 50% or less.
3. How much management-employee ownership is there?
Investors should always be on the lookout for companies that sport large management-employee ownership. Managers and employees with ownership in the company will take better care of the business in order to maximize their own wealth. In other words, the interests of management are aligned with shareholders at large.
Zumiez's proxy statement reveals that executive officers and directors collectively own 28.2% of the company. Specifically, Thomas D. Campion, Zumiez's chairman of the board, owns 13.6% of the company. Also, the company's CEO, Richard M. Brooks, owns 12.7%. It remains in the best interests of these two individuals to make sure that the profitability of the company is maximized. Otherwise, the company stock price will suffer, lowering their personal wealth over the long term.
4. How does its "Report of Independent Registered Public Accounting Firm" stack up?
Every year an external auditor will evaluate the financial statements and the internal controls in developing those statements. If everything checks out then the auditor will issue an unqualified opinion. If the auditors issue other opinions, such as adverse or qualified with exception, then company management may be involved in activities such as financial manipulation.
Zumiez's investors should be relieved that its auditors issued an unqualified opinion on its financial statements. This company has maintained effective internal control on its financial reporting.
5. What types of risks does it have?
Investors need to evaluate the types of risks involved such as political risk, competitive activity, and market risk. Companies that operate in politically unstable regions of the world could end up seeing part of their business bombed out of existence. Businesses with a great number of competitors could see margins erode due to pricing pressures. Investors who purchase stock at high valuations could see subpar investment returns over the long term due to higher-than-normal corrections to these types of stocks during market downturns.
Zumiez operates in relatively stable regions of the world -- i.e., the United States, Canada, and Europe -- which means political risk resides in the low range. However, Zumiez operates in a highly competitive business with many larger competitors that sell sports related apparel such as Hibbett Sports (NASDAQ:HIBB) and Foot Locker (NYSE:FL) with $852 million and $6.5 billion in revenue last year, respectively. Greater ubiquity translates into more purchasing power and economies of scale allowing for higher margins for these two companies. Hibbett Sports and Foot Locker registered operating margins of 13.4% and 10.2%, respectively, compared to 10.1% for Zumiez last year.
Zumiez is overvalued when looking at Morningstar's valuation metrics. Zumiez trades at a P/E ratio of 21 vs. 18 for the S&P 500 with a forward P/E ratio of 20.1 vs. 17 for the S&P 500. Its earnings yield comes in at 4.7% vs. 5.5% for the S&P 500.
6. What does its forward analysis look like?
Company management needs to keep costs under control to boost profitability. If a recession hits, then current shareholders could suffer a great deal as people give luxury items such as sports apparel a low priority in tough times. However, its rock solid balance sheet will help get this company through tough times. This company deserves a place on your watch list
Disclosure: The author has no positions in any stocks mentioned, and no plans to initiate any positions within the next 72 hours.
The author wrote this article themselves, and it expresses their own opinions. The author is not receiving compensation for it (other than from Seeking Alpha). The author has no business relationship with any company whose stock is mentioned in this article.