The red-hot SSD sector is presenting new opportunities for growth in the stagnating storage business. Total SSD revenue in fiscal 2013 stood at $10.99 billion, a 53.1% growth compared to 2012 revenue of $7.2 billion. SanDisk (SNDK) and Intel (NASDAQ:INTC) are leading the way here, doing much better than traditional storage leaders Western Digital and Seagate Technology.
Gartner released the figures for leading worldwide SSD vendors in June that showed SanDisk's SSD revenue in 2013 almost quadrupled compared to 2012 sales, to reach $1.17 billion, or 19% of 2013 revenue. The company's overall revenue grew 22% year-over-year to $6.17 billion, a big improvement compared to fiscal 2012 when it declined 11%. SanDisks's gross margin jumped from 33.3% in fiscal 2012 to 46.5% in fiscal 2013.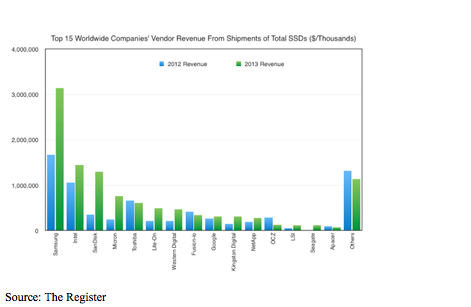 In the first half of fiscal 2014, SanDisk's SSD revenue accounted for 29% of its overall revenue, a big improvement from 19% of revenue in fiscal 2013. Although it's not clear what the gross margin of SanDisk's SSD products is, it appears as if strong growth in this sector is what's largely responsible for the company's vastly improved overall gross margin. SanDisk raised its gross margin outlook for fiscal 2014 from 45%-48% to 47%-49%, citing a ''better product mix.''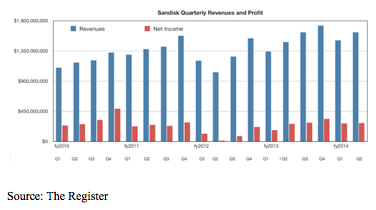 After taking a temporary dip in 2012, SanDisk's revenues and profits have been improving.
SanDisk Is the Best Bet to become Top Dog in Enterprise Flash
SanDisk looks like the best bet to become the top enterprise flash vendor. The company has a thriving enterprise flash business and bought Fusion-io in May to bolster its PCIe card hardware presence. Additionally, SanDisk partnered with Toshiba in flash foundry. But perhaps the best reason why SanDisk remains the best way to play the SSD sector is because it simply has better vertical integration than other flash vendors. SanDisk bought SMART Storage in June of last year, giving it a strong presence in FlashDIMM. FlashDIMMs put flash closer to the CPU than even PCIe, and sport a lower latency.
Flash vertical integration stack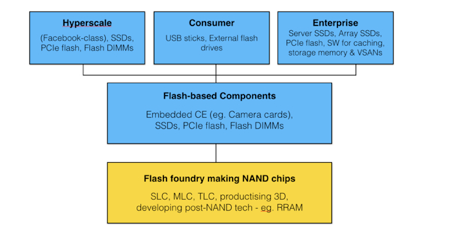 SanDisk's much-awaited ULLtraDIMM (flash-on-a-DDR3 DIMM) will be used alongside DRAM DIMMS, and could hit the market in 2015. ULLtraDIMM sports lower latency than PCIe flash. Additionally, SanDisk expects to commence production 3D NAND chips in 2015, and significantly ramp up production in 2016.
ULLtraDIMM vs PCIe flash latency.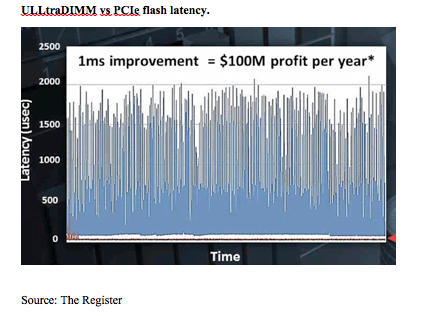 Note: Blue lines represent PCIe flash latencies while Red lines represent ULLtraDIMM latencies.
No real competition
SanDisk faces a bit of competition from Intel and Micron in the SSD sector. However, none of these companies, including Intel, looks likely to provide any serious competition for SanDisk in the near future.
Intel has a line of SSDs suitable for both notebooks and datacenters. These include products such as Pro 2500. HGST, a Western Digital Company, acts as Intel's OEM for some of its SSD products. Intel also has P3000 PCIe flash cards that utilize NVMe interface with a capacity that goes up to 2TB. But Intel presently looks more interested in flash DIMMs and has not demonstrated serious intent on moving up the flash stack.
Intel had a pretty solid year in fiscal 2013 as far as SSD sales go. The chip maker's SSD revenue grew 35% to $1.45 billion, higher than SanDisk's $1.17 billion SSD revenue. Unlike SanDisk, Intel's gross margin, however, contracted by 230 basis points over the period due to the diluting effect of its other poorly performing businesses. Intel has a much larger revenue base than SanDisk ($52.7 billion vs. $6.17 billion 2013 revenue). Intel's SSD revenue would have to make up at least 10% of its overall revenue for the sector to begin having a tangible impact on the company's gross margin. It would take about 5 years for that to become a reality at the current growth rate. This makes it a much less ideal way to play the sector.
Micron has a big and impressive SSD presence. The company's SSD strategy might, however, not work very well in the future. Micron's SSD strategy currently seems limited to cramming components and PCIe flash software into finished products. This might not bode well for the company in an industry that seems to be moving rapidly toward vertical integration.
Overall, SanDisk remains the best way to play the SSD sector. The company's shares have started recovering from the massive July selloff after the company issued weaker-than-expected revenue guidance. But all indications are that they still have plenty of room to run. The company's fundamentals remain sound, making it a good buy.
Disclosure: The author has no positions in any stocks mentioned, and no plans to initiate any positions within the next 72 hours.
The author wrote this article themselves, and it expresses their own opinions. The author is not receiving compensation for it (other than from Seeking Alpha). The author has no business relationship with any company whose stock is mentioned in this article.