AT&T (NYSE:T) has long been one of my all-time favorites. The stock is a dividend aristocrat with a current yield of 5.35%, which might just be the most enticing value to own the stock right now. That being said, the deal with DirecTV (DTV) looks like it will be happening, and in my opinion the share price will rise significantly to push the yield below 5% once again, and it may be the last time the stock will have a yield over 5%.
As reported in the NY Post:
The move will allow AT&T to add DirecTV's 20 million satellite-TV subscribers to its 5.7 million U-Verse TV service subscribers, which currently spans 22 states.
As far as I am concerned, this is just the tip of the iceberg for creating stronger shareholder value.
In Sports, It's All About Money, But In Broadcasting, It's All About Sports
The key to this acquisition is not just the usual synergies of cost savings, or even eliminating a top competitor. There is no secret to the fact that having more major sporting events available for viewers means more subscribers, more revenues and more profits.
AT&T U-Verse does not have the two largest revenue generators in the sports world: NFL Sunday Ticket and MLB Extra Innings. DirecTV has both of them exclusively and the powerhouse has been the NFL Sunday Ticket. So vital to making this deal happen, AT&T had a clause to be able to simply opt out of it if DirecTV failed to secure another long-term deal with the NFL for exclusivity.
Obviously, the NFL deal is being settled.
Out of the 20+ million subscribers to DTV, roughly 2+ million pay about $300 annually for the NFL Sunday Ticket. The revenue from that service alone will bring in over $600 million annually for AT&T when the deal is completed. Naturally the company could then opt to offer the service to its current subscriber base of 5.7 million subscribers, and if the percentages simply stay the same, another 600k subscribers for the NFL package could be achieved quite easily, which would mean roughly $180 million more in revenue for AT&T right out of the gate.
That adds up to about $500 million in revenues just by having the service itself, without lifting a pinky. At margins of only 20%, earnings will increase by a tidy sum of about $100 million right out of the starting block.
Not only that, U-Verse could then begin expanding its overall subscriber base simply because it will have access to both the NFL Sunday Ticket as well as the MLB Extra Innings, and there would be no need for viewers to opt for DTV any longer as did this former U-Verse subscriber.
My knowledge of DirecTV is that the NFL Sunday Ticket is available only there. MLB Extra Innings too. DirecTV also has a ton of 1080p HD programming. All great selling points. The downside to DirecTV is the occasional issues with dish clutter - like snow - that can mess up reception......So it seems I have made my decision to return to the satellite driven delivery system of DirecTV, and jettison AT&T. I think the reason is that I still see AT&T as a phone company, and all DirecTV does is feed TV into our homes. My imagination tells me that there are dozens of conference rooms at AT&T's headquarters where overpaid executives meet endlessly to talk landline service, cell service, internet service, TV service, and all kinds of other services. At DirecTV, there is one room where they try to figure out how to bring quality television programming into my home, and that's it.
Having all of the positives that T offers plus the sports content of DTV would make reports like this vanish overnight, and there will be no more confusion. U-Verse will have it all.
The subscriber base of U-Verse should grow exponentially just by having the major sports packages.
AT&T told its shareholders on Sunday that the deal to acquire DirecTV "provides numerous growth opportunities." A new deal with the NFL already looks like it's a big part of that promise.
As far as I am concerned, "numerous growth opportunities" is an understatement. Add this to the enormous cash flow that DTV has, and over time, the deal will pay for itself.
Observers have also cited DirecTV's healthy free cash flow -- $2.6 billion in 2013 -- as a motivation for AT&T to make the acquisition.
Touching on the MLB Extra Innings package for a moment, the yearly subscription rate of $120 per subscriber is not the only benefit for AT&T.
And DirecTV also owns minority stakes in MLB Network and NHL Network, which were part of the agreement to pick up both channels.
So you can see the enormous influence of a combined AT&T/DirecTV on sports television. Should the proposed deal be approved by the Feds, the impact it would have on regional sports networks would be felt throughout the cable industry....There's also talk of over the top services and expanded broadband for consumers, but that is in the preliminary stages....Industry observers are keeping an eye on the deal and what it could mean for customers. Yes, higher prices are also likely as competition falls by the wayside. The AT&T deal is an example of a big fish getting bigger while keeping up with the Joneses.
Keep in mind that the "bundling" that T does will have a major impact on DTV subscribers as well. That equates to happier customers in that camp.
The best thing that AT&T and DirecTV have going for them going into the regulatory review of this merger by the Department of Justice and the Federal Communications Commission is that together the companies could act as a stronger competitor to big cable. And by big cable, we're talking about the soon-to-be even bigger Comcast, which is looking to buy Time Warner Cable for $45 billion.

It's true that AT&T and DirecTV compete directly against each other for paid TV subscribers in almost all of AT&T's U-verse footprint. But the fact that DirecTV only offers TV service and doesn't offer broadband or home phone services will likely help the companies convince regulators that it's worth losing one pay TV competitor per market in order to allow for a stronger AT&T to compete against cable.
Why Buy AT&T Stock Right Now?
For dividend growth investors, not having T in the portfolio leaves a gaping hole where a dividend aristocrat deserves to fill it. With a current yield of 5.35%, and a track record of over 25 consecutive years of paying and increasing dividends without missing one single payment, the current share price is more than compelling to add this stock to any dividend investors portfolio for the long haul.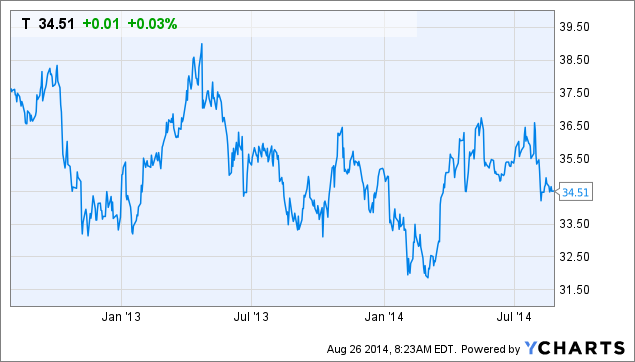 As you can see, based on my own target price to buy or add T is sitting right in the middle of the 52 week highs and lows. Dividend investors are getting the stock on sale, and when this merger is completed, I believe that AT&T's share price will not be this low again.
Getting in now is getting in good.
Disclaimer: The opinions of the author are not recommendations to either buy or sell any security. Please remember to do your own research prior to making any investment decision.
Disclosure: The author is long T.
The author wrote this article themselves, and it expresses their own opinions. The author is not receiving compensation for it (other than from Seeking Alpha). The author has no business relationship with any company whose stock is mentioned in this article.