From July 22 to August 21, February lean hog futures dropped 15%, but in recent sessions it looks like bullish hog traders are finding their footing with price appreciation of over 9%. As of this post, futures are trading over their 20 day MA (dark blue line) for the first time since gapping lower in late July. After trading at 6-month lows, it appears we are experiencing short covering as bargain hunters are shopping for value. My expectation is we see the gap filled in the coming weeks, which would put this contract an additional 9% above current trade.
My suggestion is probing bullish trade buying dips as long as the support holds on a closing basis at the 9 day MA (light blue line). It is far from a victory as bears have been controlling the steering wheel for the last 6 weeks, but for the moment, tides look to be shifting since the technical reverse we experienced on 8/21 when lower trade was rejected near 83 cents/lb. The fact that the cash market has declined of late aids in bringing the basis from historically wide margins closer to in line with historic norms. The key moving forward will be to see stability in the cash market to assure this was not just a one off overreaction. From a fundamental perspective, the discount is supportive, but make no mistake, the continued weakness in the cash market is keeping physical buyers on the sidelines. As of last week, the COT (Commitments of Traders) is still showing trend-following funds are holding a net long position of over 56,000 contracts, which is historically high, especially in light of the performance in this commodity in the last month.
February 15' lean hog daily chart: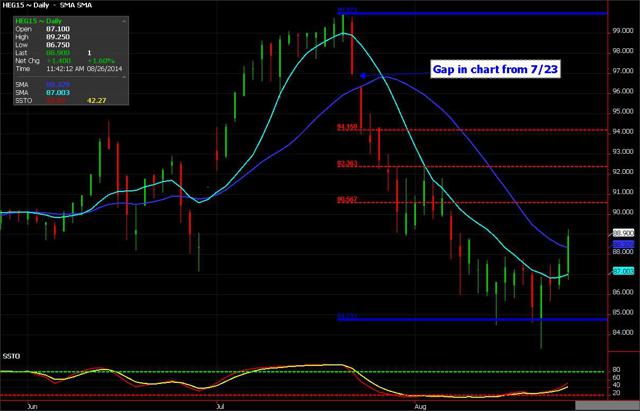 Source: www.computervoice.com
After experiencing record high pricing in July, pork prices have been on the retreat, fueling speculation that demand from consumers could soon rebound. Pork supplies have been constrained by a deadly swine virus that's projected to have killed millions of hogs domestically since April 13, but near-record weights have to some extent tempered the smaller supply. One positive -- pigs have been fattened for the most part on inexpensive grains with declining Ag prices. Industry insiders have anticipated more of a shortfall if it was not for weights increasing. Despite the fact that supplies are short of last year's levels, the idea that markets may have sold off too hard could be supportive short term.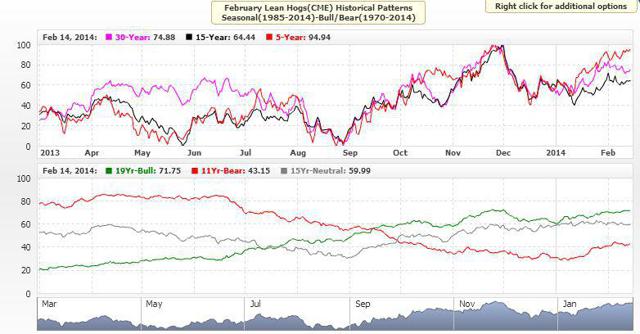 Source: www.mrci.com
I cannot stress enough that past performance is not indicative of future results and looking at seasonality alone is not justification to buy/sell, however, there is a compelling track record of seeing a bottom in late August/early September in February lean hog futures. Gaining long exposure in lean hogs on or about 8/27 and exiting on or about 9/15 has been a profitable transaction 14 out of the last 15 years. The average profit has been just better than $850 per contract. The worst risk was in 2009 of $1220. A move to the 50% Fibonacci level represents $1,380, 61.8% at $2,100 and filling the gap $3,200. While futures prices may have already factored in the seasonal aspects of supply and demand, it is worthwhile to keep in mind that in the past, we have typically seen a trade higher into the fall.
Risk Disclaimer: This information is not to be construed as an offer to sell or a solicitation or an offer to buy the financial products herein named. Trading futures, options and Forex involves substantial risk of loss and is not suitable for all investors. Past performance is not necessarily indicative of future results. This report contains research as defined in applicable CFTC regulations. Both RCM Asset Management and the research analyst may have positions in the financial products discussed.
Disclosure: The author has no positions in any stocks mentioned, and no plans to initiate any positions within the next 72 hours.
The author wrote this article themselves, and it expresses their own opinions. The author is not receiving compensation for it. The author has no business relationship with any company whose stock is mentioned in this article.