Material shifts higher in U.S. government yields starting in November led to a continued push through key quarterly supports into year-end. Note support and resistance zones are labeled in regards to price, which are inverse to yields. 5s, 10s, and 30s saw yields close the year above 1st quarterly supports, which had held for at least five consecutive quarters, confirming a shift away from their long-term trends lower in yield. Yields start the year with monthly trends firmly bearish and sights set on Q1 supports.
Q1 Supports:
2-yr: 0.743/0.813 • 5-yr: 2.449/2.530 • 10-yr: 3.698/3.796 • 30-yr: 4.627/4.760
However with sentiment reaching over-bearish levels and such a dramatic rise in yields into year-end, bears may find better prices to sell over the coming weeks.
Breaks of weekly resistances, which have held for twelve consecutive weeks, would signal at least a short-term move to lower yields. Note 30s accomplished this feat last week.
U.S. 10-year:
The monthly bull trend ended in November with the first break of 1st Monthly Support in over ten consecutive months. The break of 1st Quarterly Support (held for five previous quarters) signals a long-term shift to higher yields.
1st Monthly / 1st Quarterly resistance overlap provides a major hurdle to any rally attempts.
(click for updated U.S. 10-yr note chart and zones/probabilities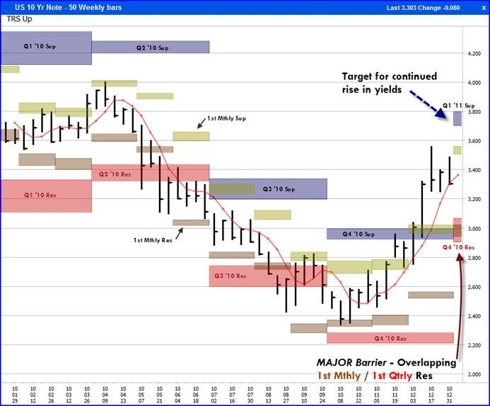 Not So Fast… Yields May Have Moved Too Much Too Fast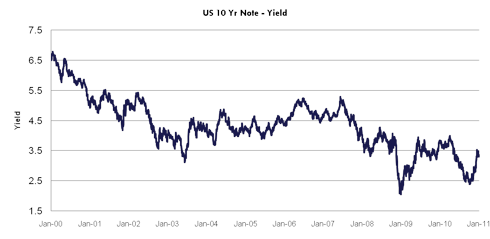 10-year yields advanced over 100 bps during a fifty trading day window going into the final week of 2010. Since 2000, yields have either moved sideways or declined following similar drastic back-ups. Of the three prior instances since 2000 (7/23/03, 5/18/04, and 5/27/09 – see red arrows below), two saw lower yields (average = -10 bps) fifty days later and all three saw lower yields (average = -37 bps) one hundred days later.
Nonetheless, the long-term outlook is bearish, meaning any rallies into 1st monthly resistances should be viewed as opportunities for sellers until broken.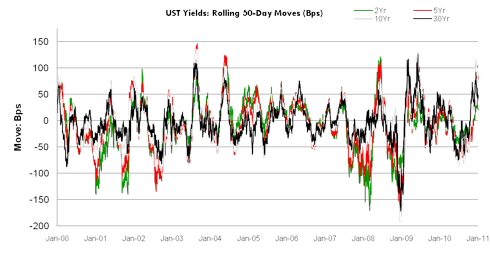 Not So Fast... Sentiment Overly Bearish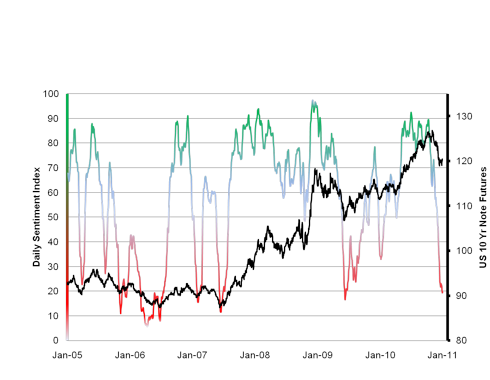 The rapid decline in sentiment (Daily Sentiment Index) into oversold levels leaves yields exposed to declines over at least the medium-term. Breaks through 1st weekly resistances, which have held for an impressive twelve consecutive weeks, would be needed to signal a bullish shift.
Disclosure: I have no positions in any stocks mentioned, and no plans to initiate any positions within the next 72 hours.