Since the S&P 500's monthly low of 1909.57 on August 7, 2014, the index (NYSEARCA:SPY) continued its rally to an all-time high of 1997.92 on August 25, 2014. An easing of geopolitical tensions in Ukraine has partially contributed to this exciting rally.
The Ukrainian conflict is moving towards a cease-fire. Even though it is not in favor of Ukraine, Europe and Russia are pushing for a cease-fire in order to end the humanitarian crisis. It is hard for Ukraine to continue the war without help from Europe, particularly while the pro-Russian separatists are supported by Russia. On August 26, 2014, Russian President Vladimir Putin and Ukrainian President Petro Poroshenko will meet in Minsk. A cease-fire may not be decided at the meeting but some progress is expected.
However, a cease-fire will not necessarily end the crisis in Ukraine. There may be no more bloodshed, but Ukraine will suffer from a serious economic downturn. Tremendous economic costs from intense fighting in eastern Ukraine are seriously damaging Ukraine's already fragile economy. Importantly, this probably will be a major impediment to Europe's economic growth.
Ukraine's Economy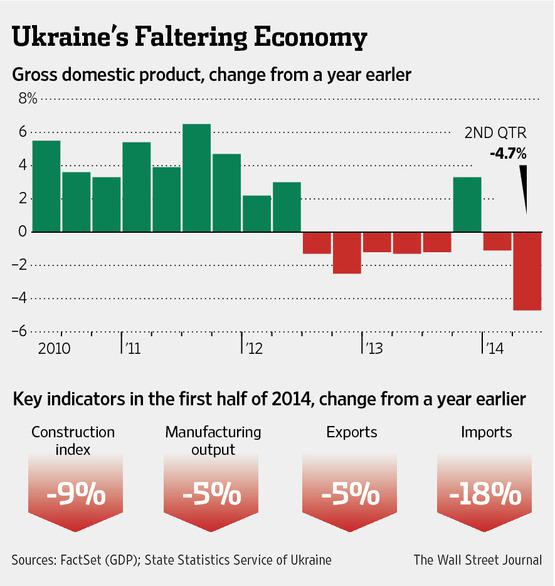 As the data above show, Ukraine's economy has fallen 4.7% in the second quarter, and most economic activities have declined during the first half of 2014. Moreover, unemployment increased from 1.6% to 9.3% during the first quarter, and this figure is expected to continue to rise.
It is clear that Ukraine desperately needs help from the International Monetary Fund (IMF) and the European Union (EU) to sustain its economy. In fact, Ukraine was approved for a $17 billion bailout from the IMF in April. However, the economic situation has worsened since then. At the time of the IMF bailout decision, Ukraine's economy was forecast to shrink by only 5%. In July, however, it was adjusted to 6.5%, which is still considered optimistic by many analysts.
Crimea, which no longer belongs to Ukraine, accounted for 3.7% of Ukraine's Gross Domestic Product (GDP). Moreover, the major battlefields of Donetsk and Lugansk, which account for 16% of Ukraine's GDP, are severely damaged and will require long-term recovery. In addition, due to a deteriorated relationship with its largest trading partner, Russia, Ukraine's Russian exports dropped by 24% in the first five months of this year and are expected to drop further. Overall, at least 20% of Ukraine's GDP is at risk. Therefore, the forecast 6.5% shrinkage seems extremely optimistic.
It is likely that Ukraine will need further help even after the IMF's $17 billion bailout. In fact, in a meeting with the German chancellor on August 23, 2014, Ukraine received a 50 million euro loan from Germany to help recover from war damage. Obviously, this is still far from enough considering the billions of euros worth of facilities and infrastructures destroyed. Moreover, while Ukraine permanently lost numerous source of GDP from the war, its military expense significantly increased due to pro-Russian separatists. Thus even after a cease-fire, Ukraine will likely continue to ask help from Europe, which will be a huge burden for the currently suffering European economy.
Euro-Zone Economy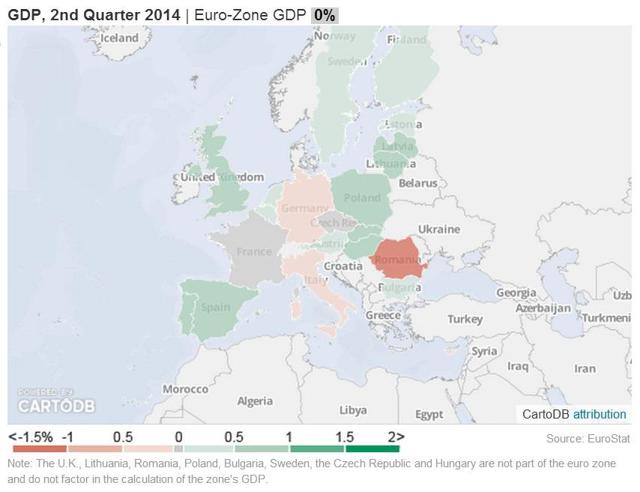 Click to enlarge
As the graph above shows, the Euro-Zone had a sour GDP performance in the second quarter of 2014. Its already slow economic growth failed to advance at all. Germany, the major growth engine in the Euro-Zone economy, reported a negative growth rate of 0.2%. In addition, France, the second largest economy in the Euro-Zone, had zero growth and Italy, the third largest economy, had negative growth. Due to those poor results, France is no longer able to meet its 1% growth target or keep its budget deficit under 3.8%.
Current bad economic situations will only worsen with time. Even after a cease-fire, sanctions and conflict between Europe and Russia will continue as long as pro-Russian separatists exist. Moreover, if tensions between Europe and Russia escalate and Russia uses its gas supply to Europe (accounting for 30% of Europe's total) as a geopolitical advantage, the Euro-Zone economy will be in huge trouble.
Although a cease-fire in Ukraine may end the violent crisis, it will only begin the economic crisis in Ukraine and Europe.
Disclosure: The author has no positions in any stocks mentioned, and no plans to initiate any positions within the next 72 hours.
The author wrote this article themselves, and it expresses their own opinions. The author is not receiving compensation for it (other than from Seeking Alpha). The author has no business relationship with any company whose stock is mentioned in this article.