Introduction
SeaWorld (NYSE:SEAS) went public in April 2013 and since then has significantly underperformed the market. After reporting a weaker than expected Q2 '14 result, the stock sold off significantly. We believe the market has overreacted, and investors should consider this a meaningful buying opportunity.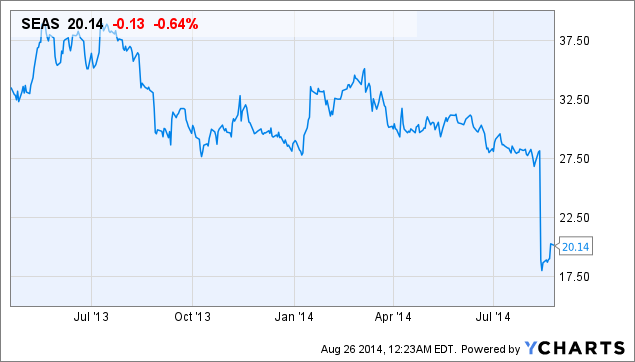 SEAS data by YCharts
Catalysts to Share Price Upside
The main catalysts to share price upside and reasons to buy the stock include:
Little/no new supply of theme parks coming online
Attractive dividend
Reasonable valuation
Increased attendance as the economy recovers
Business Description
SeaWorld is a theme park and entertainment company that operates a portfolio of globally recognized brands including SeaWorld, Shamu and Busch Gardens. The portfolio consists of 11 destination and regional theme parks that contain approximately 86,000 marine and terrestrial animals.
Revenues are driven by attendance prices for admission, food and beverage, merchandise, and other in-park experiences. During 2013 approximately 23 million people visited SeaWorld, including 3.7 million international guests.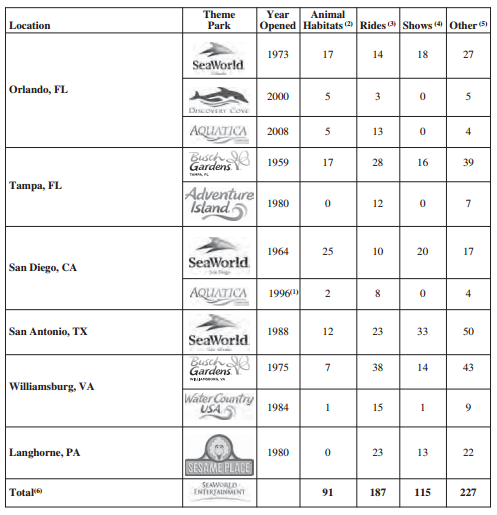 Source: 2013 annual report
SeaWorld's EBITDA margins have ranged from 22%-28% since its IPO in 2013. Profit margins have been relatively low between 2.5%-6.5%.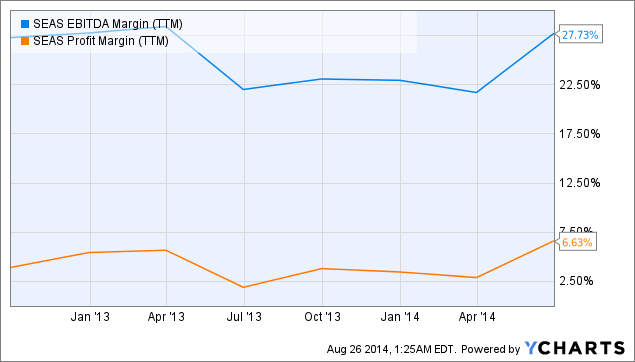 SEAS EBITDA Margin (TTM) data by YCharts
1 - No New Supply Expected
The theme park industry in the US is fairly mature with almost no supply growth recently. Part of the reason for this is that barriers to entry are quite high. The main impediments to entry include: high land costs, zoning requirements, infrastructure, and access to capital. As the economy continues to recover, we believe discretionary spending will pick up, which will drive revenues higher as supply remains flat.
2 - Attractive Dividend
SEAS offers a great dividend yield at 4.2% with a reasonable payout ratio of 75% (trailing twelve months).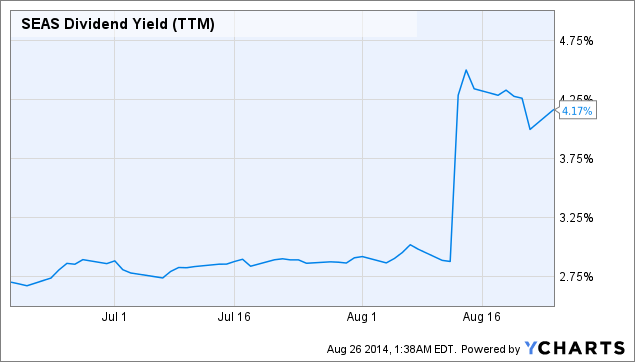 SEAS Dividend Yield (TTM) data by YCharts
3 - Reasonable Valuation
SeaWorld is currently trading at 8.3x 2015 EBITDA and 18x 2015 Earnings. Based on the consensus growth rates expected by analysts for EBITDA and EPS, we believe SeaWorld is relatively undervalued.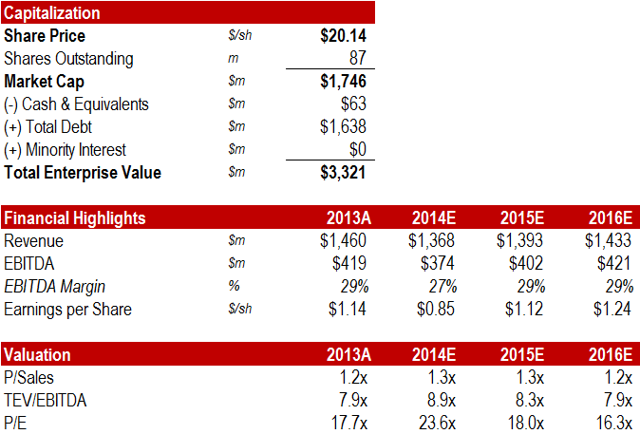 Source: Author's analysis and Capital IQ.
4 - Increased Attendance
Since 2009, US household financial obligations have steadily decreased, which has contributed to a rise in disposable income and will create further tailwinds for theme parks.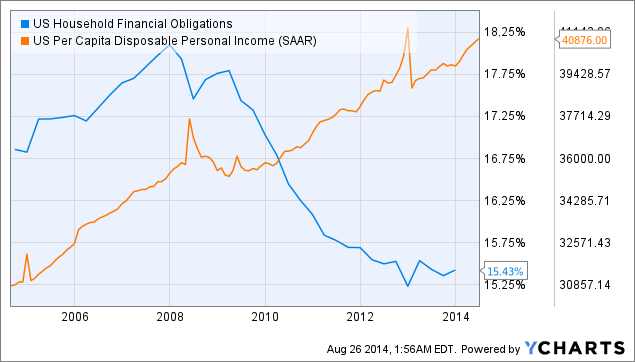 US Household Financial Obligations data by YCharts
Conclusion
Investors have overreacted to the latest quarterly result, most likely as a result of capitulation after a lackluster performance since IPO. This presents a compelling buying opportunity for investors based on: (1) lack of new supply, (2) the dividend yield, (3) a reasonable valuation, and (4) further upside as the economy continues to recover.
Disclosure: The author has no positions in any stocks mentioned, and no plans to initiate any positions within the next 72 hours.
The author wrote this article themselves, and it expresses their own opinions. The author is not receiving compensation for it (other than from Seeking Alpha). The author has no business relationship with any company whose stock is mentioned in this article.