I wrote on 6/6 that Best Buy was a value trap best avoided due to a fundamental disruption in its business model and structural cost inefficiencies relative to online retailers. Since then, the stock had actually outperformed the S&P 500, only to drop back in line after its earnings release today.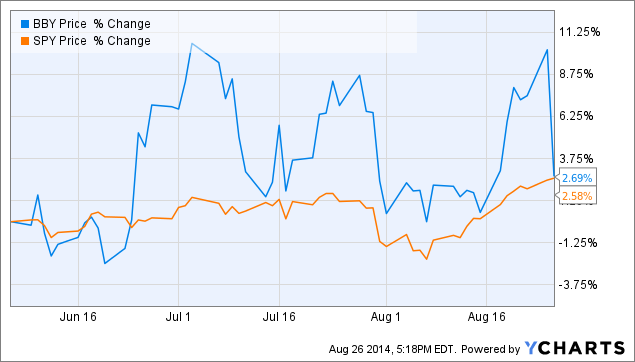 Business Performance
Best Buy (NYSE:BBY) reported second-quarter FY15 revenues of $8.9B, down 4% YoY due to a 2.7% decline in comparable store sales. US comps were down 2% offset by a 22% growth in online sales, but international comps were down 6.7%. Operating income margin was only 2.7%, a 1.8ppt drop from the prior year. Gross profit margins were 22.7% YTD, 2.1ppt lower than last year. To compensate for this, BBY spent less in SG&A, which came in at 20.3% of sales - a reduction from 21.6% from a year ago. This confirms my view that Best Buy needs to continue heavily discounting its products to compete with Amazon (NASDAQ:AMZN) and like competitors, putting pressure on gross margins.
Valuation updates
In my prior article, I had valued BBY at $21 and assumed comp growth of -1% for the current fiscal year. The company has now indicated that it sees comps in the negative low single digits for the year, as well as lower gross margins driven by the competitive environment. Taking these into account, I reduced the comp growth assumptions for the year to -2% and reduced my gross margin outlook to 22.5%. I kept the other assumptions the same, which imply that comps return to growth next year. To be even more bullish, I reduced the discount rate to 11% and increased terminal value growth rate to 2%. This results in a fair market value of $25 for BBY, still a 17% discount to the current market price assuming a rapid turnaround. Hence, I would not recommend buying Best Buy shares and maintain my negative rating on the stock.
Disclosure: The author has no positions in any stocks mentioned, and no plans to initiate any positions within the next 72 hours.
The author wrote this article themselves, and it expresses their own opinions. The author is not receiving compensation for it (other than from Seeking Alpha). The author has no business relationship with any company whose stock is mentioned in this article.