By Todd Shriber & Tom Lydon
U.S. stocks continue racing to new all-time highs, but some market observers note that the current U.S. bull market, one that has lasted longer than many of its predecessors, has made U.S. equities pricey.
That is particularly true when using the cyclically adjusted price/earnings ratio, or CAPE ratio. CAPE differs from the usual P/E ratio that so many investors are familiar with because CAPE evaluates earnings on a 10-year basis. Using CAPE, investors will find that U.S. stocks are currently expensive compared to a broad swath of developed and emerging markets.
The Cambria Global Value ETF (NYSEArca: GVAL) is one ETF that can help investors exploit valuation opportunities in markets outside the U.S. GVAL, launched by Mebane Faber's Cambria Funds in March, invests in about 100 stocks from the world's most undervalued markets, targeting the cheapest, most liquid picks in countries where political or economic crisis have depressed valuations.
"By applying the CAPE methodology to an entire market, we can get a handle on a country's valuation, both relative to other countries and relative to its own history," notes Charles Sizemore in an article for Forbes.
As Sizemore notes, the U.S. had a CAPE ratio of just over 26 last month, indicating a significant premium to many of GVAL's country holdings. The average CAPE for Brazil, Spain and Italy is about 10.7, according to Forbes data. Those are three of GVAL's four largest country holdings, combining for 32% of the ETF's weight, according to Cambria data.
GVAL can include stocks from Australia, Austria, Belgium, Brazil, Canada, Chile, China, Colombia, Czech Republic, Denmark, Egypt, Finland, France, Germany, Greece, Hong Kong, Hungary, India, Indonesia, Ireland, Israel, Italy, Japan, Luxembourg, Malaysia, Mexico, Morocco, the Netherlands, New Zealand, Norway, Peru, Philippines, Poland, Portugal, Russia, Singapore, South Africa, Spain, Sweden, Switzerland, Taiwan, Thailand, Turkey, the United States, and the United Kingdom.
Brazil, Italy and Spain are not even GVAL's most heavily discounted country holdings. The average CAPE for Greece, now classified as an emerging market, and Russia is 5.2, according to Forbes data. Russian stocks typically trade at discounts to the broader emerging markets universe, but those discounts have grown even wider due to the country's conflict with Ukraine and subsequent sanctions from the West.
In May, OAO Gazprom, Lukoil and Mobile Telesytems were spotted trading at an average discount of 40% to their 10-year average P/E ratios while the Russia's benchmark Micex Index has spent significant time this year trading at or below half the P/E ratio seen on the MSCI Emerging Markets Index.
Russia and Greece combine for 18% of GVAL's weight.
It is, however, important to note that just because a market is inexpensive that trait does not always portend immediate gains. Likewise, expensive markets do not always immediately fall. U.S. stocks prove as much.
As Sizemore notes, Denmark and Indonesia are two markets that are even pricier than the U.S. However, the Market Vectors Indonesia Index ETF (NYSEArca: IDX) is up nearly 30% this year while the iShares MSCI Denmark Capped ETF (BATS: EDEN) is up 14%.
Cambria Global Value ETF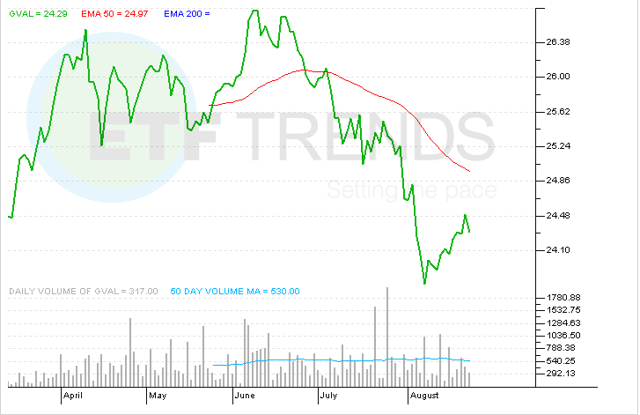 Disclosure: The author has no positions in any stocks mentioned, and no plans to initiate any positions within the next 72 hours.
The author wrote this article themselves, and it expresses their own opinions. The author is not receiving compensation for it. The author has no business relationship with any company whose stock is mentioned in this article.