There are hard times ahead for the New York Times (NYSE:NYT) and its shareholders, as the company cannot sustain itself as it has been with digital revenue growth, seeing that is slowing down while print ad revenue continues to plummet.
In the latest quarter digital growth was up a little over 3%, while print ad revenue plunged 7% year-over-year.
The performance of the company is eerily in line with a study commissioned by the Times, where McKinsey & Co. said the best-case-scenario for upside digital-only subscription growth was at best a little under 1 million, with the low end coming in at about 800,000 to 900,000.
Now that the company has reached the lower end of that projection as of June 2014, it is in fact starting to experience a slowdown in digital subscription growth. The pay parameters were in the range of $15 to $30 per month for the study.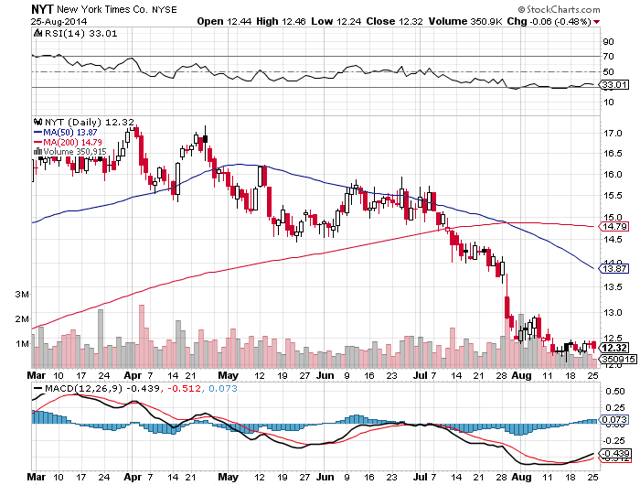 Click to enlarge
source: Stockcharts.com
Subscription versus Print Results
On the digital subscription side (behind a paywall), the Times was able to generate close to $150 million in revenue for 2013. On the print and digital side, advertising from 2011 through 2013 plunged by approximately $90 million, and it has continued to drop so far in 2014, as it will in the years ahead. This is one of the reasons media companies in general have been diversifying their revenue streams.
As the company stands today, digital revenue can't come close to sustaining it, and no matter how hard it tries to not deal strongly with challenges like the extraordinary costs of its pension program, it will have to make some difficult decisions in the near future. Austerity is coming, whether it is forced or voluntary. That means a probable uprising by workers and former workers at the times, who will vainly fight to keep benefits as they are, even though they can't be afforded by the Times.
The other factor is the size of the newsroom of the company. At this time digital as a standalone business would make the Times about a $312 million business. That amount of revenue would only be able to support about 200 journalists, which is only about 20% of the current total.
Of the $312 million, about $163 million comes from online ad revenue.
So with declining print ad revenue and slowing subscription revenue, the company will be forced to take significant steps to deal with these realities. To do so will underscore the vulnerability and inevitable shrinking of the size of the company; something it has difficulty acknowledging after so many years of being considered one of the premiere news outlets in the world.
All the past and prestige is not longer relevant other than a footnote of history, as millions of people choose alternative digital news outlets as their preference to consume news content, weaning many from the past standing the Times once enjoyed.
Even though the Times has hopes of boosting the number of digital subscribers in the future, believing they can attract millions more, if it accomplishes that, it'll only be because of people acquiring low-cost services on limited devices. The current subscription price point is maturing, and we'll continue to see that slow down going forward.
Digital Subscription Realities
Not only are subscriptions starting to slow down, but a majority of new subscribers are from a new app called NYT Now, which goes for $8 a month. In other words, the $15 to $30 subscription growth is quickly coming to an end, which will make it even harder to make up for the rapidly declining print ad revenue.
To underscore the impact of this on the company, even if every new subscriber was from the high-end subscription service, it would still be about 4,000 new subscribers less than the previous two months, which came in at 36,000. In the latest quarter only 32,000 new subscribers were added. That would represent $140,000 less at the very top level of its performance. I get that figure from the assumption all the new subscribers acquired a $35 subscription. I multiplied 4,000 times $35 to get the $140,000 figure. It was much worse than that because of the majority of new subscriptions (about 20,000) coming from NYT Now.
With digital subscription sales accounting for 10% of the business and growing, you can see how this is going to pressure the top and bottom line of the company, as well as force it to make changes in the not too distant future.
This isn't to say the Times can't grow its subscription services, because it does have the potential to do so. CEO Mark Thompson has stated that he believes the company can achieve a subscription total as high as about 9 million. But that is only when including the subscriptions at much lower price points. The high-end subscription service is closing in on reaching a ceiling, so investors need to watch which service the new subscribers are signing up for. This is primarily determined by how many devices customers want to view the content on.
As it is, the top subscription price point is rapidly shrinking, and will continue to fall significantly over the next couple of years until growth is non-existent.
Depending on which subscription offers lead the way, it could take from two to four new subscribers to equal the what the higher-end subscription now goes for.
Even at those levels digital subscriptions won't come close to replacing the falling print subscription ad revenue. This is not going to go away, and major changes will be forced on the company. I keep on saying that because it seems like no one is talking much about it because of the somewhat reverential treatment afforded the Times because of its past glory, which is rapidly fading.
Pension Challenges
One thing that will continue to weigh on the New York Times is its hefty pension responsibilities.
In an attempt to alleviate that, the company has offered to pay some former employees in non-qualified pension plans a lump sum payment. That actually helped some in the second quarter, as the company paid out $24 million in settlements while cutting pension obligations by about $32 million.
Over the next couple of quarters retirement costs will continue to climb, mostly because of the low-interest rate environment. Since the primary investment of pension dollars are in fixed income assets, there is little to generate growth. Combined with increased medical costs and other elements, the next couple of quarters will result in costs in the neighborhood of $9 million for each quarter.
This isn't going to go away, and it'll be a major issue when the company actually has to take real steps to have employees pay more of their own money to the accounts.
Weak Marketing Strategy
Company management has admitted it did a poor job of marketing the various new apps and subscription options. The efforts weren't targeted very well, and more of an attempt to throw campaigns out there in hopes something would stick. That predictably didn't work.
With the ability to now accurately target various demographics, it's surprising the Times made this mistake.
Nonetheless, I'm not sure targeted marketing inefficiencies was the only reason for not meeting expectations. The trend working against traditional print media is a powerful one that will not be made up by digital subscriptions or advertising. People can too easily opt for alternative sources in this news environment, and they are as committed to brands as they have been in the past, which is bad news for the NYT.
Even so, when every part of the company needs to be operating at its very best, it's disappointing to see a marketing strategy that wasn't taking advantage of the data available to the company. That's almost inexcusable when it's so obvious. Maybe some real new blood is needed where the people have no connection to the past media business, and which aren't influenced by the way things used to be done.
Conclusion
Investors wanting to put money into the New York Times have to know it's no longer going to be the company it was in the past, and the traditional capital it has been running on is no longer of importance to younger consumers of news. Nothing is going to change that, even if there are 50 new apps made available in numerous verticals.
Where the moment of truth will come is when print drops to a floor and digital subscriptions, if they grow at all, will do so at the lower price points, or as new verticals are offered, simply be exchanged for another app of interest.
I don't think we'll see a lot of subscribers start to acquire several different apps (which I think is what the Times is hoping), but rather will go with the one that appeals to them the most.
With that being the likely scenario, the New York Times is going to continue to shrink, even if it has an occasional good quarter when all the pieces come together to produce the illusion it's on a growth track. It may be in the very short term, but over the long term, no traditional news company, even the New York Times, can overcome a trend that is changing the way people consume the news.
The only exceptions to that may be the Wall Street Journal and Financial Times, which cater to a wealthy and elite type of customer. But a general news outlet like the times is not longer thought of as a must-have source, and that is not going to change in the years ahead.
Disclosure: The author has no positions in any stocks mentioned, and no plans to initiate any positions within the next 72 hours.
The author wrote this article themselves, and it expresses their own opinions. The author is not receiving compensation for it (other than from Seeking Alpha). The author has no business relationship with any company whose stock is mentioned in this article.