Back in June (2014) I wrote an article on National Retail Properties (NYSE:NNN) summarizing my bullish sentiment as follows:
NNN is definitely a "sleep well at night" REIT; however, I 'm not sure that I can sleep at night until I'm able to own shares in this stalwart REIT with a starting dividend yield of 5%.
To translate that into a BUY price, my acceptable entry price was $32.40; that's a long way (almost 15%) from the current price of $37.24.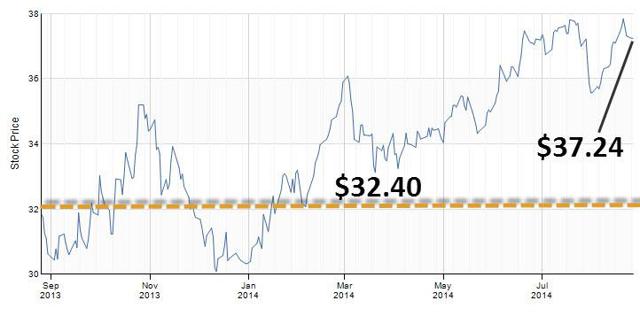 It's pain to see that Mr. Market isn't cooperating with me - since January 1st (2014) NNN has been the best performing Triple Net REIT with a YTD Total Return of 27.22%.

Should I stay patient, settle for less (yield), or set another target? Let's examine further…
National Retail Properties: Keep It Simple Stupid
There's nothing fancy about NNN's investment strategy: The Orlando-based REIT focuses on purchasing and financing its growth strategy with facilities leased to many of the "best in class" retailers, convenience store operators, and restaurants. The company was established in 1984 as Golden Corral Realty, Corp. and later organized as a REIT in 1998. Subsequently, the company acquired Captec Net Lease Realty (a public REIT) allowing total assets to exceed $1 billion. Currently NNN owns 1,927 properties (20.8 million SF) located in 47 states.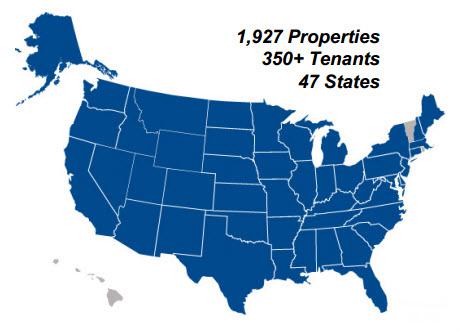 However, unlike most of the larger net lease REITs, NNN focuses exclusively on "small-box retail" and the company maintains a consistent strategy of owning relatively smaller (around $2-$4 million investments) transactions.
The universe of freestanding retail properties is enormous and their historical return profile has been above average in terms of amount and consistency. However, the sector lacks the depth of institutional investors that can be found in large quantities in most other commercial real estate sectors, such as shopping centers, apartments or office buildings.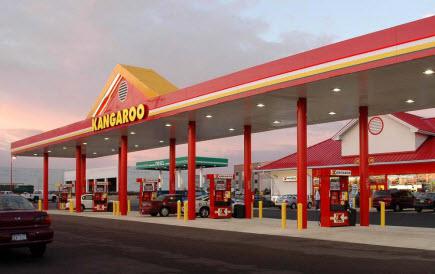 That lack of deep institutional competition in the smaller Net Lease sector is primarily a result of the small asset size which many institutional investors do not want to or are unable to effectively deal with. That provides a ripe arena for NNN to capture above average return assets and above average return consistency by virtue of the long-term net lease properties leased to creditworthy tenants. Additionally, the more granular, small asset size provides increased diversification benefits which mitigate risk.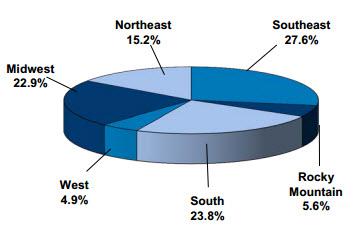 NNN's lease strategy has generated a reliable income stream with low volatility. The company's well selected retail tenants provide stronger performance through various economic cycles and NNN's "main street" locations provide a strong market for replacement tenants and rent growth. NNN has over 350 national and regional tenants and the company's top 20 tenants average more than 1,163 stores each. Here is a snapshot of NNN's Top 20 tenants: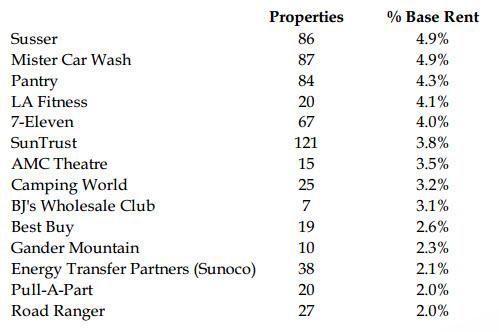 Within NNN's lines of trade the company has a diverse composition of retail categories with the largest being convenience stores (430 properties), full service restaurants (211 properties), automotive service (169 properties), and limited service restaurants (233 properties).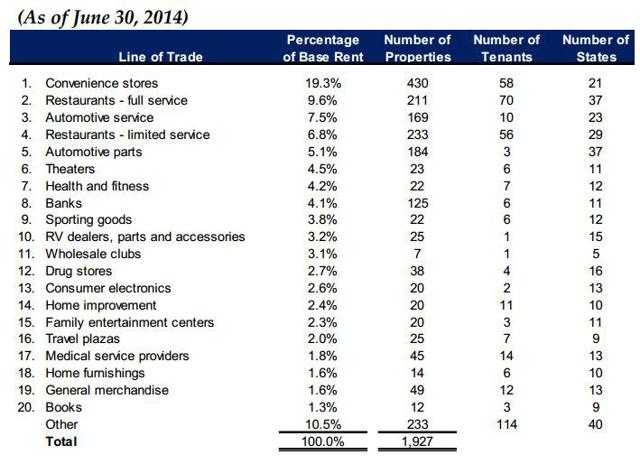 How Will NNN Perform in a Rising Rate Environment?
NNN is better positioned to successfully execute its strategy than many other Triple Net peers in a rising interest rate environment. NNN's historically higher acquisition cap rates (8.3% since 2010; 7.6% recent acquisitions) create much more room for spread compression before acquisitions cease being accretive.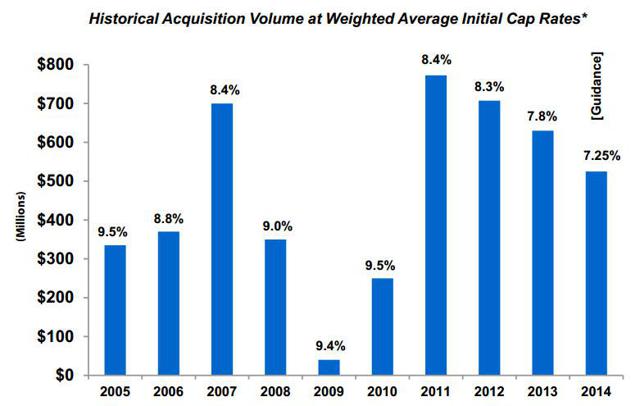 In addition NNN has less exposure to refinancing risk from its low leverage balance sheet (more below). The company has virtually no floating rate debt (just the bank line of credit that has no debt outstanding as of 6/30/2014).
As illustrated below, NNN has less than $159 million of debt maturing through 2016 which can be refinanced at lower interest rates ($150 million 6.25% notes due June 2014 were paid off with proceeds from $350 million 3.90% notes issued May 2014).
Well-laddered debt maturities limits a particular year's exposure to rate spikes.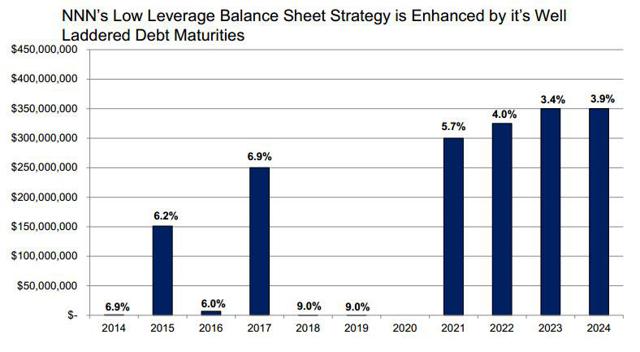 Also, lease expirations are stable with a weighted remaining lease term of 12 years (and only 6.9% of leases expire through 2017).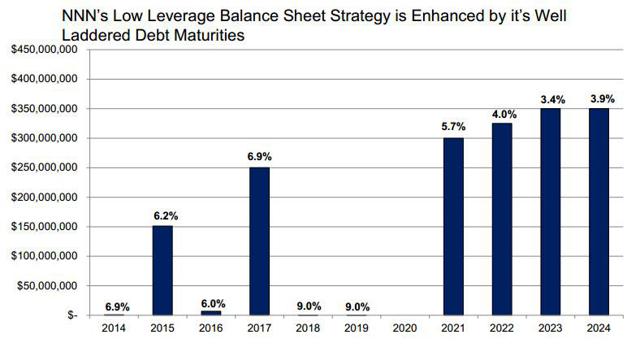 A Beastly Balance Sheet
NNN has one of the strongest balance sheets in the REIT sector and in July (2014) S&P upgraded the company's unsecured debt to BBB+. Currently NNN has the following investment grade debt ratings: BBB+ / Baa1 / BBB+. Over 99% of NNN's assets are unencumbered (only $8.9 million of secured debt).

NNN's total capitalization consists of $8.9 million of secured debt, $1.629 billion of unsecured debt, $575 million of preferred equity, and $2.72 billion of common equity.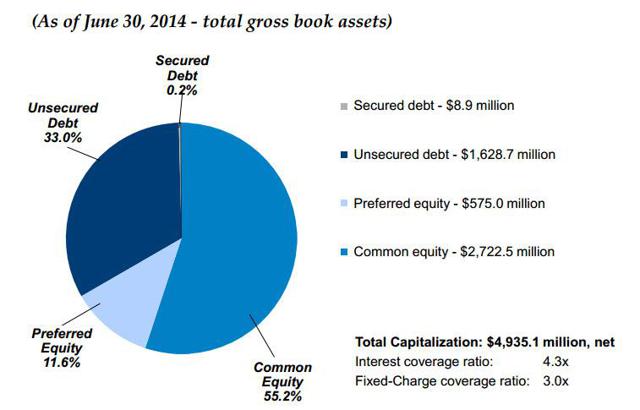 The company maintains healthy interest coverage of 4.3x and fixed-charge coverage of 3.0x. Total debt to total market capitalization is 24.9%.

NNN completed a $350 million, 10-year unsecured note offering in May at 3.92%. And in June, the company paid off $150 million of maturing 6.25% notes. The average debt to maturity of all debt, including the bank line, is 7.4 years. NNN's next maturity is $150 million of 6.15% notes that come due in December of 2015. Also the company raised $54 million of additional common equity during the second quarter. With $85 million of cash and nothing outstanding on the $500 million bank line, NNN has significant liquidity.
Focusing on Fundamentals
For the second quarter NNN announced second quarter Funds from Operations (or FFO) and recurring FFO of $0.50 per share, as well as AFFO of $0.51 per share. This represents 11.1% increase over prior year recurring FFO results and was largely in line with expectations. The dividend payout ratio was 79% of AFFO for the second quarter. The company also announced an increase in 2014 guidance, increasing the FFO guidance to $2.00 to $2.04 per share, which is a $0.045 increase from the prior guidance midpoint. Likewise, 2014 AFFO guidance was increased to $2.05 to $2.09 per share.

NNN's occupancy also increased (in Q2-14) to 98.5%, the highest occupancy in over 10 years. In addition, NNN's occupancy never fell below 96.4% while the REIT industry average never rose above 94% (see below).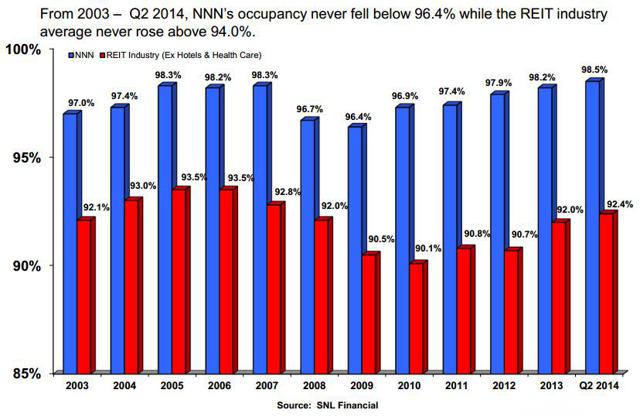 During the second quarter NNN invested in 34 properties at an average cap rate of 7.5% (initial cash yield). Also the company sold 10 properties for $15 million producing $3.1 million of gains on sale (not included in FFO). The company also raised its dividend for the 24th consecutive year. Here's a snapshot of the recent dividend history:

Also, NNN reduced its dividend payout ratio to 79.4% of AFFO - a trend of conservatism evidenced below: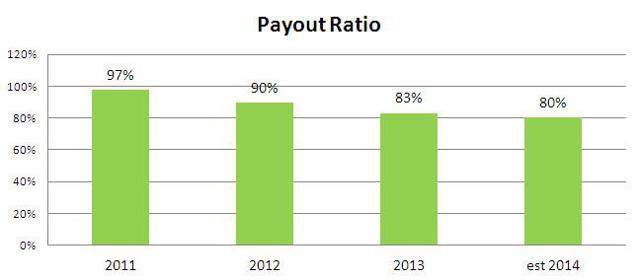 One of the key differentiators with NNN is the fact that the dividend record (24 consecutive years of annual dividend increases) represents the fourth longest record of all public REITs and 98% of all public companies.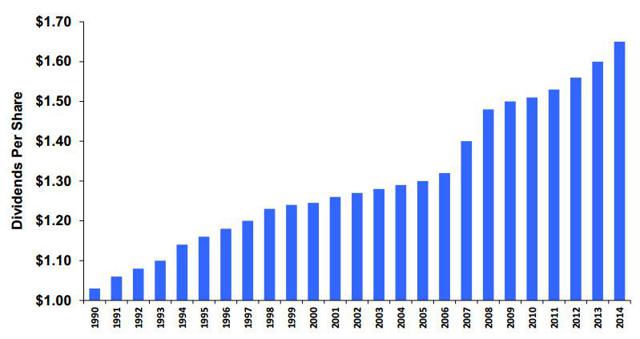 While some of the larger REITs have focused more on a "euphoric consolidation" strategy, NNN has stayed closely aligned to investing in accretive deals that allow a certain measure of reliability and predictability. Over the past three years, 80% of NNN's acquisitions have been funded with permanent capital while growing AFFO per share over 25%.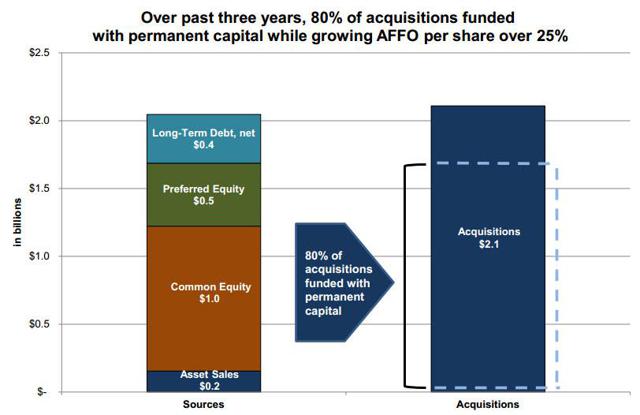 Do I Compromise My Margin of Safety Principles?
As evidenced by the above performance, NNN is executing at ALL CYLINDERS and there are few REITs that I covet and this is one of them. Just look at this chart: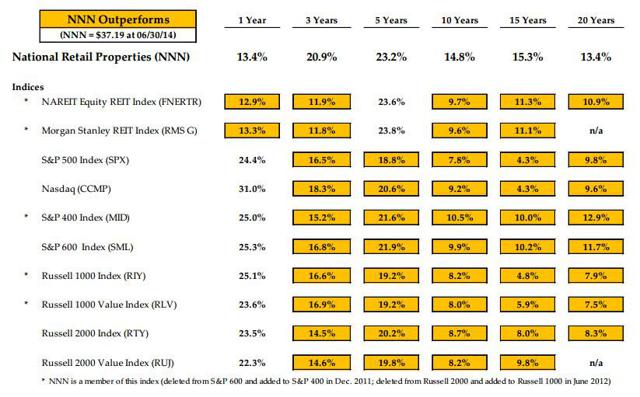 The FAST Graph below puts the predictable dividend producer in perspective: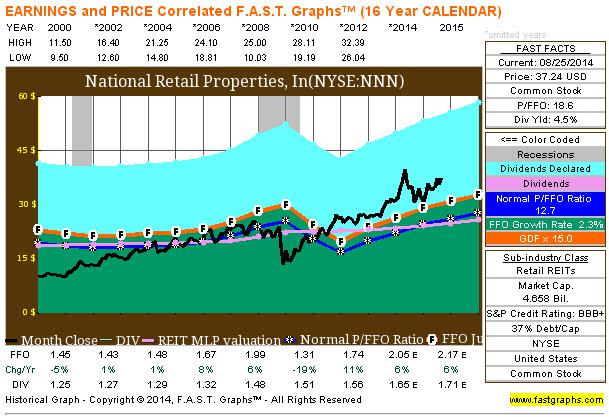 Based on pure dividend yield, NNN appears to be moderately expensive. The current yield is 4.51% and the peer average is 5.71%). Remember, I'm looking for an entry yield with a 5-handle.

Based on P/FFO, NNN is also trading at the high end of the valuation range with a multiple of 18.2x. I would prefer to own the shares at 15x that equates to $30.30; however, I'm willing to settle for 16x or $32.40. Given the blue chip performance and durable dividend drivers I'm just not sure I'll be able to crack the safe though.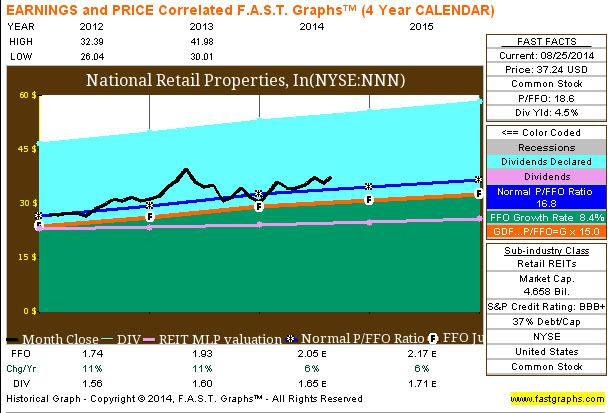 In effect, I'm timing the market. But remember, it's simply better to be in the market, invested in value stocks that offer the highest potential return than to play the market game. There is safety in owning NNN but I'll wait on a margin of safety until I buy this highly attractive dividend payer. Finding attractive dividend-paying stocks is only one piece of the puzzle. Buying them is another piece. Always remember, the dividend yield is a great proxy for measuring investment risk and I will wait patiently to own shares in this boring REIT that I hope to own for the long haul.

To learn MORE about REIT investing check out my newsletter HERE.
Source: SNL Financial, F.A.S.T. Graphs, and National Retail Properties Investor Presentation.
Other REITs mentioned: (NYSE:GPT), (NYSE:O), (NYSE:WPC), (NYSE:ADC), (NYSE:STAG), (NYSE:CSG), (NYSE:MNR), (ARCP), (NYSE:EPR), (NYSE:SRC), (NYSE:LXP), (NYSE:OLP), and (NYSE:GTY).
Disclaimer: This article is intended to provide information to interested parties. As I have no knowledge of individual investor circumstances, goals, and/or portfolio concentration or diversification, readers are expected to complete their own due diligence before purchasing any stocks mentioned or recommended.
Disclosure: The author is long O, DLR, VTR, HTA, STAG, UMH, CSG, GPT, ARCP, ROIC, HCN, OHI, LXP, KIM, WPC, DOC, UDF, EXR.
The author wrote this article themselves, and it expresses their own opinions. The author is not receiving compensation for it (other than from Seeking Alpha). The author has no business relationship with any company whose stock is mentioned in this article.