When looking for long ideas in the market, one item I really watch is short interest. If a name is very highly shorted, a short squeeze can occur on good news. If a squeeze comes, investors can see tremendous returns in a short period of time. The latest name I'm here to discuss is GT Advanced Technologies (GTAT), a name that has recently seen a new high in short interest. Today, I'll discuss how the potential for a short squeeze in this name has risen, and why this may be perfect for long investors.
Right now, GT is mostly discussed in regards to its production of sapphire, which could be used for models of Apple's (NASDAQ:AAPL) iPhone 6 as well as the rumored iWatch. GT stated in its latest quarterly report that the buildout of its Arizona facility, which is producing sapphire for Apple, was nearly complete. GT received a prepayment from Apple in Q2 and expects another one by the end of October. With sapphire potentially being used in some of Apple's biggest products, and Apple having a tremendous cash position, I recently detailed how GT could be an Apple acquisition target. GT's market cap was just over $2.5 billion as of Tuesday's close, so it wouldn't exactly be a tremendously large purchase for Apple, or any other major buyer if an acquisition were to occur.
You would think that with such a bright future ahead that investors would not want to bet against this name. Well, you would be quite wrong in that case. As you can see from the chart below, short interest for this name just hit a new 52-week high.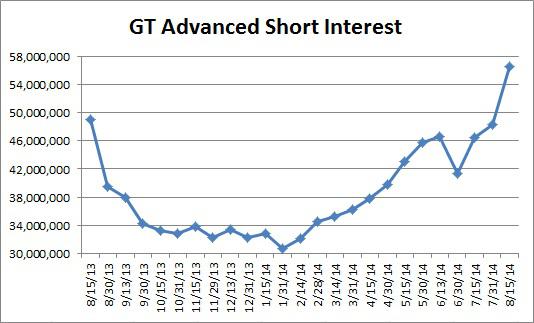 In the mid-August update, more than 56.5 million shares were short this name. That first monthly update showed an increase of more than 8.3 million shares, more than 17%. Since the low point reached at the end of January, short interest has rocketed higher by nearly 26 million shares, more than 84%.
Normally, a sharp rise in short interest by itself might not be that meaningful. If we were talking about these same numbers with Apple, a company with a float of about 6 billion shares, 56.5 million shares short wouldn't be that meaningful. However, when it comes to GT Advanced, the story is much different. According to Yahoo Finance, the float is just over 136 million shares. That means that more than 41.5% of the stock's float is short, which is an incredible percentage. Most of the names I discuss for short squeeze potential have about 20%-30% of their float short. GT has more than 41% of its float short!
For this reason, investors might find GT an attractive speculative play as they look for a short squeeze. This name has been very volatile in recent months, but that's probably to be expected when you have a smaller name with a lot of potential, plus a large bull/bear fight going on. At the latest earnings report, the company stated that 2014 revenues would be towards the low end of its original $600 million to $800 million range. The new guidance was for $600 million to $700 million. As a result, we have seen a sharp decline in analyst estimates, which now stand around $625 million. If the company does surprise to the upside, perhaps even just coming in at the middle of its range, it could be just the news needed to start a huge short squeeze.
With more than 41% of its float short at the mid-August short interest update, GT Advanced Technologies could be the next stock to see a major short squeeze. With the company supplying sapphire for Apple's next round of revolutionary products, shares might rally when Apple announces these products rather soon. Apple could have a tremendous fiscal year, which should lead to good times for GT. I wouldn't be surprised if GT shares hit new highs later this year, especially if we get the right announcements from Apple. In fact, shares of GT rallied by almost 4% on Tuesday when a street analyst resumed coverage of the stock with an Overweight rating and a $23 price target. The analyst believes that investors should own GT shares into the launch of new Apple products.
Disclosure: The author has no positions in any stocks mentioned, and no plans to initiate any positions within the next 72 hours.
The author wrote this article themselves, and it expresses their own opinions. The author is not receiving compensation for it (other than from Seeking Alpha). The author has no business relationship with any company whose stock is mentioned in this article.
Additional disclosure: Investors are always reminded that before making any investment, you should do your own proper due diligence on any name directly or indirectly mentioned in this article. Investors should also consider seeking advice from a broker or financial adviser before making any investment decisions. Any material in this article should be considered general information, and not relied on as a formal investment recommendation.