Company Background
NOW Inc. (NYSE:DNOW) spun out of National Oilwell Varco, Inc (NYSE:NOV) on May 30, 2014 to provide one-stop-shop products and services to the energy industry. The president and CEO, Robert Workman, describes the NOW Inc value proposition in the Wall Street Journal as follows:
At our core, we are a distribution and supply chain services company focused on serving our energy and industrial customers.
Those energy and industrial customers comprise of brand names across multiple segments of the energy market. DNOW offers products to drilling contractors like Diamond Offshore Drilling (NYSE:DO) and Nabors Industries (NYSE:NBR), exploration and production customers like ConocoPhillips (NYSE:COP) and Chesapeake Energy (NYSE:CHK), midstream providers like Kinder Morgan (NYSE:KMI) and downstream and industrial customers like ExxonMobil (NYSE:XOM) and Chevron Corporation (NYSE:CVX).
DNOW's business is one of inventory and customer supply chain management. According to their investor presentation and latest quarterly filing, they carry over $850 million in inventory ranging from pipes and fittings to electrical and drilling products. They currently operate under two primary brand names, DistributionNOW and WilsonExport. Two thirds of revenue comes from United States-based customers with the balance of revenue split fairly evenly between Canadian and other international customers. Their customers are supplied from 8 distribution centers and a network of 330 global locations.
Balance Sheet
In the latest 10-Q, DNOW shows current assets of $1.9 billion - 45% of which is inventory and 40% is accounts receivable. Cash comprises 12%. Long term assets are made up of a large goodwill component and property, plant and equipment. Of the property, plant and equipment, there is an even distribution between IT systems, operating equipment and buildings. The liabilities are interesting by their omission. DNOW carries no debt but has a revolving credit facility with Wells Fargo (NYSE:WFC) for a principle amount of $750 million.
DNOW has spent much time and effort over the last quarter migrating their back-office operations to an Enterprise Resource Planning (ERP) system. As with all new IT implementation and operational re-engineering, productivity is dampened initially and it will take several quarters to see the real benefits of such a system pass through to increased revenue generation and operating efficiency. However, having taken the pain now, DNOW will be well poised to supply and respond efficiently and effectively to their customer base.
Revenue Generation
Currently, revenue generation at DNOW is closely linked to the level of oil and gas drilling activity. The chart below from Baker Hughes Inc (NYSE:BHI) shows the global rig count by OPEC and non-OPEC members.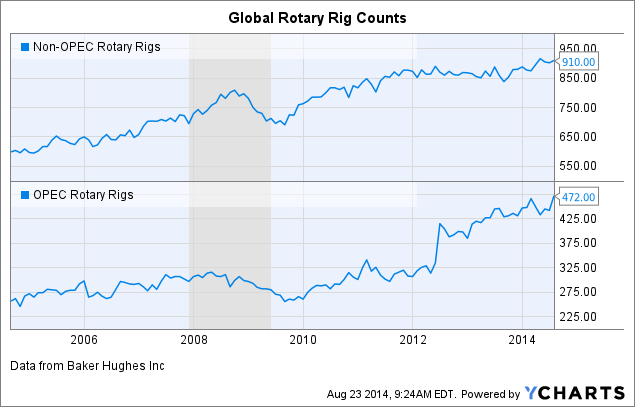 Both OPEC and non-OPEC countries are showing a marked expansion in drilling activity post-2008. The continuation of this trend is obviously dependent on oil and gas prices. Commodity prices that remain well above the marginal cost of production will encourage further exploration and drilling. DNOW is positioning itself as the key supplier currently to the North American industry, but potentially further afield as they make inroads into the international market.
While revenue generation is linked to activity within the energy sector, DNOW's operational costs are tied more closely to steel tubular prices. DNOW management indicates they seek to address this risk through inventory management - ensuring inventory levels are optimal to meet customer demands without unnecessary stock-piling. The implementation of an ERP system will certainly be of great value in this regard.
Company Profile
DNOW have made it into the mainstream financial media with CNBC's Jim Cramer reviewing the company on August 20th. The rise in profile is undoubtedly due to the line item inclusion of DNOW by Berkshire Hathaway (BRK.A, BRK.B) of just under 2 million shares, or 1.7% of DNOW's common shares outstanding. Berkshire holds the DNOW parent, NOV and received stock as a result of the spin-off. Berkshire backed the NOV business model and no doubt would have given "approval" of the restructuring, believing DNOW as a stand-alone can unlock further value and growth potential.
Medium Term Trade
DNOW has all the makings of a great medium term position within an equity portfolio. It is a company that has not yet begun to realize its full revenue potential. It is well positioned with a large client base within the North American energy sector, has further international expansion aspirations and is placing emphasis on supply chain and inventory management.
As with all stock investing, a position in DNOW is not without downside risk; although profit levels are more geared towards steel prices than those of oil and gas, energy price turbulence will likely drive investor sentiment within the energy sector and therefore the DNOW stock price. A slowing or reduction in energy sector expansion will hurt revenue expectations and expansion plans.
However, the quality of the management team, the value proposition of a single supplier model for energy sector customers and a focus on operational efficiency makes DNOW a great buy for the medium term.
Disclosure: The author is long DNOW, BRK.B.
The author wrote this article themselves, and it expresses their own opinions. The author is not receiving compensation for it (other than from Seeking Alpha). The author has no business relationship with any company whose stock is mentioned in this article.