The market continues to "melt up" on low volume with the S&P 500 just crossing the 2,000 milestone and sitting at an all-time high. I am getting more and more leery on equities at these levels, especially in front of the Federal Reserve finally ending the last of its various quantitative easing programs in October.
That being said, there are always values in the market for contrarian investors willing to accumulate shares in out of favor stocks and sectors which are undervalued by historical norms. One sector that has seen significant negative sentiment and substantial underperformance this year is offshore drillers which have been buffeted by concerns around overcapacity and worries about day rates over the past few months.
One of these offshore plays I added a few shares to recently is Pacific Drilling (NYSE:PACD).
Company Overview:
Pacific Drilling is an ultra-deep water drilling play with 6 modern drillships under contract and another two under construction. It has one of the most modern fleets in this space and has a market capitalization just north of $2 billion and an enterprise value of under $5 billion. The company is based in Luxembourg:
Analyst Commentary:
Although sentiment on the offshore space continues to be negative, Pacific Drilling has some solid analyst support. The median price target on Pacific by the 19 analysts that cover the stock is $12 a share, more than 20% above the current equity price. In addition, Mike Urban at Deutsche Bank (a four star rank analyst according to TipRanks) recently reiterated his "Buy" rating and $12 a share price target.
Fleet Status:
One of Pacific's primary drivers is its ultra-modern fleet where day rates seem to be holding up well. The company announced earlier in the week that it had signed an over $400 million contract extension for one of its vessels employed by an affiliate of Chevron. This brings the company's backlog to some $3 billion. As can be seen, Pacific's fleet is one of the highest utilized in the business, thanks to its new and high specification fleet.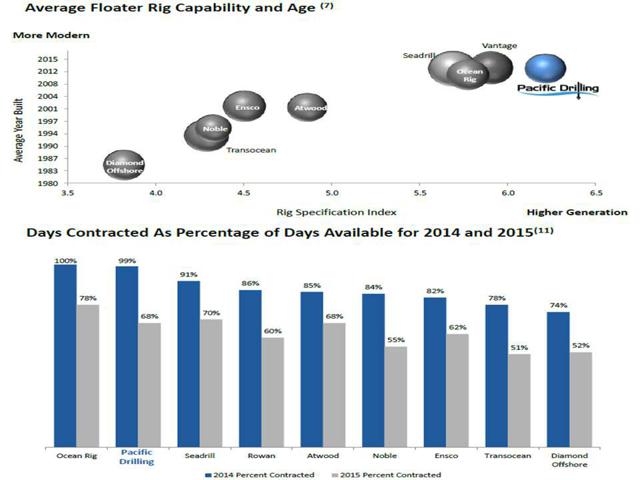 Click to enlarge
Source: Recent company investor presentation
Valuation:
Revenues are tracking to better than 40% year-over-year gains this year and analysts are projected better than 30% gains in FY2015 as a couple of new vessels come online. The stock has an insanely low five year projected PEG (.28) and earnings are in the midst of a steep ramp up. PACD goes for around 8 times next year's consensus earnings estimate.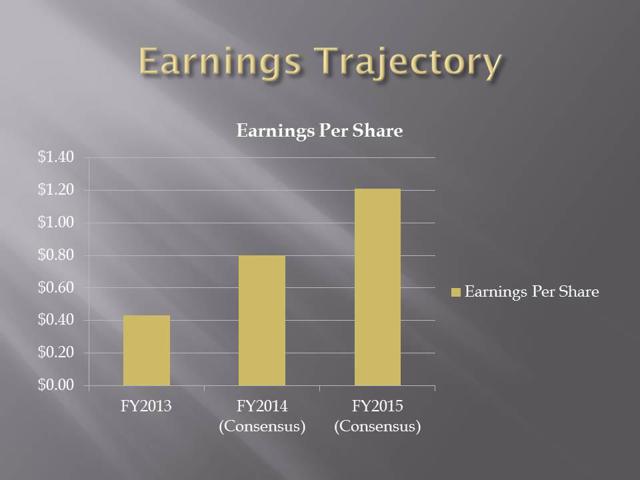 Click to enlarge
Source: Yahoo! Finance
Finally, shareholders have approved up to $152 million in cash distributions in 2015. If fully implemented in FY2015, this would equate to a payout of approximately 70 cents a share giving Pacific Drilling a dividend yield of around 7% at its current price. I don't believe this is factored into the stock at all at this time. BUY
Disclosure: The author is long PACD.
The author wrote this article themselves, and it expresses their own opinions. The author is not receiving compensation for it (other than from Seeking Alpha). The author has no business relationship with any company whose stock is mentioned in this article.